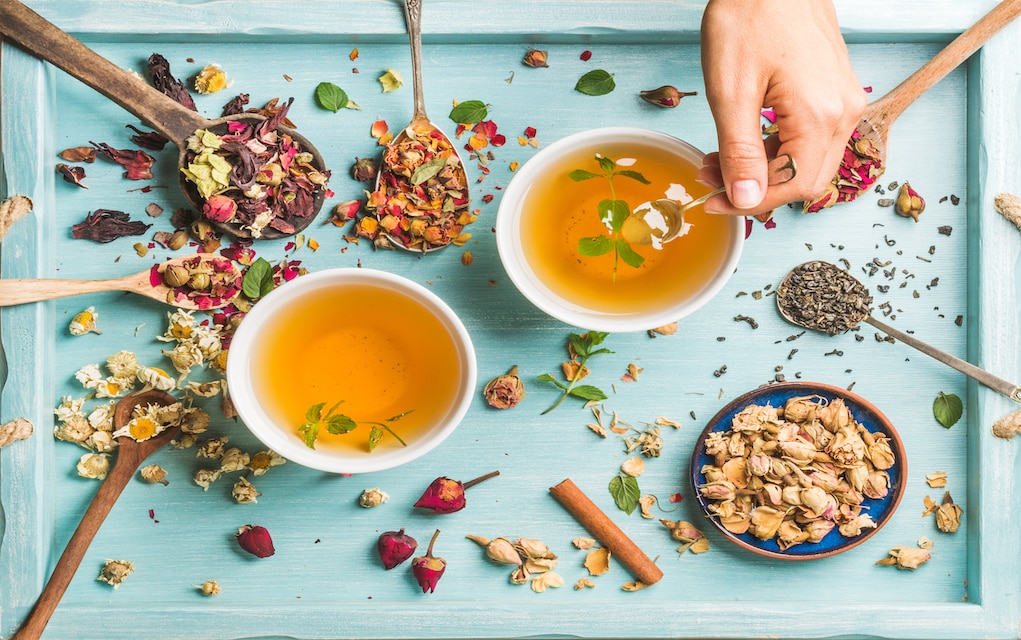 Beverages are a huge category, which includes bottled water, alcoholic beverages, nutrition and energy drinks, coffee and tea, juices, and sodas—all worth hundreds of billions of dollars in profits for producers. Beverage producers are always looking for innovative, delicious, and functional ideas, and 2019 is no exception.
We checked out several predictions for trending beverages in 2019 and have this to report: It appears consumers are demanding more healthy and/or functional beverages. Here are some of our favorites:
Beverage Trend #1-Teas
According to the Top 10 Dining Trends 2019 released by Benchmark, a global hospitality company, teas are emerging as "the" beverage, with the same dedication people are giving to coffee. During 2019, we can expect to see more craft teas, tea cocktails, and nitro tea on tap. Unfamiliar with nitro tea? Check it out here. [Editor's Note: Here at Naturally Savvy, we are often found having a cup of tea from our sponsor, Bigelow Tea, almost every morning and/or afternoon.]
Read about the surprising health benefits of 7 types of tea
Beverage Trend #2-Low-calorie sweet options
Be gone, high-fructose corn syrup: consumers want more natural juices (from the fruits and veggies themselves) as well as more natural sweeteners, such as monk fruit, stevia, brown rice syrup, and banana puree. Expect to see more demand for beverages without the old standard sweeteners like the white stuff. [Editor's Note: If you are looking to create a refreshing beverage at home, use some bubbly water, fresh fruit, and a little monk fruit sweetener from our sponsor, Now Foods. Delicious and refreshing without the added sugar of conventional fruit-flavored sodas.]
Beverage Trend #3-Collagen
Yes, the substance that is associated with cosmetics and beauty is creeping into beverages too and you may see marine-based collagen (from algae) added to beverages like matcha tea and protein powders. Collagen is tasteless, odorless, dissolves easily, and is stable in solutions—all of which make it easy to mix into beverages. [Editor's Note: NeoCell has a flavorless collagen powder and a fruity berry-lemon flavor as well.]
Read about the best ways to boost your collagen
Beverage Trend #4-Vegetable or plant-based protein powders
Yes, they have been around for a while (pea, soy, and lentein [water lentils protein]), but they are set to boom during 2019. These powders can be easily added to beverages, and provide a creamy texture, fiber, protein, and many nutrients that can help nutritional needs in a convenient way.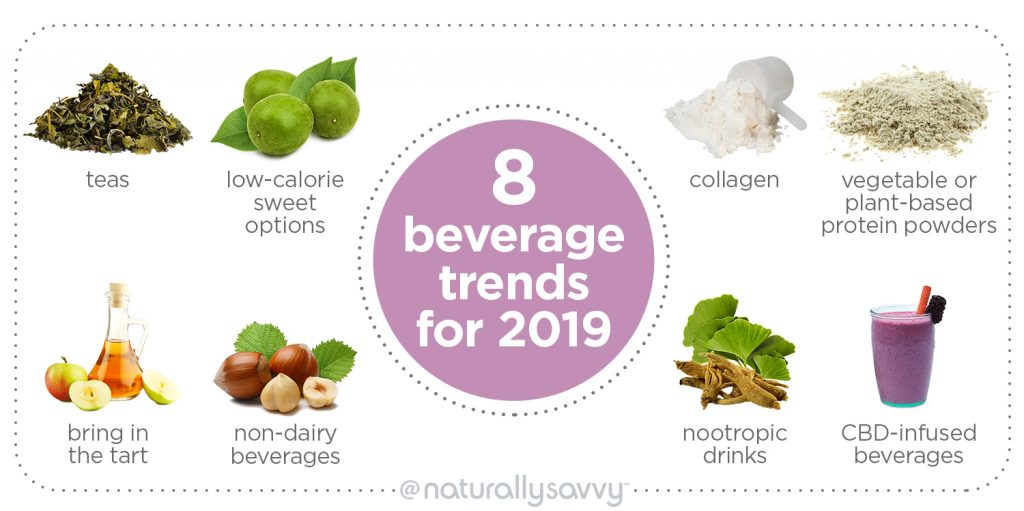 Beverage Trend #5-Bring in the tart
Consumers will be treated to more tart beverages, such as those that contain hibiscus or apple cider vinegar. These products are gaining popularity as consumers have eagerly embraced IPA sours and kombucha. [We love Uncle Matt's Kombucha. Check their store locator to see if they carry it in stores near you.]
Beverage Trend #6-Nondairy beverages
We may see a rise in the consumption of certain nondairy beverages. Although these drink options, such as those made from almonds, coconut, and soy are popular, consumers are expected to flock to beverages made from flaxseed, hazelnuts, quinoa, macadamia nuts, and pecans.
Beverage Trend #7-Nootropic drinks
The term "nootropics" hasn't been around too long; it was first mentioned in 1972 by Romanian chemist and psychologist Corneliu E. Giurgea to explain substances that didn't have "a proper definition according to their functions." These ingredients—both synthetic and natural—have been creeping into our food and beverage supplies gradually over the past few years, and 2019 is expected to be an especially good year for the introduction of novel nootropic beverages. Synthetic substances such as iodine, theanine, choline, taurine, and magnesium will share containers with natural ingredients such as grapeseed extract, kava, ginseng, St. John's wort, lemon balm, artichoke extract, and green tea.
Beverage Trend #8-CBD-infused beverages
In a recent New Hope Network report it was noted how the non-psychotropic compound CBD (cannabidiol) has been easing its way into a number of beverages and that we can expect to see more of them. The trend is for CBD in cold-brew coffees, teas, lemonade, and beer, but also check out the shelves for CBD-infused wine, cola, coconut water, sparking tonics, and more. Want to try CBD, try our sponsor Barlean's CBD hemp oil. 
Which beverage trends are you going to try and follow?
To learn more about trends and healthier choices every day, sign up for our newsletter.
Sources
Jureviciene I. Nootropic beverages is a future of functional drinks.

My Drinks
Macri D. What will we be drinking in 2019: upcoming beverage trends.

My Drink
Page E. 9 beverage industry trends for 2019 and beyond.

New Hope Network

. 2018 Aug 28
Schmidt S. The beverage industry: new forecasts and trends.

Market Research.com

2017 Jun 12