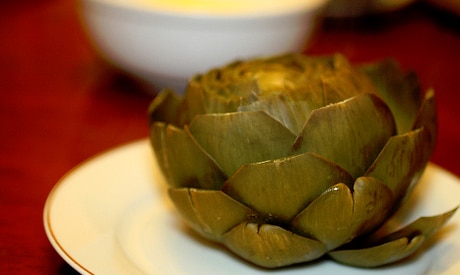 Artichokes are a yummy, seasonal addition to your dinner menu, and there are a lot of great ways to prepare and enjoy them. You can steam, boil or even grill these delicious veggies; and the good news is that making these foods are part of your diet can also keep you healthy. A new study has found that the flavonoids in both artichokes — and celery — could actually kill pancreatic cancer cells.
The study was published in the journal Food and Chemical Toxicology, and found that "celery and artichokes contain apigenin and luteolin, flavonoids that kill human pancreatic cancer cells by inhibiting an important enzyme," reports Nutra Ingredients.
University of Illinois scientists Jodee Johnson and Elvira Gonzalez de Mejia lead the study, and de Mejia stated that "apigenin alone induced cell death in two aggressive human pancreatic cancer cell lines. But we received the best results when we pre-treated cancer cells with apigenin for 24 hours, then applied the chemotherapeutic drug gemcitabine for 36 hours."
Read more about natural cancer fighters
According to the study, "the flavonoid apigenin inhibited the enzyme glycogen synthase kinase-3ß (GSK-3ß), leading to fewer anti-apoptotic genes in the pancreatic cancer cells, thus increasing the number of cells undergoing apoptosis." (Apoptosis refers to the self-destruction of the cancer cell due to DNA damage.)
The study found that "cells undergoing apoptosis went from 8.4% before flavonoid treatment to 43.8% after a 50-micromolar dose, and this was without any chemotherapy drug."
The scientists stated that while it may be difficult to consume enough foods rich in flavonoids to make a dramatic difference, it does open doors for new supplements and drugs. They did conclude however by stating that "flavanol-rich foods may still help to reduce the chances of contracting the disease."
Pancreatic cancer occurs in the tissues of the pancreas and unfortunately, often has a poor prognosis. It is known to spread early and rapidly making it the leading cause of cancer related death. The American Cancer Society estimates that in 2013, over 45,000 men and women in the United States will be diagnosed with the disease.
Read more about alternative cancer treatments
Photo Credit: foodiesathome.com