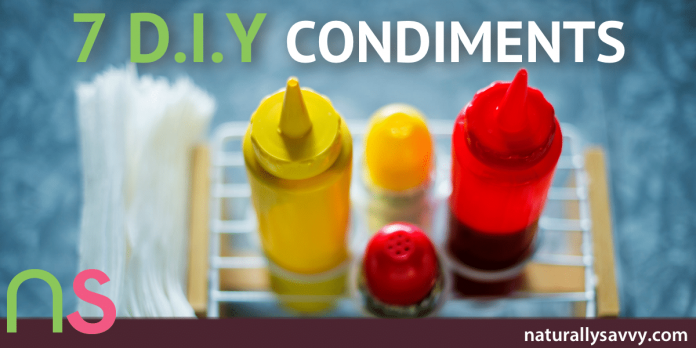 If you were born sometime in the last half-century, chances are your refrigerator is full of condiment jars, bottles and bizarrely shaped hybrid containers that may or may not "squeeze." Yum. These mysteriously addictive gelatinous add-ons that we glop on to all of our favorite foods are made somewhere (presumably on earth), out of some type of recognizable ingredients. But, what exactly?
The truth is, that just like making meals at home from scratch is always the healthiest choice-the same goes for the sauces, dressings and condiments, too. Not only can we make them on the cheap, but they can taste a whole heck of a lot better and are pretty darn fun to make. Want to give it a go? Try making some of these items from scratch.
1. Salad Dressing
The valley may be hidden-but making dressing from scratch is no secret. In fact, it's actually pretty easy. The basic concept is simple: a fat and an acid – think oil and vinegar – dress up any greens. If you want to get a bit fancier, a dollop of honey and mustard (which is also on this list below), and you've got yourself a dipping sauce and a dressing. And for those of you beholden to the all-American Ranch dressing, give this recipe a try.
Read more about scary ingredients in conventional salad dressing
2. Mayonnaise If your sandwich isn't a sandwich without mayonnaise, don't despair. You can forego the Hellman's for a simple made-to-order fresh spread. Here is a great recipe that trades in the eggs for healthier ingredients and a whole lot more flavor.
3. Mustard
Spicy, sweet, tangy-it's condiment royalty for sure. And it also just happens to be incredibly easy to make. Mustard seeds and powder (along with a few other ingredients) will make you marvel at all the money you'll save by ditching the jars, and just how tasty that is. Check out this super simple recipe.
4. Ketchup
If you've never made your own ketchup – you are in for a treat. While you'll have to deprogram your tongue and adjust to a flavor that's not quite Heinz, you will love the freshness and the ability to spice it according to your preference. Here's a great ketchup recipe to begin with.
5. Barbecue sauce
Your DIY ketchup recipe is halfway to a holy-wow barbecue sauce you'll just be looking for things to slather with. Try this recipe out and see what ideas you come up with to make it even yummier.
6. Jams, jellies and preserves
Keep summer around all year long by turning your garden grown fruits or favorite farmers market fare into your own delectable preserves. You can control the sugar content better and nothing beats the flavor of homemade preserves. There are lots of websites, books and recipes out there, but check in with your family first; grandmas have the very best recipes!
Read more about how to grill summer fruits
7. Pickles
When you're harvesting those fruits for preserves, remember the cucumbers (technically fruits, too!). Making your own pickled fruits and vegetables is a fun family project. They make great gifts, too. And don't limit yourself to just pickles-you can make krauts, pickled carrots, tomatoes, beets and more!
Keep in touch with Jill on Twitter @jillettinger
Image: r. nial bradshaw