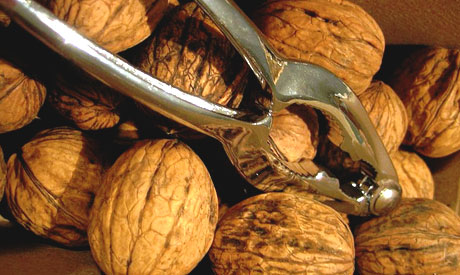 The health benefits of nuts have been long withstanding, but in a world where they're often covered in sugar and salt and served as snacks at Superbowl parties, it can be hard to believe that nuts can pack a powerful nutritional punch. Raw almonds, peanuts, and cashews are great sources of protein and fiber, and can be integral parts of a healthy and balanced diet. However, a nut that seems to get a little lost in the pack, the walnut, may now find itself a bit more popular these days.
A study in The Journal of Nutrition has indicated that making walnuts a part of your diet could cut your risk of developing type 2 diabetes by almost one quarter. The study, which was reported on NutraIngredients.com, was led by Professor Frank Hu and his staff at the Harvard School of Public Health. Hu found that consuming walnuts "two or three times a week was associated with a 24% reduction in the risk of developing type 2 diabetes."Read more about diabetes
In the Journal of Nutrition, Hu wrote, "The findings from our study and others support the benefits of the incorporation of nuts, including walnuts, as a component of a healthy diet for diabetes prevention." He then added, "Frequent intake of walnuts was associated with a lower risk of incident type 2 diabetes in women, the association persisted after adjustment for other lifestyle factors, and it was partially mediated by BMI." The authors of the study added that "further studies are now needed to confirm their results."
Hu and his team monitored 137,893 female nurses, aged 35 to 77 over a 10-year period to see how many developed type 2 diabetes. Diet was carefully observed including how often they ate walnuts. The researchers found that "eating walnuts one to three times a month was associated with a lower risk of developing type 2 diabetes by 4%, once a week by 13%, and at least twice a week by 24%1."Read more about BMI measurements
The laundry list of health benefits from eating nuts is huge. This newly discovered health benefit of walnuts in particular is all the more reason to add this nut to your diet. Try adding it to your trail mixes or sprinkling some on top of a salad.
Photo Credit: MGF/Lady Disdain
Reference:
1 Walnuts linked to 'significant' drop in diabetes risk: Study