Although we are urged to eat lots of fresh fruits and vegetables, fruit consumption is not what it should be, and one reason may be a fear of fruit sugar. According to the Centers for Disease Control and Prevention, only about 10 percent of adults eat enough fruits or vegetables. In 2015, only 12 percent of adults met the recommendations for fruit consumption, with the lowest intake among men, young adults, and adults who live in poverty.
What is fruit sugar?
Fruit sugar is the type of sugar you find in fruit; that is, fructose. It's been shown that very high levels of fructose are harmful to your health. In fact, it has been associated with high uric acid which can lead to high blood pressure and gout, belly fat resulting in type 2 diabetes, increased hunger, and high triglycerides, which can lead to heart disease.
However, the natural fructose found in fruits is present in relatively low amounts which is important to keep in mind.
Added sugars like high fructose corn syrup are what we like to avoid.
Read about what happened to high-fructose corn syrup?
Is fruit sugar bad for you?
No, and here's why. While added sugars are not good for your health, fruits are different. You would have to eat an incredible amount of fruit to get excessive amounts of fructose. Fresh fruits also contain a wealth of vitamins, minerals, antioxidants, fiber, and water, all essential for overall health and well-being. The fiber allows the fructose to be absorbed more slowly. Fruits are a healthy package and one you should enjoy in daily. Fruit should not be an indulgence. They are an essential part of an overall nutritious lifestyle.
Why is fruit sugar good for you?
Sugar has been given a bad rap. Not all sugar is the same, so any good sugar has been thrown into the "bad" pile and overlooked for its benefits.
Did you know our body and brain need sugar to function? Our cells require the right kind of sugar to operate, and that right kind is found in fresh fruits and some vegetables, such as winter squash and sweet potatoes.
The brain stores glycogen, which is composed largely of glucose. Glycogen is the main storage form of glucose in the human body. Since the body converts fructose into glucose (29 to 54 percent of fructose is transformed to glucose in the liver), you need fructose, but you need the healthy kind, like that found in fruit.
Read about fructose and overeating: an endless cycle
How to enjoy more fruit
What will it take for you to include more fruit in your diet? Here are a few (hopefully!) incentives to get you to make fruit your friend!
Keep in mind what constitutes a serving:

1 medium apple, banana, orange, pear

½ cup of chopped fresh, cooked, or canned fruit

1 cup of fruit juice

Add fruit to what you are currently eating. Fresh fruit enhances cereal, salads, and smoothies. Some fruits, such as berries and bananas, are refreshing and delicious when eaten frozen.

If you are watching your carb intake, choose low-carb, low-sugar, nutrient-dense fruit such as

strawberries

, raspberries, kiwi, cantaloupe, watermelon, honeydew, and avocado.

When choosing fruit juices, make sure they don't contain any added sugar and pick organic products when possible.

Enjoy frozen fruit juice in DIY popsicles. Kids and adults love them!

Limit the amount of high-sugar fruits you eat, which include dates, dried fruit like mango, and pineapple.

If you choose dried fruits, select those that are sulfite-free. By weight, dried fruit contains

up to 3.5 times

the vitamins, minerals, and fiber as fresh fruit, so you can eat less and get a powerhouse of nutrients. Dried fruit is especially high in polyphenols, which have been shown to improve blood flow, reduce inflammation, and support better digestive health. They also are high in fruit sugar and calories, so monitor how much you eat.

You can add fruit juice to vegetables and protein to get a complete meal.
Subscribe to our YouTube Channel.
Bottom line
Have no fear of fruit sugar! If you enjoy the recommended amount of fruit per day and avoid added processed sugars, you will be doing your body a really sweet favor. 
[Editor's Note: For an easy convenient way to enjoy fruit sugar, grab a glass of Uncle Matt's Orange Juice. It has one simple ingredient organic orange juice, no sugar added.]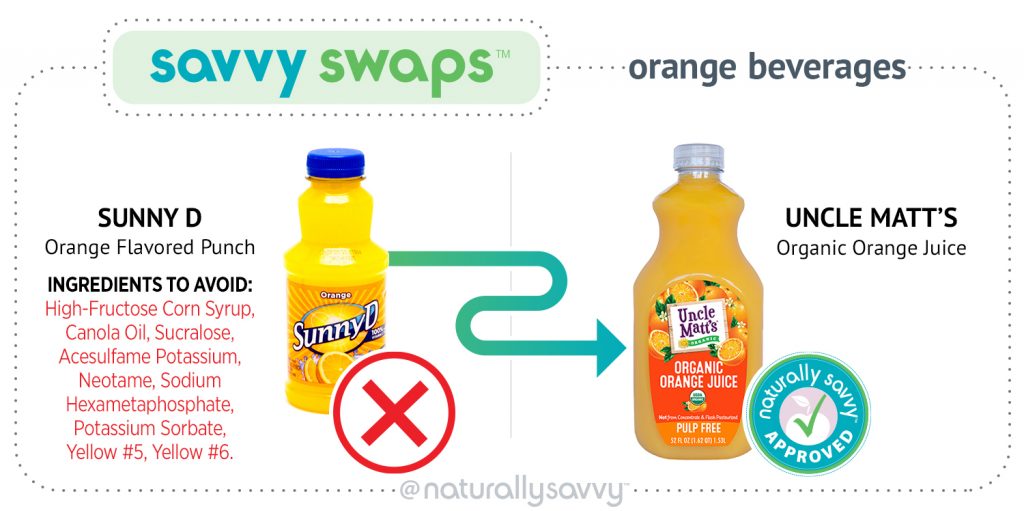 Read this next:
Sign up for our newsletter, to receive healthy eating tips to your inbox.
DISCLAIMER: This article contains affiliate links, which means that if you click on one of the product links, Naturally Savvy will receive a small commission so we can keep pumping out amazing articles like this one. Thank you so much for your support!
Sources
Centers for Disease Control and Prevention. Only 1 in 10 adults get enough fruits or vegetables.

CDC Press release

2017 Nov 16
Rippe JM, Angelopoulos TJ. Sucrose, high-fructose corn syrup, and fructose, their metabolism and potential health effects: what do we really know? Advances in Nutrition 2013 Mar; 4(2): 236-45