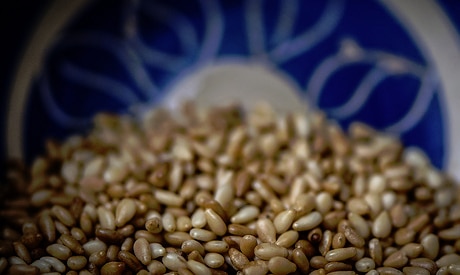 Most people probably don't think of sesame seeds as anything other than decoration on an assortment of baked breads, but these tiny seeds provide a multitude of nutritional goodies that our bodies use to feed cells and keep us healthy. The most common are white and black (although yellow and red exist as well), and while knowledge of their healing properties is relatively new to the modern, western world, it's been known to ancient civilizations for centuries. There are a high number of necessary nutrients which support various parts of the human body, including but not limited to the heart, kidneys, skin, mind, blood, and joints.
Sesame seeds also have cholesterol-lowering effects via two important types of lignan fibres called sesamin and sesamolin. The latter has also been known to protect the liver from toxins. A study published in the journal Food Chemistry in 2006 showed that sesame products "demonstrated considerable antioxidant activity."
A few of the important nutrients contained in sesame seeds and some of their health benefits include:
Copper-skin, nerve, bone, and joint health
Manganese-immune health, protein and fat metabolism, and blood sugar regulation
Tryptophan-serotonin production, nerve conductivity, and sleep regulation
Calcium-tooth and bone health, muscle growth and strength, and heart health
Magnesium-heart health, stress reducer, and calcium absorption assistance
Iron-hemoglobin production, immune health, and red blood cell oxygenation
Phosphorous-heart and kidney health, blood-clotting function, and cell growth
Zinc-immune, prostate, and skin health
Read more about prostate cancer
While their health properties are abounding, certain individuals who have a history of kidney stones and are on a reduced oxalate diet should be wary. Most of the oxalates (in the form of calcium oxalates) are found in the hulls of the seeds, and if a person has a tendency to suffer from kidney stones, they should reach for hulled seeds with largely reduced oxalates.
Aside from being physiologically beneficial, sesame seeds are an affordable and accessible food that we can incorporate into our lives with little or no preparation. If someone experiences difficulty with the digestion of sesame seeds because of their hulls, soaking them for a few hours (or overnight), and roasting them makes them more easily digested.
Sesame seeds are used widely is Asian cuisines, but they are definitely not limited to their traditional uses. They can complement most salads quite nicely. Raw or roasted, they can be sprinkled over top a traditional salad, or combined as part of the dressing (For example, mix them with maple syrup, lemon juice, extra virgin olive oil, minced garlic, and sea salt for a delightful dressing!). Alternatively, one could use the actual sesame oil as part of the dressing. It's extremely high in polyunsaturated fat (41%) and monounsaturated fat (46%), but the same antioxidant that assists in protecting the liver assists in keeping this oil from spoiling rapidly.
Also, add roasted sesame seeds to steamed broccoli with lemon and an ounce of shredded, organic cheese, or top off grilled salmon or chicken with them. They can be ground and added to smoothies or mixed with ground sea salt to make a Japanese spice called gomasio. This can be used to flavor any dish, from pastas and rice to beans and vegetables. Gomasio works best if the seeds are first roasted (with hulls). This can be done in a frying pan on low heat for 4-8 minutes, or until their color starts changing.
The versatility of sesame seeds makes them a necessity for the kitchen. If you add one new thing to your grocery list this month, make it sesame seeds-simple to prepare and with rewards any "body" would be grateful for.
References:
http://sciencedirect.com (source for antioxidant study)
Paul Pitchford's Healing with Whole Foods: Asian Traditions and Modern Nutrition: Third Edition, 1993
Phyllis A. Balch, CNC, Prescription for Nutritional Healing: A-Z Guide to Supplements
Photo Credit: Mark Seton