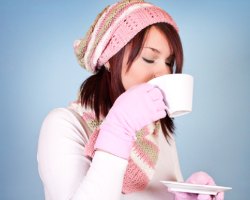 Question: Could you suggest a few ideas for healthy hot drinks? Now that the weather is cooler, I would like to change my usual winter hot drinks made with sugar and caffeine for something healthier.
Answer: Great idea. Sugar and caffeine are both addictive and caffeine is also a stimulant. Neither are good for your body and can cause many detrimental effects, the most common being unbalancing your blood sugar. The highs and lows you experience can be avoided with proper diet and changing your habits now will go a long way to preventing diabetes.
For a hot coffee substitute, try Bambu, Caf-lib or Krakus. These are made from grains, usually barley, and sweetened with beet sugar or figs. They can be made with boiling water and/or with milk. You may drink them black, or add a little cream, or nut milk, or milk substitute of your choice. They are a filling drink when made with hot milk. Choose almond breeze, rice dream, hemp milk or dairy milk if the diet allows. If you prefer a bit more sweetener, try adding a couple drops of liquid stevia.
Another great hot milk treat is a chai tea. Heat the milk of your choice with an herb tea bag, such as Celestial Seasonings English Toffee. Let it simmer on low for about 10 minutes, then press tea bag to squeeze the flavour into the milk before removing. There are several kinds of herbal and black chai teas available. If you wish to have caffeine free, read the label and avoid black tea. I have included a homemade chai tea recipe (see below).
To make a healthier hot chocolate drink, use organic raw dark cacao powder, honey, a dash of vanilla and cinnamon and the milk of your choice. Coconut milk works well and stevia is another option for a sweetener instead of honey. Experiment to see which flavors you prefer.
An even healthier hot drink is to use carob instead of chocolate. Make the Carob Syrup recipe below and store in the fridge for a quick hot milk treat.
Hot water with a bit of honey and lemon juice is a nice treat on a cold day. Also try honey with a few drops of essential oils such as ginger, peppermint, cloves or your choice in hot water.
I like to grate fresh ginger (approximately one teaspoon) heat milk, add the grated ginger and let simmer for approximately 10 minutes. Strain and drink. A great healthy and tasty hot beverage perfect to cozy up with during the cold winter months.
CHAI TEA LATTE
2 tbsp. fennel seeds
1 tbsp. cardamom seeds
1 tbsp. coriander seeds
1 tbsp fenugreek seeds
2 whole cloves
2 star anise pods with seeds
1 tsp. crushed cinnamon stick or broken 2" piece
In a small saucepan over medium high heat, combine fennel, cardamom, coriander, fenugreek, cloves, star anise and cinnamon pieces. Toast for 40 seconds or until seeds begin to sizzle and pop. Set aside to cool. Transfer to a glass jar with a lid and store in a cool dry place.
To make tea: Grind a small amount in a coffee grinder. Place 2 tsp. of ground Chai Tea Blend in a small saucepan with 1 cup of milk of your choice (dairy, Almond Breeze, Rice Dream, Hemp) and one quarter cup of water. Simmer on low for about 10 minutes, strain into a mug, sprinkle with grated nutmeg and serve.
(from Cooking for Your Health by Paulette Millis)
CAROB SYRUP
2 cups boiling water
½ cup honey
6 tbsp. carob powder
1 tbsp. arrowroot powder
pinch of celtic sea salt
1 tsp. vanilla
In a small saucepan, combine the water with the honey and boil for 5 minutes or until syrupy. Meanwhile, in a small bowl, dissolve the carob powder, arrowroot powder and salt in a few tbsp. of hot water; add to the syrup and boil for another 5 minutes or until thickened. Let cool and then add vanilla. Refrigerate in a covered glass jar. Makes 1 ½ cups. Use with milk or milk substitute such as Almond Breeze, Rice Dream.
(from Cooking for Your Health by Paulette Millis)