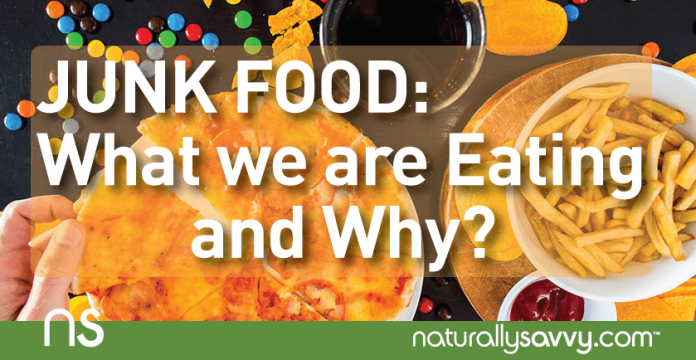 Junk food. It's a term people use loosely, and one that means different things to different people. Pizza may be junk food to you but the staff of life to someone else. So for the sake of clarity, let's define junk food as items that typically provide a significant amount of calories and little to no nutritional value. Based on this definition, for example, pizza provides the high calories and may or may not score in the nutritional category, depending on the ingredients and preparation.
Foods and beverages that easily fit the junk food definition include foods high in sugar such as cookies, cakes, pies, candy, and sugar-sweetened soda, and high-fat snacks such as potato chips, pork rinds, cheese crackers, just about anything deep-fried, and similar foods. One item that immediately meets the exception is diet soda, which is basically a vehicle for artificial sweeteners.
Another characteristic of junk food is it tends to leave you feeling hungry or ready to eat again not long after you consume it. This is especially true of sugary junk foods, which send you on a sugar high only to let you crash soon thereafter. One of the biggest problems with junk food is that too many people are eating them instead of healthy foods. Kids are grabbing a box of cookies and a soda after school, for example, instead of a banana and sparkling water.
Is Fast Food Junk Food?
Since the concept of fast food was first introduced during the 1950s, the types of foods that fall into this category have changed. Today, fast foods are considered to be "quick and easy substitutes for home cooking," and "almost always high in calories, fat, sugar, and salt," according to the National Institutes of Health.
In addition, typically fast foods contain or are wholly processed and laden with artificial flavors, artificial colors, preservatives and other scary seven ingredients. Items such as French fries, onion rings, burgers, fried chicken nuggets, fried fish and chicken sandwiches, doughnuts, and shakes are among the more popular fast foods.
You can, however, walk into a fast food restaurant and get salads, fruit, and some beverages that don't fit this description. Therefore, while it's true that many fast foods fit the junk food definition, some do not.
What's the Status of Fast Food and Junk Food Today?
The latest available figures on fast food consumption is from the National Health and Nutrition Examination Survey, which noted that:
Adults consumed an average of 11.3 percent of their total daily calories from fast food during 2007-2010, which was a slight decline from 2003-2006 figures (12.8%)
Adults age 60 and older consumed the lowest percentage of daily calories (6.0%) from fast foods
Among children and adolescents from 2011-2012:
One third (34.3%) of all kids and adolescents (2-19 years) ate fast food on a given day
About 12 percent (11.6%) of children and adolescents got fewer than 25 percent of their daily calories from fast food
More than 12 percent (12.1%) got more than 40 percent of their daily calories from fast food
Nearly 11 percent (10.7%) obtained 25 to 40 percent of their daily calories from fast food
Now let's take a look at junk food consumption. Exact figures are difficult to pin down, so here's what I was able to uncover.
Chocolate and other candy: A survey of more than 24,000 American adults conducted found that 75.5 percent of consumed chocolate and other candies in 2011. The succeeding four years saw a rise in consumption to 82.35 percent in 2015.
Read more: Can Junk food Really be Addictive?
Soda: Great news! People are drinking less soda. According to a 2014 Gallup poll, 63 percent of Americans say they actively try to avoid drinking soda. That's better than the 41 percent reported in 2002. A recent report in the New York Times noted that consumption of full-calorie soda has declined 25 percent over the past two decades. People are still drinking sugary soda, however. Another 2014 survey of adults in 18 states found that 17 percent were downing at least one sugary pop daily. A CDC survey of American adults across 18 states finds 17 percent drinking at least one sugary soda per day, with rates varying widely across states. Consumption ranged from 12 percent among people in Hawaii and New York state to 30 and 32 percent in Tennessee and Mississippi, respectively.
Snacking is Huge: Nearly all Americans (94%) snack at least once a day, according to Snacking Motivations and Attitudes US 2015 from Mintel. This figure is up significantly from 64 percent one year earlier. Exactly how much of that snacking involves junk food isn't clear. However, you can make some assumptions based on how participants responded to survey questions. For example, individuals who say they snack to satisfy a craving are likely not reaching for an apple or broccoli, as the foods people typically crave are sugary, fatty, and/or salty options.
With that in mind, here's what the survey found:
50 percent of adults snack two to three times daily
62 percent say they most often snack to satisfy a craving and that percentage reaches 70 percent in the 55-62 age group
63 percent value the taste of salty snacks more than their nutrition
33 percent stated they are choosing healthier snacks than they did a year ago, specifically those lower in calories and with simple ingredients
29 percent of adults claim they snack on healthy foods only, compared with 25 percent in 2008-2009
About one-third (34%) limit how many sweet snacks they eat, such as candy, cookies, and ice cream. This is especially the case among people age 70 and older (45%)
24 percent of millennials (age 21-38) snack four or more times daily, and 23 percent snack more now than they did a year ago
27 percent of millennials snack when they are bored and 17 percent snack because they are stressed
Overall, 51 percent of consumers say taste is more important than health when it comes to snack choices and 74 percent agree flavor is more important than which brand they choose
What Does It All Mean?
Given the overwhelming number of people who are overweight or obese, one has to wonder about these statistics concerning fast food and junk food. It appears many people say they are trying to make better food choices, yet 51 percent say taste is more important than health. Another possible red flag is that 77 percent of snackers say they want ready-to-eat snacks rather than something you have to prepare. Are they reaching for a banana or a bag of chips?
According to the NPD Group, a market research company that interviews 12 million consumer per year, snack foods consumed at main meals will increase about 5 percent over the next five years, or to 86.4 billion eatings in 2018. They believe the strongest growth will be in what is known as "better-for-you" categories, such as fresh fruit, nutrition bars, and yogurt, "consumers perceive as more healthful and convenient."
Read more: Why Most Dairy Foods are Junk Foods
Whether or not some of these foods are indeed healthful is questionable, as some so-called healthy products are havens for sugar and artificial ingredients. Some good news, however, is that NPD has projected that "Ready-to-eat sweetened snack foods and desserts, which consumers are less likely to eat at main meals, will be flat in the next five years."
The wisest move for all consumers is to focus on fresh, natural, whole foods as much as possible, for meals and snacks, and to steer clear of fast food and junk food. If you do find yourself at a restaurant, party, or event where junk food is the main fare, look for the least offensive items. In addition, Naturally Savvy founder Andrea Donsky wrote Unjunk Your Junk Food, an excellent reference to help you switch your snacking choices to much healthier options.
Sources:
Centers for Disease Control and Prevention. Calorie intake from fast food among adults in the United States
Centers for Disease Control and Prevention. Calorie intake from fast food among children and adolescents in the United States, 2011-2012.
Gallup. Americans more likely to avoid drinking soda than before. 2014 July 28.
Mercola.com. 63% of American avoid soda
Mintel. Snacking motivations and attitudes US 2015
Mintel. A snacking nation: 94% of Americans snack daily
National Institutes of Health. Fast food tips.
New York Times. The decline of 'big soda.'
Statista. Consumption of chocolate and other candy trend.
WebMD. Nearly 1 in 5 Americans has at least 1 soda per day
WebMD. Junk-food facts. http://www.webmd.com/diet/junk-food-facts