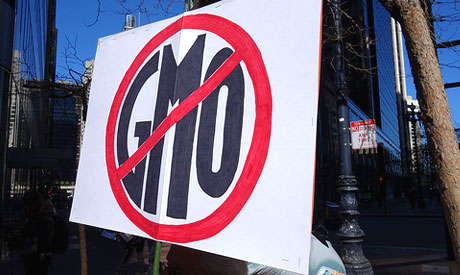 A California ballot initiative that would have required genetically engineered (GE) foods to be labeled was narrowly defeated last November. Since then, a number of states have introduced GE labeling legislation. If even only a handful of the state bills are passed, there will be a patchwork quilt of GE labeling laws in the U.S. But, the best sort of mandatory GE labeling would be a federal law. Enter the Genetically Engineered Food Right-to-Know Act, recently introduced into the Senate by Senator Barbara Boxer (D-CA) and the House by Rep. Peter DeFazio (D-OR). If passed, the bill would require all GE foods to be labeled in the U.S. The legislation is the first labeling bill introduced into the Senate since 2000. Nine Senators and 22 Representatives joined Boxer and DeFazio in sponsoring the bill.
The bill has the support of environmental and consumer organizations, including the Center for Food Safety and Just Label It. The executive director of the Center for Food Safety, Andrew Kimbrell, said of the bill, "We applaud Senator Boxer and Congressman DeFazio for taking action to bring FDA's labeling policy into the 21st century."
"It's time to trust American consumers with information about genetically engineered ingredients so they can make the best choices for themselves and their families," said Katey Parker of Just Label It.
"Americans have the right to know what is in the food they eat so they can make the best choices for their families," Senator Boxer said of the bill. "This legislation is supported by a broad coalition of consumer groups, businesses, farmers, fishermen and parents who all agree that consumers deserve more – not less – information about the food they buy." Representative DeFazio added: "When American families purchase food, they deserve to know if that food was genetically engineered in a laboratory,"
Most Americans want GE food labeled, as a recent poll shows. A HuffPost/YouGov poll, conducted from February 28 to March 1 among 1,000 American adults, found that 82 percent surveyed think GMO foods should be labeled. Only nine percent thought GE foods shouldn't be labeled, and eight percent were not sure. Previous polls found similar results. A 2011 poll by ABCNEWS found that 93 percent of those surveyed think the federal government should require labels on GMO foods.
Photo Credit: Steve Rhodes