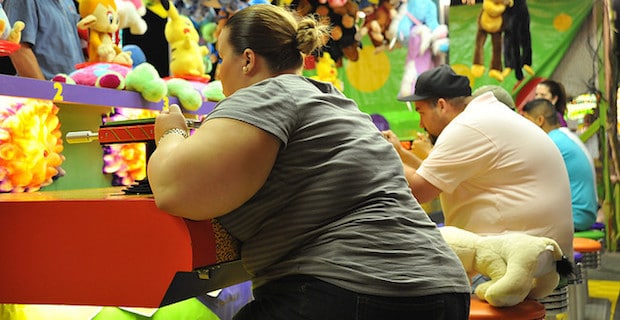 Almost 30 percent of the world's population–2.1 billion people–are either obese or overweight, a recently published study found. The study, led by researchers at the Institute for Health Metrics and Evaluation (IHME) at the University of Washington, analyzed data from 188 countries. Researchers looked at data from 1980 to 2013, and during those years, overweight and obesity rates among adults globally increased for men from 29 percent to 37 percent and for women from 30 percent to 38 percent. Global obesity rates increased substantially over the last three decades in both developed and developing countries. The country with the highest proportion of obese people (13 percent) is the U.S.
Around the world, obesity among children and adolescents has substantially increased. The prevalence of overweight or obese children and adolescents from 1980 to 2013 increased by almost 50 percent. In 2013, more than 22 percent of girls and almost 24 percent of boys in developed countries were overweight or obese. The rates in developing countries are also increasing, with almost 13 percent of boys and more than 13 percent of girls being overweight or obese. Middle Eastern and North African countries were found to have high rates of obesity among children and adolescents, particularly among girls.
In developed countries, increases in obesity rates accelerated from 1992 to 2002 and have slowed since 2006. However, in developing countries, where almost two-thirds of the world's obese people live, increases are likely to continue, researchers found. In the developing world, countries in the Middle East and North Africa, Central America and island nations in the Pacific and Caribbean have higher overweight and obesity rates. Middle Eastern and North African countries reveal that 58 percent of men and 65 percent of women age 20 or older are either overweight or obese in 2013. In Central America, more than 57 percent of men and more than 65 percent of women are overweight or obese, with the highest rates found in Colombia, Costa Rica and Mexico. Almost 44 percent of men and more than 51 percent of women in the Pacific Islands are overweight or obese; Almost 38 percent of men and 50 percent of women in the Caribbean are overweight or obese.
"Because of the established health risks and substantial increases in prevalence, obesity has become a major global health challenge," the study concluded. "Not only is obesity increasing, but no national success stories have been reported in the past 33 years. Urgent global action and leadership is needed to help countries to more effectively intervene."
"The rise in obesity among children is especially troubling in so many low- and middle-income countries," said Marie Ng, Assistant Professor of Global Health at IHME and the paper's lead author. "We know that there are severe downstream health effects from childhood obesity, including cardiovascular disease, diabetes, and many cancers. We need to be thinking now about how to turn this trend around."
At Naturally Savvy, we continue to warn about what we call the Scary Seven, or the seven scary food additives. The top two on the list are high fructose corn syrup (HFCS), and trans fat. Studies link both HFCS and trans fat to obesity, including a study by Princeton researchers which found that rats given HFCS gained much more weight than rats given table sugar, even when their overall caloric intake was the same. Another study found that monkeys fed diets with high amounts of trans fats gained significant amounts of weight. Both HFCS and trans fat are used in many processed foods.
Photo: Emilio Labrador