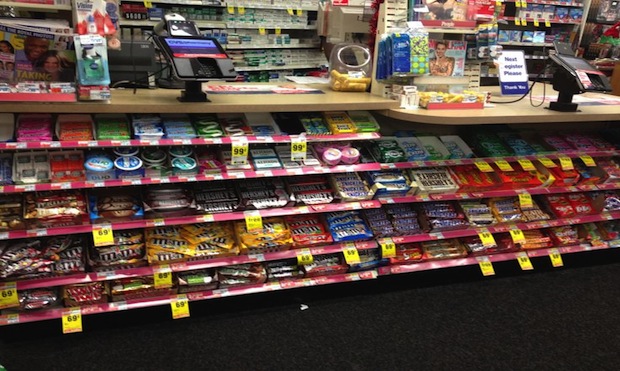 Candy and junk food sold at checkout counters has come under fire by the Center for Science in the Public Interest. The consumer group has created a Pinterest board called "Temptation at Checkout," displaying the candy and confections available at nearly every supermarket and convenience store in the country.
CSPI also called out Whole Foods Market, the nation's largest "healthy" supermarket, for selling potato chips, candies and chocolates near checkout areas. It turned into a public Twitter debate. The group has asked Whole Foods to offer "actual whole foods instead" of the junk foods. The group tweeted at Whole Foods saying that just because something is organic, doesn't make it healthy.
Read more about Scary Seven ingredients found in most junk foods
The retail chain responded to the request in a tweet, saying "Our quality standards for acceptable ingredients within those products is very high. Like most food, moderation is key."
"We agree candy & chips should be eaten in moderation," CSPI tweeted back. "That's why it's not right to push them through impulse buys at checkout."
The group says that overeating occurs as a result of the temptations created by impulse marketing-namely the products positioned at or near the checkout counters. According to the CSPI, a Walmart store (really!) in Wisconsin has been stocking fresh fruit and exercise videos and equipment at its checkout counters instead of junk food.
The trend is picking up steam, according to Confectionery News. "Earlier this year, Discount retailer Lidl removed all chocolate and sweets from checkouts except for Wrigley's gum across its UK stores. Tesco is also trialing healthier checkouts in the UK." These moves came as a result of a campaign led by the British Dietetic Association and the Children's Food Campaign.
Read more about the obesity crisis
Confectionery News reports that in 2012, the New England Journal of Medicine published an article that connected obesity with candy and junk food positioned near checkout counters and cash registers.
Image via CSPI's Pinterest board