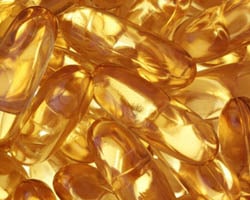 When I was younger, my mother always told me eating fish would make me smart—and my father would say it was because fish are always in schools! I'm not sure if my mother knew how right she was, but today I can see the wisdom in those words.
After reading enough articles based on good science, it is clear that in order to stay healthy and ward off disease, you should take an omega-3 supplement each and every day. What is not as clearly defined is what kind of omega-3 and how much is best to take.
There are many kinds of omega-3's, but the three predominant types are DHA (Docosahexaenoic acid ), EPA (Eicosapentaenoic acid ), and ALA (Alpha-linolenic acid ). DHA & EPA are sourced from fatty fish and marine algae (plants), while ALA is derived from plant seed oils. While all are omega-3s, they are absorbed differently and perform different functions in our bodies.
Both of the marine-sourced forms (DHA & EPA) are biologically active, meaning your body can use them as they are. Whereas your body needs to first convert ALA (plant seed sourced) to DHA & EPA before it can be used. Unfortunately this conversion is not efficient and your ability to convert it is very limited, rapidly decreasing after infancy and continuing to decline as we age. Due to this poor conversion rate, a supplement containing DHA & EPA is recommended. You simply can't take enough ALA to get clinically effective doses of DHA & EPA .
So just how much DHA & EPA do you need to get a clinical effect? The answer is dependent on the clinical outcome you are trying to achieve. In order to decide, let us review the clinical evidence.
Omega-3s are among the most widely researched medicinal substances. By 2008, there were over 13,500 research papers published and indexed on Medline – far more than some "well researched" pharmaceuticals. For example, by 2008 Lipitor had only 3,117 papers on Medline, less than 25% of those researching Omega-3. With this much research it is no surprise that the evidence of health benefits derived from Omega-3s, DHA & EPA in particular, is rapidly growing. The main areas of research concentrate on diseases affecting many of us: cancer, cardiovascular disease, cognition, immunity, and vision.
Cancer prevention
Studies show an inverse relationship between DHA & EPA consumption and the incidence of cancer. Essentially, the higher your daily consumption of DHA & EPA is, the lower your risk of cancer becomes.
Consumption of these omega-3s was associated with decreased risk of non-Hodkins lymphoma and chronic lymphocytic lymphoma (5). DHA has been shown to have a chemoprotective effect on its own and when taken with chemoprotective pharmaceuticals (7). EPA & DHA were both shown to have an inhibitory effect on cancer tumor growth (1). In one particularly large study (18), of almost 3,000 people over seven years looking at colorectal cancer, researchers concluded patients with colorectal cancer consumed lower amounts of three common polyunsaturated fatty acids (PUFA's) as well as individual EPA & DHA."
For cancer prevention, it is recommended to take a minimum of 500-1000mg total DHA & EPA combined.
Cardiovascular disease prevention
There have been numerous large scale trials connecting a reduced risk of cardiovascular disease and consumption of DHA & EPA. The landmark Cardiovascular Health Study, a large study of cardiac patients showed an astounding 70% reduced risk of fatal heart disease in those with high blood levels of DHA & EPA.
Most trials over a year in length report that fish oil (source of DHA & EPA) significantly reduced all-cause mortality, myocardial infarction, cardiac and sudden death, or stroke. They concluded the evidence suggests that increased consumption of omega-3s from fish or fish-oil supplements (DHA & EPA), but not of alpha-linolenic acid (ALA), reduces the rates of all-cause mortality, cardiac and sudden death, and possibly stroke (20). In addition, studies have shown a significant increase in arterial elasticity (one of the predictors of cardiovascular disease), and resulting reduction in cardiovascular disease risk in those who take DHA & EPA (20).
For cardiovascular disease prevention it is recommended to take a minimum of 500-1000mg total DHA & EPA combined. People that are looking to reduce the amount of triglyceride in their blood can increase their intake to a total of 4000mg DHA & EPA combined daily (consistent with recommendations of the American Heart Association).
Mental & Cognitive health
When assessing the effectiveness of DHA & EPA supplementation on children with ADHD, studies conclude that ADHD-related problems with inattention, hyperactivity, and impulsiveness respond to treatment with PUFAs, or polyunsatured fatty acids (16).
Research on childhood development and the correlation with the maternal omega-3 status found higher DHA concentrations in cord blood samples (indicative of higher DHA consumption) was associated with longer gestation, better visual acuity, better novelty preference and better mental and psychomotor performance (11).
Researchers have also been able to establish the link between omega-3 consumption and higher grades. In Sweden, they found a 15% increase in grades of fifteen year olds who consumed DHA & EPA regularly (12).
For cognition, the recommended amount of total DHA & EPA ranges between 500-1000 mg per day.
Visual Health
DHA & EPA offers significant benefits for visual health in both young and old alike. In infants, researchers were able to link significantly higher visual acuity (17%) with higher infant consumption of DHA (17).
Studies also show that an increased intake of DHA & EPA helped protect against Age Related Macular Degeneration, which is the decline in vision as we age (6).
Another large study (over 1,800 participants followed for over 12 years) found those with higher DHA & EPA consumption showed a 32% lower risk of Age Related Macular Degeneration (14).
For visual health benefits, the recommend amount of total DHA & EPA ranges between 500-1000 mg per day.
Inflammation & Immunity
Numerous trials have shown that omega-3's are effective at relieving and preventing inflammation and inflammatory diseases, such as arthritis and atherosclerosis. They do this by competing with pro inflammatory substances and suppressing the body's secretion of inflammatory agents (15).
Research has also shown that high EPA & DHA intake resulted in a physical change in the expression of genes in our bodies. A high intake actually ends up decreasing the expression of genes involved in inflammation and atherosclerosis (4). By reducing these, we are able to improve overall immunity and reduce the risk of atherosclerosis and inflammatory diseases.
Trials have consistently shown a reduction in pain and tender joints in patients who consume DHA & EPA. Additionally, they found that patients were able to reduce their reliance on pharmaceutical drugs, namely non-steroidal anti-inflammatory drugs (NSAIDs) (13; 8; 9).
For inflammation prevention and improved immunity, a minimum of 3,000mg combined DHA & EPA daily is recommended. Please note that inflammation takes a significant amount of time to see results with treatment, and DHA & EPA are effective but they too take time to work. Do not take more than 3 grams daily of omega-3 fatty acids without the supervision of a health care provider.
These and other studies have shown us that DHA & EPA are potent natural healers capable of also preventing numerous conditions. Don't be tricked by creative labeling. When looking at values, pay attention to the levels of DHA and EPA, not to be tricked by looking at the amount of "fish oil" or amount of "total omega-3".
Soft gel or liquid capsules are the most stable and convenient form to use because they will last for quite some time before the oil goes rancid (all omega-3s are subject to rancidity). Unfortunately, per dose they are also the most expensive. If you are looking for a "purer" product, choose liquid oil, but remember once opened it will go rancid quickly. Keeping omega-3 oils in the freezer at all times will help to lengthen their life.
Additionally you can find micro-encapsulated powders (commonly in instant drink mixes). These powders are quite good, highly stable and often pleasant tasting. The dosage form you choose ultimately depends on your desired level of convenience and stability combined with your budget.
References
1] Akihisa, T., et al., (2004) Cancer chemopreventive effects of polyunsaturated fatty acids, Cancer Letters 205:9–13
2] AHA Scientific Statement (2002) Fish Consumption, Fish Oil, Omega-3 Fatty Acids, and Cardiovascular Disease, Circulation.106:2747.
3] Albert, C.M., et al . (2002) Blood levels of long-chain n-3 fatty acids and the risk of sudden death. New Engl. J. Med. 346: 1113-1118,
4] Bouwens M. et. al.(2009) Fish-oil supplementation induces anti-inflammatory gene expression profiles in human blood mononuclear cells., Am J Clin Nutr. Aug;90(2):415-24
5] Chang, Ellen T., et al. (2006)Nutrient Intake and Risk of Non-Hodgkin's Lymphoma, Am J Epidemiol. 164:1222-1232.
6] Chua B, et al. (2006) Dietary Fatty Acids and the 5-Year Incidence of Age-Related Maculopathy, Arch Ophthalmol. 124:981-986 .
7] El-Mesery, ME, et al.(2009)Chemopreventive and renal protective effects for docosahexaenoic acid (DHA): implications of CRP and lipid peroxides, Cell Division 4:6
8] Fortin PR, et al. (1995) Validation of a meta-analysis: the effects of fish oil in rheumatoid arthritis. J Clin Epidemiol. 48(11):1379-1390.
9] Goldberg RJ, Katz J.(2007) A meta-analysis of the analgesic effects of omega-3 polyunsaturated fatty acid supplementation for inflammatory joint pain. Pain. 129(1-2):210-223.
10] Holub, D. J., and Holub, B. J.(2004) Omega-3 fatty acids from fish oils and cardiovascular disease. Molecular and Cellular Biochemistry. 263:217-225,
11] Jacobson JL et al. (2008) Beneficial effects of a polyunsaturated fatty acid on infant development: evidence from the Inuit of arctic Quebec., The Journal of Pediatrics. 152(3):356-64
12] Kim, J. L. et al. (2010) Fish Consumption and school Grades in Swedish Adolescents : a study of the large general population, Acta Paediatrica , 99: 72-77
13] MacLean CH, et al. (2004) Effects of omega-3 fatty acids on lipids and glycemic control in type II diabetes and the metabolic syndrome and on inflammatory bowel disease, rheumatoid arthritis, renal disease, systemic lupus erythematosus, and osteoporosis. Evid Rep Technol Assess (Summ)(89):1-4
14] SanGiovanni, J. P. et al.(2009)Omega-3 Long-Chain Polyunsaturated Fatty Acid Intake and 12-year Incidence of Neovascular Age-related Macular Degeneration and Central Geographic Atrophy: AREDS Report 30, a Prospective Cohort Study from the Age-Related Eye Disease Study, American Journal of Clinical Nutrition, 90:1601-1607,
15] Simopoulos A.(2002) Omega-3 Fatty Acids in Inflammation and Autoimmune Diseases, J. Am. Col. Nut.21(6):495-505
16] Sinn N and Bryan J.(2007) Effect of Supplementation with Polyunsaturated Fatty Acids and Micronutrients on Learning and Behavior Problems Associated with Child ADHD, J Dev Behav Pediatr. 28: 82-91
17] Smithers LG et al.(2008) Higher Dose of Docosahexaenoic Acid in the Neonatal Period Improves Visual Acuity of Preterm Infants: Results of a Randomized Controlled Trial, Am. J. Clin. Nutr. 88:1049-1056,
18] Theodoratou E et al. (2007) Dietary Fatty Acids and Colorectal Cancer: A Case-Control Study, American Journal of Epidemiology. 166:181-195,
19] Wang C., et al. (2006) n-3 Fatty acids from fish or fish-oil supplements, but not a-linolenic acid, benefit cardiovascular disease outcomes in primary – and secondary-prevention studies: a systematic review., Am. J. Clin. Nutr. 84:5-17
20] Wang S. et al. (2007) Fish Oil Supplementation Improves Large Arterial Elasticity in Overweight Hypertensive Patients, European Journal of Clinical Nutrition. Ahead of Publication