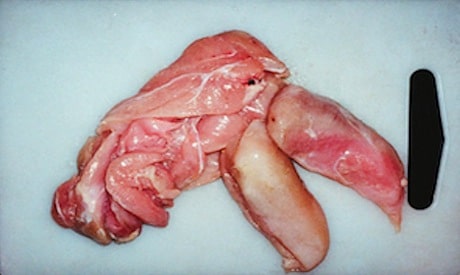 The meats posing the greatest human health risks from foodborne illness threats are chicken and ground beef, according to rankings released by the Center for Science in the Public Interest.
In a study, entitled "Risky Meat: A Field Guide to Meat & Poultry Safety," [PDF] the CSPI ranked 12 categories of meat and poultry based on outbreak reports associated with the types of meat, as well as the likelihood of hospitalizations connected with the outbreaks, reports Food Safety News.Read more about food outbreaks
The report looked at the foodborne illnesses between the years 1998 and 2010, totaling more than 1,700 outbreaks and 33,000 illnesses. Ground beef and chicken were given the "highest risk" categorization because in the 12 years studied, chicken was linked with 452 outbreaks and nearly 7,000 illnesses, and ground beef was connected with 336 outbreaks and more than 3,800 illnesses.
"High risk" meats included turkey and other beef products such as steak. "Medium risk" included deli meats, pork products and roast beef; and the "low risk" category included chicken nuggets, ham and sausage.
CSPI says it published the report to "inform stakeholders throughout the food chain of steps to minimize risks inherent in these foods," as well as to help consumers "take precautionary steps, such as safer handling and more thorough cooking." The USDA Food and Safety Inspection Service responded to the report by saying initiatives are already underway to reduce the prevalence of harmful pathogens.Read more about safe food handling
Food Safety News reports that Dr. Elisabeth Hagen, USDA Under Secretary for Food Safety said, "We applaud CSPI's ongoing efforts to educate consumers about food safety." She added that "while we have made progress in making food safer-including cutting E. coli O157-related illnesses in half, we still have work to do. As Salmonella rates continue to stagnate, we look forward to CSPI's support, and the support of other groups committed to food safety, of our efforts to reduce this dangerous foodborne pathogen, including modernization of the poultry inspection system."
Image: smpistc