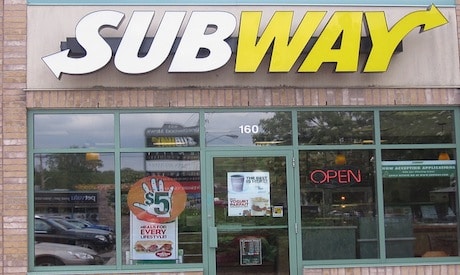 There is a perception that Subway offers healthier fare than its fast food counterparts like McDonald's. That is not necessarily the case, as a recent study shows. Researchers from the University of California at Los Angeles (UCLA) found that adolescents who bought Subway meals ate almost as many calories as they did at McDonald's.
Published in the May 6 Journal of Adolescent Health, the study looked at the meal choices of 97 adolescents ages 12 to 21. The participants ate at McDonald's and Subway restaurants at a shopping mall in Carson, California. They went to each restaurant on different weekdays between three to five p.m. The researchers used the cash register receipts to record what each participant ate and estimated the calorie counts from information on the chains' websites. What they found is that the participants bought meals containing an average of 1,038 at McDonald's and 955 calories at Subway. Females ages 14 to 18 years old need 1,800 calories and males in the same age group need 2,200, according to USDA guidelines.
The researchers found that the sandwiches at Subway, on average, contained more calories than those at McDonald's: 784 calories at Subway and 572 calories at McDonald's. The average sodium content of the Subway meals was also higher, with 2,149 mg at Subway and 1,829 mg at McDonald's.
Here are other results the researchers found:
Participants choose sugary drinks averaging 61 calories at Subway and 151 calories at McDonald's
They purchased side items such as French fries and potato chips that added an average of 35 calories at Subway and 201 calories at McDonald's
They ate 102 grams of carbohydrates at Subway and 128 grams at McDonald's
The meals contained an average of 36 grams of sugar at Subway and 54 grams at McDonald's
The meals contained an average of 41 grams of protein at Subway and 32 grams at McDonald's
"We found that there was no statistically significant difference between the two restaurants, and that participants ate too many calories at both," said Dr. Lenard Lesser, who led the research while a Robert Wood Johnson Foundation Clinical Scholar in the department of family medicine at the David Geffen School of Medicine at UCLA and the UCLA Fielding School of Public Health, who is now a researcher at the Palo Alto Medical Foundation Research Institute.
What can someone do to eat healthier at Subway? Lesser recommended that customers at Subway "opt for smaller subs, and ask for less meat and double the amount of veggies."
Subway's website states that the chain is the "first fast food restaurant to earn the American Heart Association heart check for heart healthy meals." The Subway Fresh Fit Meals are AHA certified and the black forest ham sandwich is one of them. The Institute of Medicine recommends 1,500 mg of sodium per day as the Adequate Intake level for most Americans. The black forest ham sandwich, a six-inch sandwich, contains more than half that amount at 800 mg of sodium.
Photo Credit: pat00139