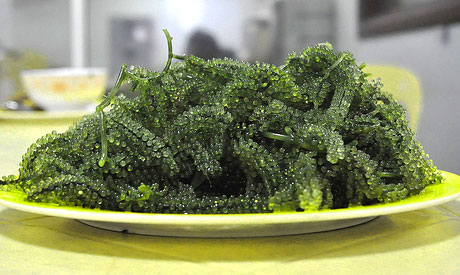 When I was a kid, the only thing I knew about seaweed was that I could find it whenever I found myself swimming in the ocean. Imagine my surprise when my parents told me I could actually eat it!
For some, seaweed can be an acquired taste. However, there are a lot of different ways to incorporate it into your diet. Nori, a type of seaweed, is well-known for being used in sushi, but it can also be used in salads or eaten as a side or snack. While it may have an unusual texture to get used to, training your palate to love it will allow you to reap the numerous health benefits that seaweed can provide.Read more about hidden ingredients in sushi
Seaweeds are excellent sources of nutrients high in essential amino acids. Because of this, they are a great addition to vegan or vegetarian diets. They also contain vitamins A and C, and are rich in iron, calcium, potassium, iodine and magnesium. Seaweed is also on the lower end of the calorie scale, making it a guilt-free food you can add to your diet to ensure you're getting all of those valuable nutrients without ingesting an excess in calories. Furthermore, its high fiber content can also help keep you feeling fuller longer. Livestrong.com also explains that seaweed can be used to help regulate blood sugar, as "seaweed can help balance blood sugar because its soluble fiber content helps slow the rate at which foods are digested and absorbed into the bloodsteam." The article also explains that seaweed has also been shown to have anti-inflammatory effects on lab animals, but that this hasn't been researched or proven in humans as of yet.
Fit-Day lists the various types of edible seaweed, including nori, hijiki, dulse, sea lettuce, kombu, and wakame. Each has its own unique taste and provides different health benefits.
Nori is typically what is used in sushi, and is usually wrapped around the rice. It has the highest amount of protein when compared to other types of seaweed. Hijiki is quite versatile, and can be used in salads, soups, stews, or casseroles. It's also quite high in calcium and fiber. Dulse is high in vitamin B6 and B12, and has more of a salty and spicy taste to it. Sea lettuce is high in iron and is primarily used in salads, while kombu is nutrient-rich and some say, has a taste similar to bacon. Lastly, wakame works well in soups, and is quite high in calcium.
The nutrients that seaweed can provide, combined with its low calorie content make it a food well worth adding to your diet.Read more about healthy B vitamins
Photo Credit: whologwhy
Reference:
Livestrong.com, "What are the Health Benefits of Eating Seaweed?"
FitDay.com, "The Nutrition of Edible Seaweed"