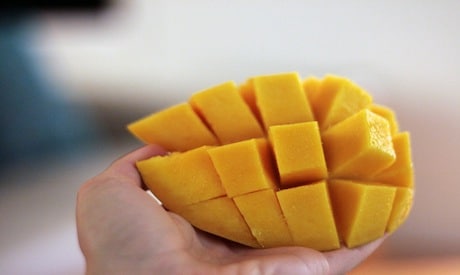 It's a tropical delight, prized for its sweetness, flavor and versatility. And now, new research has indicated that eating mangoes could actually lower your overall blood sugar levels. A sweet fruit lowering blood sugar levels? How can that be possible?
Men's Health reported a study in which "obese adults who ate about half a mango a day for 12 weeks saw a significant reduction in blood sugar levels." The study was conducted by Edralin Lucas, the associate professor of nutritional sciences at Oklahoma State University. Lucas and her team "examined the effects of daily mango consumption on clinical parameters and body composition in obese subjects (body mass index, BMI > 30kg2). Twenty adults (11 males and 9 females) participated in the study, which included daily dietary supplementation with 10 grams of freeze dried mango (equivalent to approximately 100 grams of fresh mango, according to Dr. Lucas) for 12 weeks."
The research concluded that "blood sugar levels at the conclusion of the study were significantly lower than the baseline in both male and female subjects. There were no significant changes in body composition for either gender, and BMI increased significantly in female subjects but not male subjects compared to baseline. These findings are the result of a single study and more research is needed on the effects of mango consumption on human health."
Lucas added that another reason mangoes could reduce sugar levels is due to their high fiber content, which can actually help absorb sugar. However, she did conclude by stating that "exercise and a diet generally rich in all sorts of fruits and vegetables" is the best way to keep your blood sugar in check.
Photo Credit: Gemma Maree
References: Men's Health, EurekaAlert.org