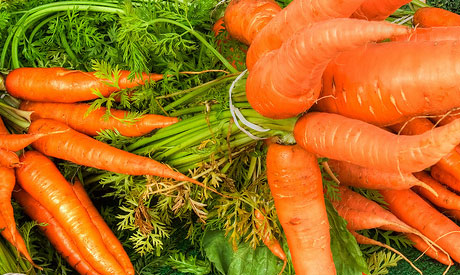 The more we embrace the idea that beyond just offering veritable nutritional value, most vegetables actually taste amazing (except for you, asparagus), the more we're prone to dig deep into the catalog, finding our way to rare heirloom varieties. This is not a bad thing, of course, but we don't necessarily need to detour around worthy staples to do so. Case in point: our old friend, the carrot.
As the apple is to the fruit kingdom, the carrot is to the vegetable kingdom. An epitome of health, it's the trustworthy go-to for vitamins, minerals, antioxidants and fiber. And this hardy root dweller is a versatile kitchen staple, but it often gets relegated to the chorus of soups and stews, rather than taking center stage. But as you'll see with these carrot recipe ideas, it rightfully deserves a prime spot on any plate. Check out some of these fantastic ways to highlight carrots on your vegetable menu.
Carrot Tahini Spread: Carrots add a wonderful sweetness to tahini for a delectable spread. Use instead of -or in addition to hummus. Top on any sandwich, or use as a dip. Check out this fantastic and simple recipe to start.
Roasted Carrots: Speaking of simple…roasting is a generally easy method and this recipe really brings out the carrot's sweetness and creamy texture. Did I mention it's super simple?
Carrot Mousse: Serve this with a slice of carrot cake and you'll never look at carrots the same way again! It's a lot easier than you may think, as well. This recipe does the trick and you can easily veganize it by substituting coconut oil for butter. To make it even healthier, replace the breadcrumbs with hemp seeds.
Tzimmes: It doesn't have to be Passover for you to make this traditional holiday carrot dish. There are lots of variables, as you'll see here in these recipes, and all are worthy side dishes, if not centerpieces.
Lemon Carrots: The healthier our diet is, the better we're able to taste the wonderful flavors of foods with little added seasoning. One such example is a stunningly simple recipe: lemon carrots. It's one I make often, when there's little else in the fridge besides a few lonely looking carrots. Works incredibly well with heirloom varieties too.
Ingredients
4 medium carrots sliced on the diagonal
¼ cup water
2 tablespoons olive oil
juice of 1 large lemon
2 tablespoons grated lemon peel
salt & pepper to taste
*optional 1 tablespoon brown sugar, chopped fresh herbs such as tarragon, parsley or lemon verbena.
Method
Gently heat carrots and lemon peel in water over a medium flame in a skillet for about 5-8 minutes. Add remaining ingredients and heat a few minutes more until liquid evaporates and carrots are tender but not soft.
Carrot Juice: Trade in that pasteurized OJ for fresh-pressed carrot juice. While just as sweet (and orange!) as your morning beverage, fresh juices contain more nutrients. You decrease your landfill waste, too, when you ditch the plastic and make your own. It's reason enough to invest in a good juicer and use it often!
The perfect snack: We think of fruits as snacks and vegetables as part of our meals-if at all. But the carrot is a most worthy nosh any time of day. Cut 'em up like pretzel sticks or just eat 'em whole.
Photo credit: clayirving