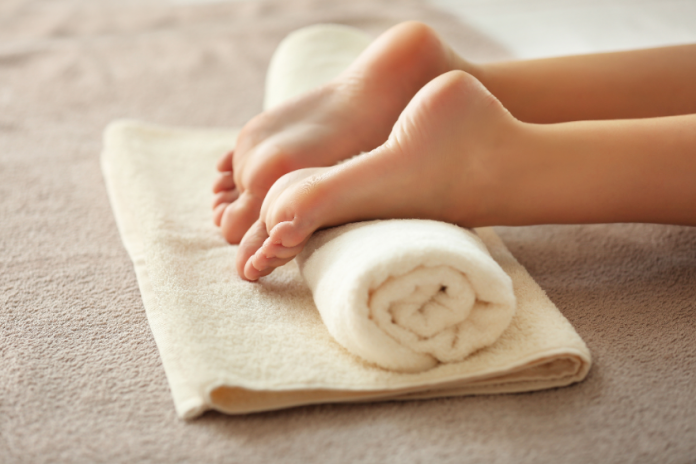 Your feet could well be the most overworked part of your body. After all, not only do they support your body weight much of the day; they also must contend with being confined in shoes and socks, stepping on unseen objects on the floor, getting sweaty and smelly, and even perhaps experiencing the occasional stubbed toe. Some of these abuses may result in corns and calluses.
So how can you pamper your feet and give them the respect they deserve? Nature has provided us with some outstanding substances that can not only keep your feet well-moisturized (helped along by mucopolysaccharides), but also revitalize the skin, heal any cracks, help exfoliate dead skin, and take the heat off of your tootsies and heels. One of those super substances is aloe vera.
Read about the many healing benefits of aloe vera
Some of the reasons why aloe vera, in gel form, can provide all of these benefits for your feet is that it is a rich source of vitamins, minerals, and amino acids. One of those minerals, zinc, tightens pores while the amino acids soften any hardened skin cells. Aloe vera also contains bradykinase, an enzyme that helps reduce inflammation when the gel is applied to the skin. Factors called auxins and gibberellins are helpful in wound healing, while the gel also stimulates fibroblast cells, which produce elastin and collagen that makes the skin more elastic.
Aloe vera foot mask recipes
If you want to be good to your feet, there are numerous ways you can include aloe vera gel in your treatment plan. For starters, choose to use either a commercial aloe vera gel (organic is recommended) or extract fresh aloe vera gel from your own plants. You might consider using either one or both of the following DIY aloe vera foot mask recipes on a regular basis to help maintain the integrity and health of your feet.
Recipe #1
¼ cup coconut oil (moisturizes the skin because of its lauric acid and protects against infections)
2 Tbsp aloe vera gel (revitalizes the skin and fights inflammation)
5 drops lavender essential oil (anti-inflammatory properties)
Combine all three ingredients in a mixing bowl and use a hand blender to whisk them. Store the mixture in a glass jar or container until ready to use. Massage into your feet daily. The shelf life of this cream is about 2 to 3 weeks. Store it in a dark, cool place.
Read about aloe vera: nature's beauty secret
Recipe #2
This combination will help keep your feet cool and dry. Combine the following ingredients in a spray bottle and shake well:
3 Tbsp aloe vera gel
3 Tbsp witch hazel
4 to 5 drops peppermint or lavender essential oil
Spray the mixture on your feet and allow them to hang out in the air uncovered for a while. If possible, blow a fan or let the air pass over your feet. You can store the mixture in a dark, cool spot for 2 to 3 months.
[Editor's Note: Our partner Lily of the Desert has high-quality aloe vera products. They grow their own aloe vera plants so you can trust their quality. Their aloe vera gel can be used in either of the recipes above. They also have cold-pressed virgin coconut oil.]
DISCLAIMER: This article contains affiliate links, which means that if you click on one of the product links, Naturally Savvy will receive a small commission so we can keep pumping out amazing articles like this one. Thank you so much for your support!
Source
Surjushe A et al. Aloe vera: a short review. Indian Journal of Dermatology 2008; 53(4): 163-66