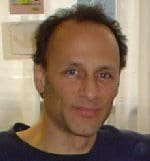 Wayne Gendel is Naturally Savvy's Living Raw Food Pioneer.
Wayne has been lecturing and consulting for 13 years and is the developer of the Forever Healthy Life Extension Program. Mr. Gendel has studied a variety of health modalities with some of the top world-renowned professionals including Dr. Ann Wigmore and Dr. Brian Clement of the Hippocrates Health Institute and is a Hippocrates Health Educator. He is a dynamic inspirational speaker and educator in the natural health industry, and is known for practicing what he preaches.
Wayne empowers people by going beyond manufacturer product claims to bring out the truth about the products we consume. The Forever Healthy Life Extension Program encourages individuals to live longer, healthier, disease-free lives by combining the wisdom of many world-famous health programs and research data from cultures around the world. Wayne researches products to ensure they meet the highest standards for consumption. His research goes beyond suppliers' claims as Wayne and his team looks for the truth regarding ingredient panels and how products are made. Through his research, Wayne has come across many products that contain undisclosed synthetic ingredients such as chemical solvents, binders, fillers, preservatives, etc. that are not required to be listed on the label. He believes that synthetic ingredients are not suitable for humans to eat.
Wayne is a regular on TV, Radio and is a sought after public speaker at universities, health centers and trade shows.
To reach Wayne, email him at: Wayne(at)NaturallySavvy(dot)com.
For more information on Wayne, visit: ForeverHealthy.net.