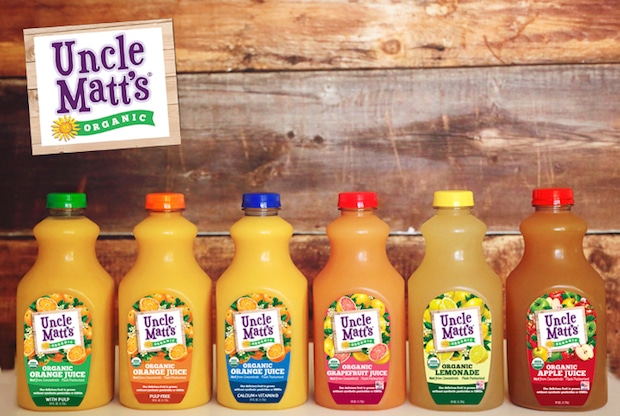 The real-life uncle to ten nieces and nephews, Matt McLean ventured into the organic juice business in 1999 with a passion for healthy living as well as a long family history of growing citrus in Florida. Matt's goal was, and still is, to produce the highest quality juice and fresh fruit, using only premium 100% organically-grown fruit that is free from synthetic pesticides.
Uncle Matt's Organic produces not-from-concentrate organic juices that are both naturally sweet and deliciously smooth. All of their organic juices are simple and pure — there's nothing added to them — like peel oil or flavor packs, which can affect taste and texture. The benefits don't end there. They're dedicated to growing the sweetest, most-nutritionally dense fruit available today.
The family's proprietary organic farm program combines multigenerational knowledge with cutting-edge university and USDA research that's aimed at maximizing the health of not only their fruit, but their groves as well. They don't simply manufacture organic juices. They nurture the trees and nourish the soil, and then let nature do what it does best. That's why you can expect a flavor so fresh you'll think you squeezed it yourself.
Read more about the top ten reasons to eat organic
The Uncle Matt's family of products includes:
Organic Orange Juices Uncle Matt's flagship organic orange juice is a delicious blend of Hamlin and Valencia oranges grown without the use of synthetic fertilizers and harmful fungicides or pesticides. Each 59 oz. BPA-free bottle is packed with antioxidants and a daily dose of vitamin C.
Organic Homestyle Lemonade Experience summer's refreshing, fresh-squeezed taste with Uncle Matt's homestyle organic lemonade! Brimming with juicy California lemons, Uncle Matt's take on this summertime classic is made from 100% organic ingredients.
Organic Orchard-Style Apple Juice With a premium blend of seasonal apples, including Fuji, Gala, Golden, Granny Smith and Red Delicious, their orchard-style juice uses a cold-pressed method that preserves maximum flavor. One 6 oz. glass equals one serving of fruit and contains only apples grown without the use of synthetic pesticides. What's more, their not-from-concentrate, boldly-brown juice has over 4x the antioxidants of clear apple juice.
Read more about the health benefits of organic applesNot-from-Concentrate Premium Grapefruit Juice A delicious blend of mellow Ruby Reds and robust Whites, Uncle Matt's grapefruit juice adds a flavorful, nutritious "zing" to any day. A significant source of vitamin C, grapefruit juice is also a source of calcium, folic acid, phosphorus and potassium. In 2012, their grapefruit juice made Dr. Oz's list of "99 Diet Foods Dr. Oz Wants in Your Shopping Cart."
Organic Orange Mango and Organic Orange Tangerine Two new flavors, two new ways to boost your health with blends from an organic farming family you can trust. Whether it's their tangy orange tangerine juice or the smooth velvety taste of their orange mango blend, there's goodness in every sip, plus their new blends boast 100% RDV for Vitamin C.
Organic Florida Fruit In addition to offering Florida organic orange juice, Uncle Matt's proudly produces a full line of organic fresh Florida citrus, blueberries, peaches and avocados.