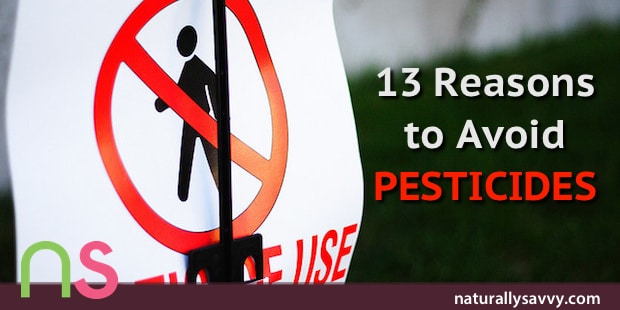 Pesticides are designed to be bad guys, and they are great at their job. These chemicals are dispensed everywhere to control, repel, or kill pests on our food crops, playgrounds, parks, personal lawns, gardens, and forests, and neighborhoods (mosquito spraying, anyone?).
Yet despite their prevalence in our daily lives, scientists do not really understand all the health implications associated with pesticide exposure. Such lack of understanding has not stopped their use, however. Every year, approximately 1 billion pounds of pesticides are applied to farms, lawns, forests, and golf courses in the United States. Users can chose from the more than 17,000 pesticide products on the market.
Why should you and your family avoid pesticides? The list of reasons is longer than we can tackle in one article, so let's begin with 13 reasons for now and continue with the rest in a future article.
1. Alzheimer's disease. Evidence is growing that pesticide exposure has a role in the development of Alzheimer's disease (AD). In a 2015 report in Frontiers in Cellular Neuroscience, for example, the authors explained how "some pesticides…have been involved in AD due to their ability to increase beta-amyloid (AB) peptide and the phosphorylation of Tau protein," factors shown to be involved in causing characteristics of the disease.
In other new research, an international team reported finding a relationship between pesticide exposure and non-vascular dementia among men. Yet other recent research referred to past studies in which it was shown that the brains and serum of individuals with Alzheimer's disease have "dramatically higher levels of a metabolic of…(DDT)," which prompted a team who published in the Journal of Alzheimer's Disease to note they had gained some insight into how exposure to DDT "may increase the risk of AD."
2. Asthma (adults). The number of people with asthma keeps growing, and one reason may be exposure to pesticides. Between 2001 and 2009, the number of people with the respiratory disease increased from 20 million to about 25 million. Research linking pesticides with asthma is increasing as well. In June 2015, a review of 41 articles looked at the association between occupational exposure to pesticides and respiratory conditions, including asthma and chronic bronchitis. The reviewers concluded that "occupational exposure to pesticides is associated with an increased risk of respiratory symptoms, asthma and chronic bronchitis."
3. Breast cancer.  A 2015 study published in The Science of the Total Environment reported on a potential association between a commonly used pesticide (beta-hexachlorocyclohexane) and breast cancer among women in a case-control study. Scores of animal and lab studies reveal an effect of pesticides on breast cancer cells. A February 2015 study, for example, reported that persistent organic pollutants modulated human breast cancer cell lines, highlighting the role of these pesticides in the development and progression of the disease.
4. Endometriosis. At least two pesticides have been identified as possibly being a cause of endometriosis. Researchers at the Fred Hutchinson Cancer Research Center found a 30 to 70 percent increased risk of developing the condition among women who had been exposed to beta-hexachlorocyclohexane and mirex. These two pesticides have been banned in the United States for several decades, yet they can linger in animal foods such as fish, meat, and dairy.
5. Female infertility. Numerous pesticides may have a negative impact on fertility in women. One is methoxychlor, which is commonly used on food crops as well as home gardens and even pets. A Yale University study reported that the pesticide can interfere with the proper development and function of a woman's reproductive tract, which in turn may result in reduced fertility. Another study that included mostly low-income Latina women found that those who had occupational exposure to currently used pesticides were 30 percent less likely to conceive during any given month than women who had not been exposed. Women who were exposed to pesticides at home also had less chance of getting pregnant.
6. Hearing problems. Results of both animal and human studies have indicated that exposure to pesticides is associated with hearing problems. For example, exposure to organochlorine pesticides during infancy at environmental concentrations appears to be associated with hearing deficits in children, according to research in Environmental Science and Pollution Research International. In another study, 14,229 white male pesticide applicators were evaluated for hearing problems. More than one-third (35%) reported hearing loss, and the authors noted that organophosphate exposure was associated with the hearing deficits.
7. Male infertility. Low sperm counts, decreased sperm motility, and altered hormone levels are associated with infertility in males. Could pesticides be linked to these red flags? A team of Spanish researchers recently reported in Environmental Researchsuggests it may be so. Their evaluation of urine, blood, and semen samples from men who attended an infertility clinic showed that exposure to organophosphate pesticides "may be associated with decreased sperm counts and motility and altered reproductive hormone levels in male partners of couples seeking infertility treatment."
In another recent study of married male farm workers exposed to pesticides, the authors found that infertility was greater among the farm worker families than in the normal population. Their wives also had a history of stillbirth and abortion that was higher than in the general population. Overall, the authors noted that "these effects are likely to be attributed to the exposure of farm workers to pesticides."
8. Multiple chemical sensitivity (MCS). This medical condition, also referred to as an environmental illness, is characterized by a person's inability to tolerate low exposure to chemicals and environmental toxins, including pesticides. The Toxics Action Centernotes that "exposure to pesticides is a common way for individuals to develop MCS, and once the condition is present, pesticides are often a potent trigger for symptoms." The only effective way to deal with MCS is to avoid exposure to the offending substances, and for some people the number of such agents continues to grow as time passes.
Read about how to avoid pesticides on your produce
9. Non-Hodgkin lymphoma. The findings of a systematic review and meta-analysis published in 2014 noted the relationship between non-Hodgkin lymphoma and occupational exposure to pesticides in high-income countries. Overall, they showed that phenoxy herbicides, carbamate insecticides, organophosphorus insecticides and lindane (an organochlorine insecticide) were positively associated with non-Hodgkin lymphoma. In addition, B-cell lymphoma and diffuse large B-cell lymphoma were positively associated with pesticide exposure.
In a more recent study from Virginia Commonwealth University, the authors looked at 7 polycyclic aromatic hydrocarbons, 5 polychlorinated biphenyls (PCBs), and 15 pesticides and their association with non-Hodgkin lymphoma. They concluded that the chemical mixtures were "significantly associated" with the disease.
10. Occupational skin disease. Dermal (skin) exposure to pesticides can result in a variety of occupational disorders and diseases, including occupational skin disease (OSD). This condition is the second most common type of occupational disease, according to the Centers for Disease Control and Prevention. OSC can occur as irritant contact dermatitis, allergic contact dermatitis, skin cancers, skin infections, and skin injuries. More than 13 million people in the United States are at risk for such exposure. Among them are nail salon workers, food service employees, farmers, construction workers, and healthcare workers.
11. Parkinson's disease. A collaborative study by the National Institute of Environmental Health Sciences and the Parkinson's Institute and Clinical Center in Sunnyvale, California, found a link between Parkinson's disease and use of two pesticides, paraquat and rotenone. The study involved 110 people with Parkinson's disease and 358 controls from the Farming and Movement Evaluation Study, which looked at the relationship between Parkinson's disease and pesticide exposure and nervous tissue. Researchers discovered that people who used either pesticide developed Parkinson's disease 2.5 times more often than those who did not use the toxins.
12. Pet health.  Use of household, lawn, and garden pesticides can be dangerous and even deadly to your pets, including cats, dogs, birds, reptiles, horses, hamsters, and others. In addition, pesticides specifically for cats and dogs, such as flea and tick products, also can be hazardous to your companion animals, even if they are used as stated on the label. According to Beyond Pesticides, dogs and cats especially are at risk because they may eat grass or other plants that have been treated in the yard, for example, or consume a mouse that has been poisoned, in addition to more direct contact with these toxins.
13. Type 2 diabetes. A variety of endocrine-disrupting chemicals (EDCs), which includes numerous pesticides, appear to be associated with an increased risk of type 2 diabetes. A June 2015 Journal of Diabetes article evaluated 49 studies that looked at a relationship between chlorinated pesticides, PCB, and dioxins and type 2 diabetes risk. The authors concluded that "persistent and non-persistent EDCs may affect the risk" of type 2 diabetes.
An Environment International systemic review of 19 articles looked at the evidence associating persistent organic pollutants and non-persistent pesticides with diabetes. Reviewers found positive associations between concentrations of various pesticides (e.g., organochlorine pesticides, polycholorinated dibenzodioxins, among others) and diabetes.
Image via Michelle Tribe