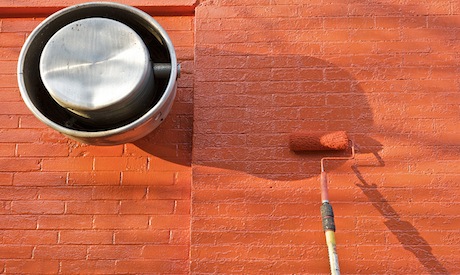 Painting a room can be one of the quickest ways to transform the space to an entirely new look, but chances are you've noticed that most paint smells really bad, and that's because it is loaded with harmful pollutants and chemicals. While you've long been able to find some natural paints that don't contain volatile organic compounds (VOCs), the array of colors available has been very limited, primarily to earth tones. But paint manufacturers have finally heard the call of the people that we don't want to breath in harsh chemicals when we paint, nor do we want them lingering in our living spaces, and now you can find a wide array of gorgeous paint colors that are VOC-free. Here are five companies that offer a great selection of quality paint combined with a wide color spectrum.
1. YOLO Colorhouse
Started in 2005 and originally made from clay and rice paste, the founders of YOLO Colorhouse were determined to create a paint with zero VOCs that they could make available to the greater public. Over the past eight years they have transformed their paint while sticking to their mission by using zero VOC acrylic and PVA binders in their water-based paint which is now available in more than 90 colors. While they offer a particularly great selection of earth tones, their palette also offers some beautiful airy colors as well as some bold and bright colors.
2. Mythic
With over 1,200 color options available in matte, eggshell, semi-gloss, and high-gloss finishes for your interiors, and nearly 100 exterior colors in three finishes, Mythic paints provide an impressive list of options to achieve just the look you want whether you are redesigning a rustic cottage or a chic city pad. With colors like limeade, Caribbean blue, and razzmatazz (part of their collection for The Land of Nod), your walls will come to life in no time using Mythic paints.
3. Benjamin Moore
It's likely that you've heard of Benjamin Moore paints, but you may not have known that a zero VOC paint was available from the neighborhood paint store you've already been shopping at. Their Natura line of paint for interiors has zero VOCs and comes in any of their more than 3,400 colors or can be custom blended to your own hue. They also have a great app called Color Capture that allows you to photograph a color you love out in the world and find the perfect match for it to use in your home.
4. The Old-Fashioned Milk Paint Co.
There was a time when no paints were laden with the chemicals that they are now. One type of paint that was historically used was milk paint, but it doesn't have a particularly long shelf life which has made it hard to put into widespread use, and it was typically used on furniture, not walls. However, The Old-Fashioned Milk Paint Co. has created a way to offer milk paint for walls with its SafePaint line which arrives in powder form to be mixed with water before it is applied to the walls and comes in 20 pleasing colors.
5. Behr
Even your local home improvement super-store has zero VOC paint options. The 4,000 colors of Behr paint available at Home Depot can be purchased in five different finishes for interior applications so that you can paint everything from your walls to your kitchen cabinets with paints that won't harm your family.
Zero VOC paints are easily accessible, can be found in a beautiful array of colors, and are not significantly more expensive than their pollutant filled counterparts so there is no reason not to use them in your next paint project.