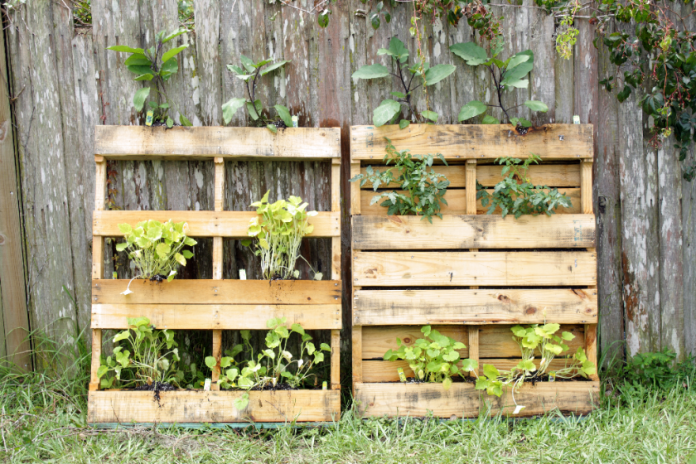 One of the most wonderful things about spring and summer it the plethora of fresh vegetables available at farmers markets and farm stands; but what's even better than that is growing those vegetables yourself. While homegrown vegetables have become increasingly popular with the farm to table movement that's been sweeping the country, for millions of people, it just doesn't seem like it can be a reality because they are living in urban areas and don't have much, if any, yard space. If you're one those people and want to grow your own vegetables, don't get discouraged. Instead try one of these creative ideas to bring homegrown vegetables to your table.
1. Walls
Even if you don't have any yard space, you've got to have exterior walls, and if at least one of them gets a decent amount of sun you can plant a vertical garden. These can be created by upcycling pallets or hanging organizers or you can order vertical garden planters that suit your space and aesthetic. Not only will you get to grow your vegetables, but your outdoor walls will look lovely and lush as well. Fences and gates are other great spots to put vertical planters.
Read more about learning to grow your own fruits and vegetables
2. Patios or Steps
If you've got any patio, terrace or porch space, or even a set of front steps, plant your vegetables in pots. Almost any vegetable can be planted in pots, but tomatoes, peppers, lettuce, beans, cucumbers, and herbs do particularly well. There are even varieties of blueberry and raspberry bushes that now thrive in pots if you want to add some fruit to your garden mix.
Read more about purple GMO tomatoes
3. Roof
If you're short on space when you look to the front and back of your home, try looking up. If there's an accessible spot on your roof that is flat and it is in good condition, you may be able set up raised beds or pots. Many apartment buildings have flat roofs that go under utilized so talk to your landlord and ask if you can create a garden up there.
4. Community Garden
With so many people who want to plant vegetable gardens that don't have the space to do so, more and more community gardens are being created all over the country. These gardens are typically on public plots of land, and you can rent a plot in the garden to plant and care for yourself. To find a community garden near you, check out the American Community Garden Association's garden finder.
5. Indoors
Vegetable gardens don't have to be planted outside. Many vegetables will grow very happily in a sunny window when planted in pots or a long box that fits on a window sill. Steer clear of vegetables like squash that spread wide as they grow, and stick to those that grow vertically such as tomatoes, lettuce, peppers, and herbs.