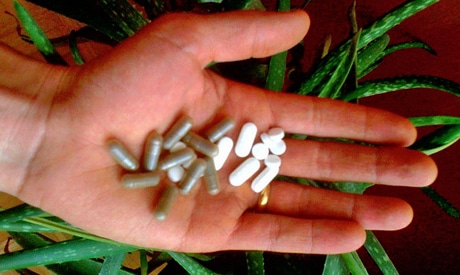 A disturbing report in the journal BMC Medicine recently appeared with research about a high level of contamination among herbal supplements on the market, including the substitution of plants not listed on product labels.
The analysis, which was conducted by a team from the Biodiversity Institute of Ontario, the University of Guelph (Canada), and Bharathiar University (India), used a high-tech tool called DNA barcoding, which is capable of identifying small differences among plant genetic sequences and therefore can accurately determine plant species.
The team blind tested 44 herbal products that included 30 different species of herbs from 12 different companies. All the products are available in both the US and Canada. Here's a breakdown of their findings:
59% of the products evaluated contained plant species not named on the supplement label
30 of the 44 products tested contained substituted products or fillers not listed on the labels
Only 2 of the 12 companies had products that did not contain substitutions
Some of the contaminants the researchers uncovered can cause serious health problems if consumed.
What's In Your Herbal Supplement?
Regarding this latter point, for example, the investigators found fillers such as soybeans and wheat in some of the supplements, which may cause problems for anyone who is allergic to these substances. A product labeled as St. John's wort actually contained senna, a natural laxative that can cause significant health problems if ingested for a prolonged period of time.
Read more about herbal supplements
A ginkgo supplement contained black walnut, while a black cohosh product had been substituted with a closely related species. A number of other different supplements harbored feverfew, which is a potent herb used to treat headache and migraine. Feverfew is associated with side effects such as nausea, oral ulcers, and vomiting; it also can cause allergic reactions, interact negatively with common medications, and should be avoided by pregnant women.
The Dietary Supplement Health & Education Act (DSHEA) of 1994 states that supplement companies are supposed to be truthful and nonmisleading in their labeling of supplements. The results of this new investigative report suggest this regulation is not being followed by the majority of supplement makers. So now what should you do?
Buyers Beware
Clearly, the presence of contaminants in herbal supplements presents a danger to consumers. At the very least, people who purchase such supplements are being cheated not only out of their hard-earned money but out of the opportunity to benefit from the herbs they believed they were buying.
The study's authors did not offer recommendations for consumers, but they did call upon the herbal supplement industry to "embrace molecular diagnostic tools such as DNA barcoding for authenticating herbal products through testing of raw materials used in manufacturing products." Although that's a wonderful suggestion-and one the industry will hopefully adopt-that still leaves consumers uncertain about the products that are on the market now and in the near future.Read more about vitamin D supplementation
Unfortunately, it's a case of buyer beware, and with not much of a safety net. You can carefully read supplement labels, visit supplement makers' websites and check out their claims, look for the US Pharmacopeia seal, and consider the reports from independent evaluators, such as Consumer Labs. Don't be fooled by testimonials, and always check any scientific references and studies touted on websites for supplements. Talk to other users of supplements, and if you find an herbal supplement that works for you, stick with it!
Photo Credit: Ano Lobb. @healthyrx