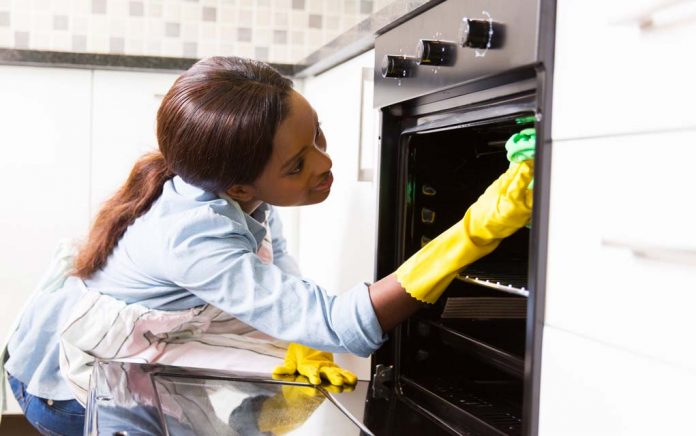 Do you want a natural oven cleaner? On most people's list of favorite domestic activities, oven cleaning probably ranks somewhere between scrubbing toilets and cleaning the gutters.
Before the advent of self-cleaning ovens, we were stuck scrubbing endlessly, mumbling under our breath and sweating hard to get them looking and smelling right.
If you are one of the lucky people who have invested in a self-cleaning oven, take advantage of the easy cleaning it offers. If, however, your oven doesn't have a self-clean function, chances are you're relying on dangerous chemicals found in a spray bottle to scrub your oven.
Read More: 25 Ways to Clean With Vinegar
Sure, a caustic or corrosive product will clean your dirty oven and its encrusted tenants, but caustic products are capable of corroding material and human tissues, leading to potential burns, scarring, and permanent bodily damage.
I find many people have a mentality of invincibility when it comes to cleaning supplies, because many of these products have cute commercials and seem so harmless sitting there on the shelf in the grocery store. The problem is, many of these products are more harmful as they let on.
But upon further research, I came across a story of a woman who wanted a clean oven and used the chemical spray bottle of oven cleaner to do so, only to fall victim to an allegedly defective trigger, which sprayed the liquid everywhere-including on her face and in her eyes. The woman was blinded for a few days and suffered third degree burns on her skin. She is currently seeking legal advice.
By reading the instructions on a bottle of oven cleaner, consumers learn that cleaning the oven with chemical cleaning products requires wearing rubber gloves (heaven forbid this stuff should touch your skin), newspaper on the floor to prevent the caustic chemicals from damaging the floor tiles or wood, and the removal of people and pets from the area as the chemical mix heats up and cleans.
To give you an idea of what major chemicals are found in popular oven cleaners, here is a selection of the contents of the aerosol version of a popular brand. All of these ingredients have been taken from the MSDS sheet offered by the company responsible for the product.
Butane: This chemical is used as a propellant (something that moves an object or chemical) for aerosol applications. Butane can also be found in cigarette lighters and inhaling it could lead to drowsiness, asphyxia, and cardiac arrhythmia.
Diethylene Glycol Monobutyl Ether: According to Scorecard, this chemical is a suspected neurotoxin, suspected reproductive toxicant, cardiovascular and blood toxicant, and can cause extensive damage to the liver and kidneys.
Monoethanolamine (MEA): MEA can cause air passage irritation, serious chemical burns, damage to eyes and other mucous tissues, and liver and kidney damage.
Sodium Hydroxide: This extremely caustic material is known to dissolve fats and oils, which is why it works so well in oven cleaning. On the flip side, spill it on your skin or eyes, irritation is bound to result, and that's when the material has been diluted; in concentrated form, a chemical burn will result.
Read More: Avoid Toxins, Choose Natural Cleaners
These ingredients, all found in a seemingly helpful product, are scary to say the least. Many of the ingredients in these cleaning products are not disclosed because it is not a federal regulation to do so. Many times, we trivialize the results of getting chemicals on our skin or inhaling them while cleaning because we are not aware of what they can do.
Natural oven cleaning
Cleaning an oven naturally is actually quite simple and we have had great success with the following techniques that require nothing more than some eco-friendly solutions and some elbow grease.
Clean oven with lemon
Lemon and other cirtus oils are great natural degreasers, and you can clean your oven-especially convection ovens-with just two lemons and a little effort. Cut the lemons in half and squeeze the juices into the baking dish. Place what's left of the lemons in the dish as well. Fill the dish about 1/3 full of water, place it in the oven, and bake at 250 degrees for about 30 minutes. If the buildup is really bad, you can try leaving it in for a bit longer. The water and lemon juice will heat up and the vapors will cling to the grime, loosening it and helping it come clean. Remove the dish and let the oven cool. After the oven has cooled off, use a scouring pad to scrub away what's left of the grime; have a silicone spatula handy for removing bigger chunks. Use the lemon water as a rinse aid when cleaning down the inside of the stove. Keep sponging with the lemon water until clean and then use a towel to dry it off. Be aware that the oven emits smoke when this happens, so be sure to turn on the oven fan and open a window.
Cleaning oven with baking soda
The second technique, which is good for any type of oven, involves vinegar and baking soda. Simply spray vinegar all over the inside of the oven. Follow that with an even sprinkling of baking soda and allow for the mixture to bubble and fizz. Leave the mixture to sit for about 30 minutes to an hour, depending on how many former Christmas dinners are still clinging to the walls of the oven. Then use a scouring sponge to scrub the walls and bottom of the oven to remove the grime and build up. Vinegar is a great degreaser, so try rinsing the sponge in vinegar to maintain its grease cutting abilities during your scrubbing. You can rinse the oven by sponging clean water on the walls and bottom, this way no chemicals are required to achieve a clean oven.
Cleaning your oven nanturally is easy with caustic materials but it takes out the elbow grease factor. However, for a safe and effective clean, we should be opting for chemical-free techniques so that we can keep our families and the environment safe while we're handling that most unwanted of chores.