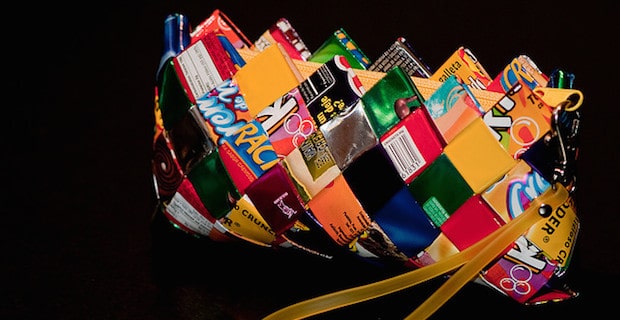 Used candy wrappers are a double-edged sword. On one side, the accumulation of crumpled wrappers may be a reminder of the fun you and your kids had trick or treating or attending a Halloween party. On the other side, they may be tangible reminders of having consumed way too much sugar and produced more trash for the landfill.
Although candy wrappers are made of plastic, not all plastic is the same. In fact, even though candy wrappers look simple, they are often composed of several different materials, and that makes them difficult to recycle. So unless your local recycling company accepts them, what can you do with all those wrappers? I'm glad you asked!
Spark Your Creative Spirit
When I was a child, I made necklaces from the wrappers on strips of gum. Candy wrapper craft ideas have become more sophisticated today, and there are dozens of ways to use various types of wrappers to make upcycled items or give new life to old or fading objects. Here are a few ideas to get you and your kids started. These projects are great for those cold fall and winter days at home!
Candy wrapper barrettes. You need only a few candy wrappers to create these barrettes. Separate your candy wrappers by color and using these simple instructions, you can make a different barrette for every day of the week!
Christmas houses. Now that Halloween has passed, Christmas is coming up fast. So it' time to make some decorate little houses to put under the tree or on the table as a centerpiece. Using these instructions as a launching point, go crazy with ideas as you make and decorate your candy wrapper houses.
Decoupage. Candy wrappers are perfect for decoupage because they are already small and it doesn't matter if you have only part of a wrapper because you can overlap the pieces. All you need are a few supplies, like decoupage glue, a foam brush, and an item you want to decorate. Do you have an old metal bucket that has seen better days? Revive it with decoupage! Your kids may have a chair or table top, bookcase, jewelry box, or picture frame that would look great with an updated candy wrapper look. Here are several dozen decoupage ideas

for you and your family to consider. Just substitute candy wrappers for

the materials in these projects and create some sweet items.
A Recycle/Upcycle Alternative
A New Jersey company called Terracycle is dedicated to providing consumers – as individuals or as a groups – ways to recycle and upcycle garbage, and that includes candy wrappers. Not only can you and your kids collect used candy wrappers and turn them into cash, it is an especially interesting learning experience and fundraising project for a classroom, school, or club that can last all year. (By the way, this is a project for big kids too! Perhaps your office, church, book club, etc.?)
The Terracycle candy wrapper brigade is a popular program, and there are a limited number of people or groups who can participate at any one time. However, if all the slots are temporarily filled, check to see if someone in your area is involved with candy wrapper collection and help them. In the meantime, you can sign up and put your name on the waiting list. It costs nothing to join, nothing to ship the wrappers, and the experience can help your children learn about stewardship of the planet and recycling.Read more about tips about teaching kids to go green
So gather up those used candy wrappers and get started! Although I am not advocating the consumption of candy, if there are wrappers from you, your family, or your friends and neighbors, then they can find a second use instead of the landfill.
Image: nosha