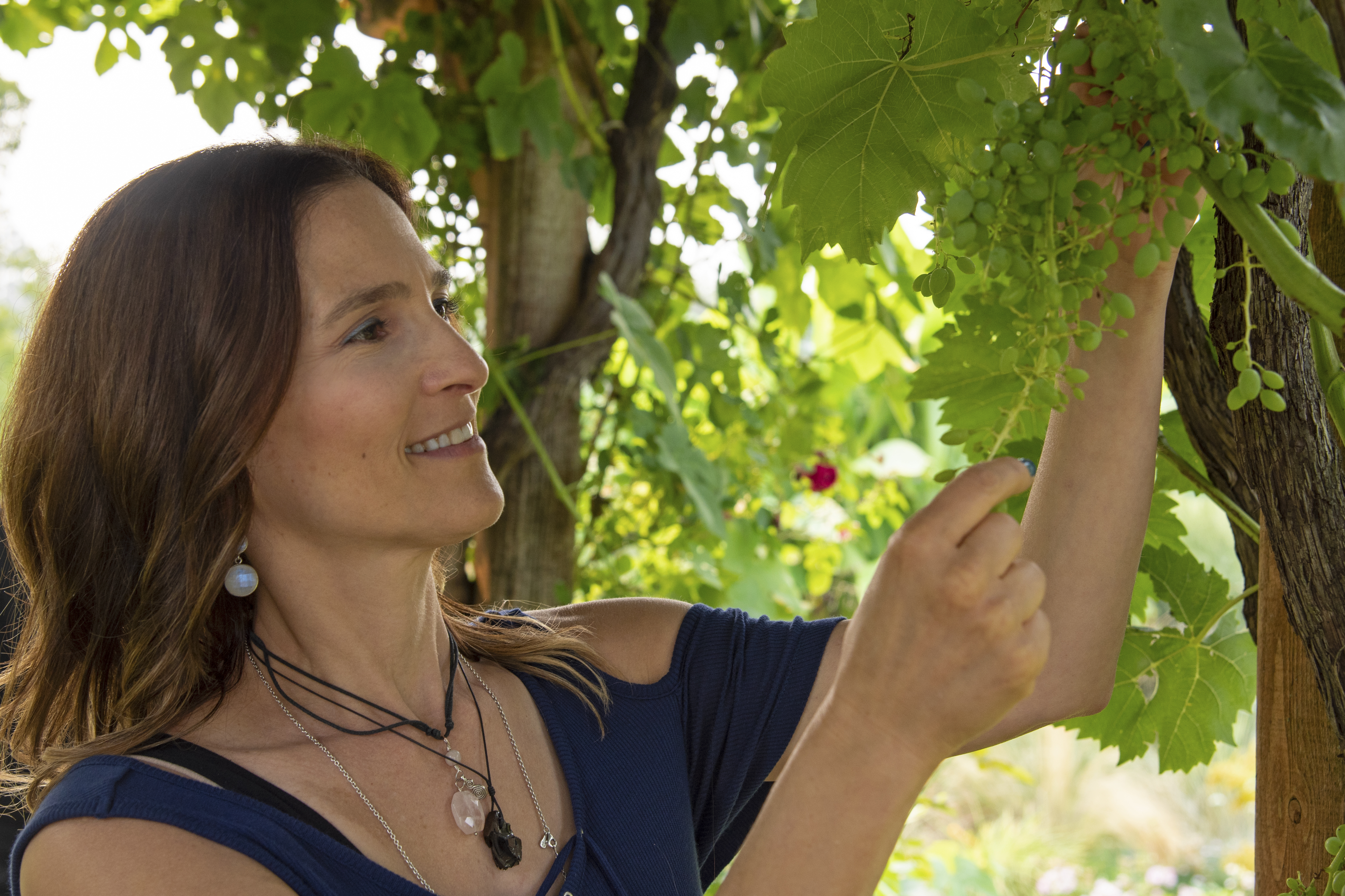 I had the privilege of visiting and touring the Herb Pharm, a certified organic herb farm near the Siskiyou Mountains in Oregon. This oasis in mixed forest foothills actually consists of several farms, where more than 65 herbs are grown and processed. A walk through the fields, surrounded by dozens of aromatic and beautiful herbs and delightful butterflies, is a perfect way to spend the day!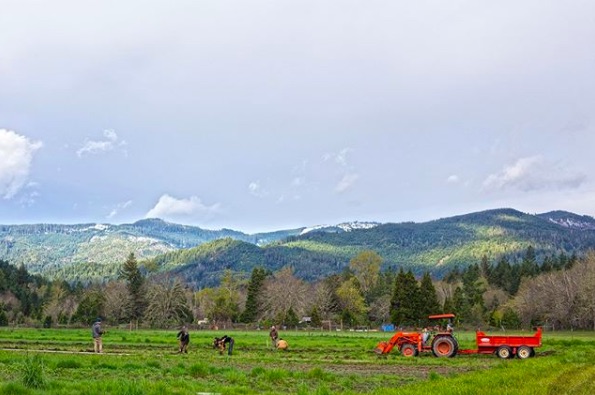 Touring Herb Pharm
You've likely heard the phrase "it takes a village," and that saying applies to herbalism as well as people. At Herb Pharm, my tour guide, Herbalist & Botanical Affairs Supervisor Alexis Durham, introduced me to the "pharmers"—all the dedicated individuals who share their time so lovingly and carefully with the plants. The full-time organic farming crew, along with a team of interns, work the plants and the soil from February through November.
Listen to Alexis being interviewed on our podcast
Herb Pharm works with more than 250 plants and plant parts to make their extracts. Not all of those come from this Oregon farm, however. Some of the herbs, such as Maca, Rhodiola, Cayenne, and Kava, for example, grow best in other climates and habitats. To maintain the highest quality herbal products, Herb Pharm sources these herbs from other parts of the world, such as the Peruvian Andes for Maca. They always prefer certified organic herbs whenever they are available.
As if spending time with all of the herbs wasn't enough, I also had an opportunity to visit some monarch butterflies. Herb Pharm is a certified Monarch Waystation, which is a place that provides resources (milkweed) necessary for the butterflies to sustain their migration. Herb Pharm raises some butterflies from egg to adult, providing them with the perfect habitat to grow and feast on their beloved milkweed. Every year the staff release these monarchs so they can go on their annual migration. I was lucky enough to watch one of the butterflies begin its hatching process, which was super cool!
Alexis put a little buzz in my ear about the bee-friendly farming methods followed at Herb Pharm, as the entire farm is herbicide and pesticide-free and provides a treasure trove of nectar opportunities for bees. In fact, I learned that 90 to 95 percent of the plants on the farm could thank the bees for their reproduction. Not only are visiting bees welcome; the Herb Pharm team also raises the little buzzers and are known to rescue hives in the wild when the need arises. I was amazed at how many bumblebees I saw that day! It was heart-warming, really.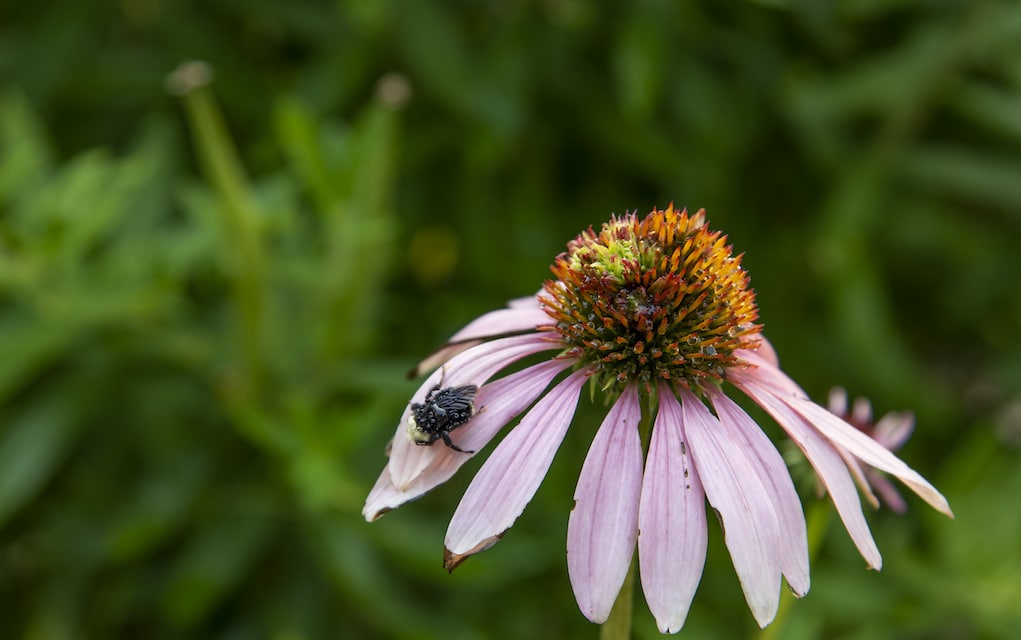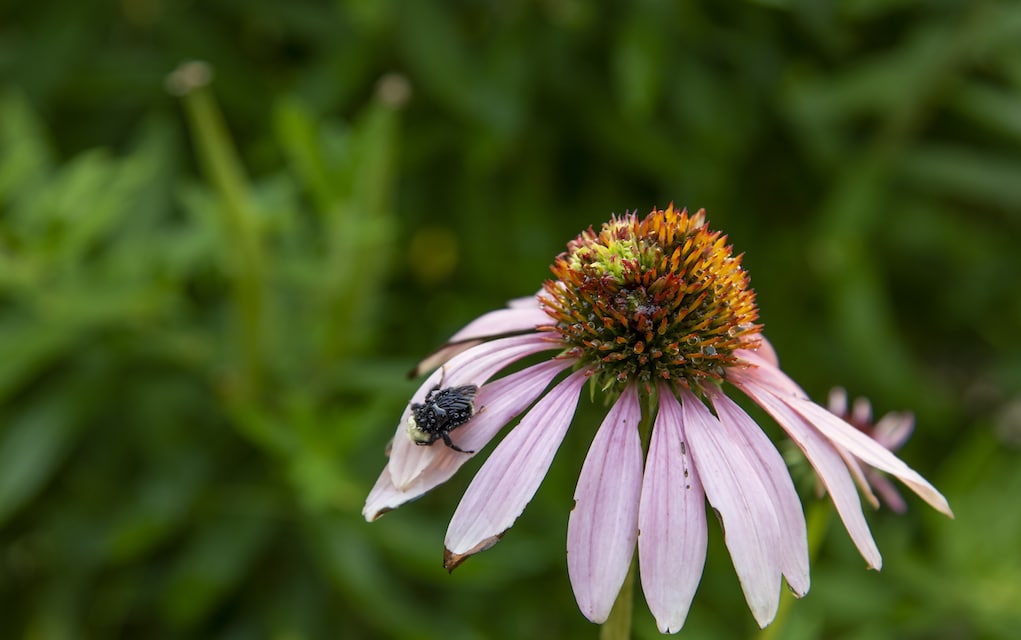 I felt I was getting a first-class education about herbs and the diverse ecosystem that made this herb farm possible. Then Alexis introduced me to yet another aspect of the farm: the 1.5-acre Botanical Education Garden. As well as being a beautiful oasis to study specimens, it's also a place where staff can test run new plants to learn the best ways to cultivate them in the southern Oregon environment. More than 500 species of plants grace the garden, and I loved every minute of being inside it (I even ate some fresh grapes off the vine as I entered!).
Making herbal extracts
I know Nature is mysterious and fabulous, but in order to capture all of the mystery and fab in herbal products, it takes dedication, patience, and science. So, I was excited to hear about some of what it takes to make Herb Pharm's herbal extracts.
Every herb, whether it is grown on one of the farms or is sourced from other places, is verified for identity. To make the extracts, only the parts of a plant that contain the highest concentrations of the desirable compounds (phytochemicals) are used.
The plants undergo rigorous testing to check their sensory profile (how it smells, tastes, and looks), phytochemical fingerprinting with High-Performance Thin Layer Chromatography (HPTLC), and microbiological screening, as well as other risk-analysis testing when necessary. Every batch of herbs is inspected by the Quality Team to ensure it meets Herb Pharm's strict specifications – if an herb doesn't meet the specs, it won't be used.   
The extraction process is impressive and, as Alexis explained, at one point involves pitting fragile herbs against a hydraulic press capable of imposing 10,000 pounds per square inch!
First, however, each plant part requires a different milling process to ensure all its phytochemicals are captured. This is combined with the menstruum (the liquid used for extraction) and allowed to macerate (soak) for two to three weeks or longer. The menstruum must be stirred daily.
Watch Alexis explain the extraction process:
Once maceration is complete, the hydraulic press is employed to separate the liquid extract from the solid plant material, known as marc. I was glad to hear that the marc is composted and becomes a part of the next year's crop!
From there we visited the Echinacea field and it was also magical! I took some great pictures standing in the flowers, which I later framed.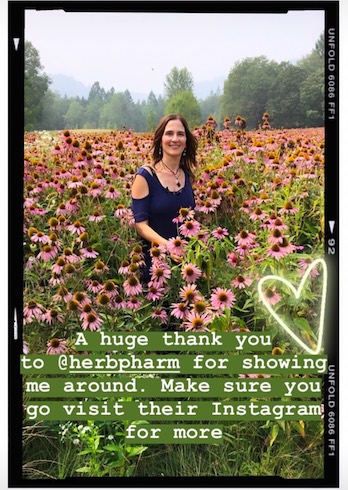 Bottom line
I absolutely loved my visit to their farm and hope to go back again soon.
As interest in herbs and herbalism continues to grow, herb farms serve an important role in providing us with high-quality products from which we can get supplements and topical herbal products. My experience at Herb Pharm allowed me to peek into the magical world of herbs, the special ecosystem in which they are grown, and a glimpse into what it takes to transform herbs into liquid extracts for our use. Herb farms and Herb Pharm, rock!
[Editor's Note: To learn more about Herb Pharm and their herbal products visit their website. Also, be sure to follow them on Instagram, it's like a virtual tour of the farm. Herb Pharm is a partner of Naturally Savvy.]

Source