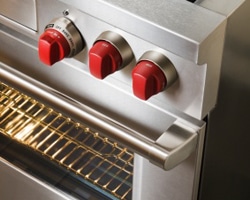 Many of my clients simply despise cleaning the oven-and who can blame them? It often seems like a daunting task of endless scrubbing, and for the untrained super cleaner, it can be just that.
If you do have a self-cleaning oven, lucky you! Here is a step-by-step guide to cleaning the oven:
Remove drip pans, coils, and anything inside the oven (tin foil, etc). Remove anything on the stove that you keep on the top ledge such as spices, spoon rests, etc. Also remove the drawer from underneath the stove entirely.
Set the stove to "self clean." Choose three hours for a moderate clean and four hours for a heavier clean.
Open windows and leave! Plan on doing some yard work or relaxing in the backyard (don't actually leave your oven on and completely unattended). The process smells pretty bad-it literally burns everything in the oven to ashes, making the clean-up very easy. It's key to allow the oven to cool for about 30 to 60 minutes after the cleaning because it gets incredibly hot.
Once done, wipe the inside of the oven with a damp cloth. Your oven should be spotless on the inside! You can now replace drip pans and go on with your normal cooking.
To prevent the stove from getting dirty again, place a piece of tinfoil under the burner to catch any drips. You can also sprinkle salt directly on the drip, which will prevent any hardening and will allow you to lift the drip right off once the oven has cooled.
Take care of your oven and it will take care of you.