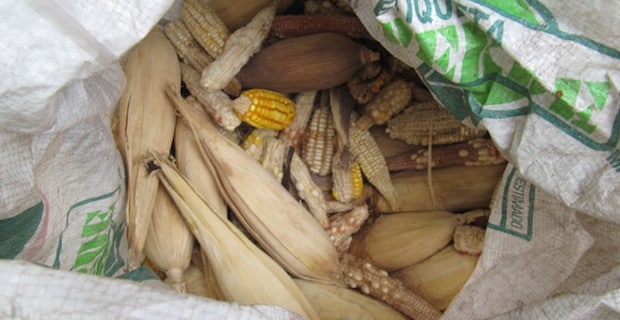 Maize, or corn, is part of the Mexican diet, and is used in large part to make tortillas. There are varieties that are native to Mexico and have been cultivated for a very long time. Contamination from genetically modified (GMO) corn puts those varieties at risk. The Mexican Chapter of an international tribunal called the Permanent Peoples' Tribunal called on the Mexican government to ban the planting of genetically modified (GMO) maize in Mexico.
Read more surprising facts about GMOs
The Tribunal ruling urges the Mexican government to "adopt all necessary measures to ensure the conservation of peasant maize as the main food source and as a vital element of the social structure and cohesion." The Tribunal also pointed out that there are "serious risks" from GMO contamination in the "center of origin and diversity of this staple crop." The indictment leading to the ruling stated that GMO crops are the "ultimate weapons against independent food production…and the corporations that control them."
The Tribunal spent three years gathering evidence from more than 1,000 organizations. What they found is that Mexico is not the only country where maize is an important part of the diet. Maize is one of three main staple crops globally and the Tribunal cited the importance of it globally in its decision, calling on the UN Food and Agriculture Organization (FAO) to defend corn and maize varieties against GMO contamination. In addition, the ruling recommended that the UN Convention on Biodiversity conduct research on protecting native food crops and the rights of the indigenous groups who produce them.
"Fighting transgenic corn is not only a national issue – it affects the very foundations of the world food security," said Verónica Villa of ETC Group in Mexico. "These communities and organizations will continue fighting the release of transgenic seeds; the Peoples' Tribunal has brought the problem to the international attention."
Three million farmers grow most of the country's maize, according to a 2012 paper by the Global Development and Environment Institute. The paper found that current push in Mexico to "expand the use of transgenic maize is unnecessary and ill-considered" because the "yield potential is limited, particularly for smaller scale producers, and its risks are high for a country with Mexico's rich diversity of native maize varieties." In other words, GMO cultivation would do more harm than good in a country where maize is such an important crop.
Despite the push for GMO maize, widespread opposition has prevented the commercial planting of it in what has been termed a "people's moratorium." In 2013, a group of activists and organizations filed a class-action lawsuit to stop the Mexican government from issuing permits to plant GMO maize. The planting of GMO maize is suspended while the case is pending.
[Editor's Note: If you want to eliminate GMOs from your diet for good, click here to sign up for Naturally Savvy's Non-GMO Get Healthy Challenge.]
Image: Leonora Enking