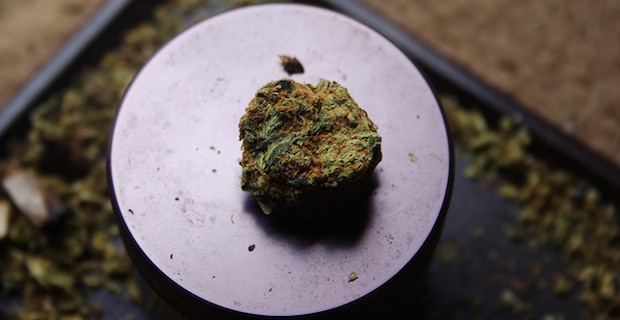 For the countless numbers of men, women, and children who live with serious and/or debilitating health issues that can be alleviated through use of medical marijuana, the ready availability of cannabis products can't come fast enough. Unfortunately, eager cannabis consumers should be aware that their medical marijuana may be contaminated.
The same concern holds true for individuals who partake of marijuana for other than medicinal reasons. However, the worries are likely greater for the medical marijuana market for two reasons: those consuming medical cannabis are usually doing so on a consistent basis (by prescription) and so are more likely to be exposed to the contamination regularly; and since these individuals are already ill, the contaminants could be making their health situation worse, or introducing new problems. Consumers have the right to know what is in their medical cannabis.
Read about marijuana and multiple sclerosis
Bad things in medical marijuana
In any case, the contamination of marijuana is real and it involves pesticides, mold, mildew, and various bacteria. According to Jeff Raber of The Werc Shop, a laboratory in Pasadena, California, that tests marijuana products mainly for California dispensaries, "There are no application standards. Since we're not telling growers that they're allowed to use anything, they often use whatever they can get their hands on. And that's a lot of bad things."
Among those bad things are chemicals that are intended for use on lawns and other non-edibles. Some medical marijuana samples from Los Angeles were analyzed and found to contain pesticide residue levels 1,600 times the legal digestible limit.
Raber and his colleagues published a study entitled "Determination of pesticide residues in cannabis smoke" that appeared in the Journal of Toxicology. In it they evaluated the amount of exposure to three different pesticides (bifenthrin, diazinon, permethrin) and a plant growth regulator (paclobutrazol) in the smoke stream of cannabis. Recovery of residues in the smoke were as high as 69.5 percent depending on the smoking device used (filtered water pipe, unfiltered water pipe, glass pipe, worst in the latter). The authors concluded that "the potential of pesticide and chemical residue exposures to cannabis users is substantial and may pose a significant toxicological threat in the absence of adequate regulatory frameworks."
Therein lies the problem: there are few regulatory structures in place concerning medical marijuana and its safety and purity.
According to a recent article from Fast Company, "Marijuana safety testing regulations are spotty across different cities and states. San Francisco, for example, does not require dispensaries to test their goods, though some do anyway." The article's author also noted that a visit to a marijuana safety testing laboratory revealed that bacteria and mold contamination was not uncommon on marijuana that had not been handled properly.
The potential for mishandled medical marijuana is growing as the number of states that have legalized it also increases. As of this writing, 35 states plus the District of Columbia had enacted medical marijuana laws. Yet the laws concerning possession, production, and usage are different in every state, and some states have not yet even activated their programs. These complications make it more unlikely that regulations regarding testing for contamination will be up and operating anytime soon.
Attempts toward contamination regulation
Currently, only six states require some type of testing: Colorado, Connecticut, Washington, Illinois, Massachusetts, and Oregon. Maine plans to conduct annual, unannounced tests and presently allows what it deems to be low-risk pesticides in the growing of medical marijuana.
The testing regulations differ in each state. For example, heavy metal testing is required in Connecticut and Colorado, although each state has different limits as to what is acceptable. Illinois does not test for heavy metals. All six states do require some combination of testing for pesticides, mycotoxins, residual solvents, microbiologicals (e.g., salmonella, E. coli), and heavy metals and, once again, the allowable limits vary.
In late 2013, Oregon instituted a new law that created a registry of medical marijuana dispensaries. One of the requirements placed on each establishment was that all cannabis sold must be tested for pesticides, mildew, and mold.
Read more about the medicinal use of hemp and marijuana
In March 2015, the city of Denver, Colorado, ordered all licensed marijuana growers in the city to submit a pesticide report by April 1. According to the bulletin, "Pesticides and agricultural chemicals must be used in accordance with the product label and with all applicable federal, state, and local laws, rules, and regulations." The problem is at the federal level–the Environmental Protection Agency doesn't have any acceptable levels for use of pesticides on marijuana since the plant is illegal in the fed's eyes.
However, Colorado's Marijuana Enforcement Division has a list of pesticides that are allowed to be used on the plants, and the state requires shops to write up standard operating procedures for all of the pesticide uses. Now, in Denver at least, all dispensaries will be required to submit a list of all the pesticides used and the amounts. All grows must also keep a list on the door of all grow rooms showing all the pesticides used.
Where does that leave the medical marijuana consumer in Denver? Still in the dark concerning pesticides unless he or she contacts the grower and asks about the pesticides applied to their plants. This regulation also does not let consumers know what else may be contaminating the plants.
The bottom line is that for now, there is no single entity that oversees the operations of testing laboratories from state to state, and most states are not testing at all.
Are these contaminants dangerous?
An unanswered question is whether the presence of pesticides, mold, mildew, and other contaminants in medical marijuana is placing users at risk. Although it would seem on the surface that ingesting these substances, in one form or another, would not be a good thing, the reality is, experts don't know if and to what extent these contaminants are harmful to the end user.
According to Theodore Bunch, coordinator of Oregon's Pesticide Analytical and Response Center, "From an inhalation standpoint, I don't believe there are any tolerances or benchmarks that say this level of mold is acceptable or this level of mildew is acceptable. There aren't standards out there in that regard."
It seems logical to suggest that occasional exposure to ultra low levels of pesticides and other contaminants may not present a health problem for healthy individuals. However, chronic use of tainted medical marijuana, especially among people whose health is already compromised, could very well be a health hazard.
More cannabis consumer control?
One way for cannabis consumers to have more control over the purity and safety of their medical marijuana may be (in states where it is legal) to purchase through a dispensary that works with growers. Another answer is a bit more direct: allowing people to grow their own marijuana and/or getting one's medical marijuana through a co-op or collective.
A collective for medical marijuana is a place where those who provide the product can help individuals (and their caregivers) who cannot or chose not to grow their own. These collectives are sources for patients who have a valid medical marijuana card and who are members of the collective. Thus, for example, an 80-year-old cancer patient who does not want to grow her own marijuana may have a caregiver who is legally able to secure cannabis products for the patient through the collective.
Many individuals have been advocating for this right to help ensure that people, especially those who are using medical marijuana, can have access to products that are free of pesticides and other potentially harmful substances. One such individual is Tracy Manning, a volunteer for a citizen lobby group in Georgia that helps people with disabilities connect with their representatives. She and others are vocal advocates for whole-plant and home cultivation of marijuana so people can keep potential toxins out of their medical cannabis supplies. "Without that," she says, "we are trading our Big Pharm meds for more Monsanto-style crap."
Read more about Nestlé wanting to patent the herb Nigella sativa
I want to thank Tracy Manning for her help in researching this article.
Image: Mark