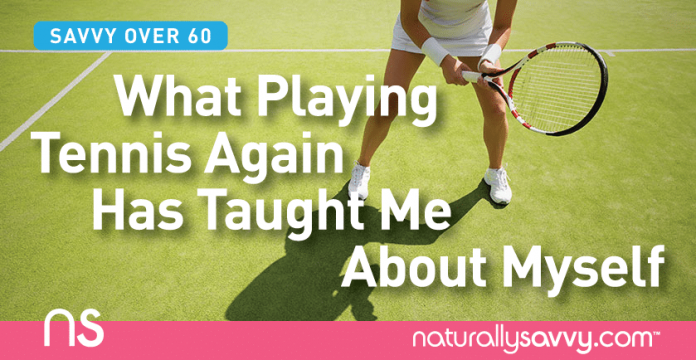 When our family went to live at the South Pacific Marshallese Island called Kwajalein in 1977 and 1978, I resolved to learn how to play tennis. I dabbled in it from as way back as grade school, but never actually played a game. So this was my chance. It was a now or never resolution. I didn't have a full-time job, my little boys were taken care of a couple hours a day – one in Kindergarten and the other in a playgroup, and I found another woman who wanted to learn to play too.
We filled a bucket with tennis balls and biked over to the courts – no one drove on this tiny coral island – and every day we'd practice ground strokes, serves, overheads, and volleys for an hour. After about six months we started to play games, and pretty soon we found other women to play doubles with. I progressed to the point that I entered a few tournaments – at the lowest levels – and got on the challenge ladder.
Read more: Savvy Over Sixty-The Secrets of a Long Marriage
When our family finally returned to California, I could honestly say, I am a tennis player. With that I joined a tennis club, and I started to play on a women's league, playing against women in other clubs in our area.
That went on until I went back to a full-time job. At that point I had to make a decision – it was either working out at the gym or playing tennis. I opted for gym workouts because they took less time and I didn't have to find a partner to workout with. Sure, I played tennis sporadically, even took lessons once in a while, but one day – almost sixteen years ago, I quit playing tennis entirely, except when my son Ben, who teaches tennis, would agree to hit with me.
Getting Back Into Tennis at My Age Isn't Easy
The last time Ben and I were on the court, he confirmed that I still knew how to hit the ball, and he encouraged me to get a new racket and find some people to play with. Easier said then done, I thought. Who would want to play with me – a 75-year old tennis has-been?
Then I saw this announcement in our local newsletter: Are you 55 or over and want to play tennis but you either haven't played in a while, can't find a game, or think you are too rusty? Come on out with Coach Annie this winter and brush up on your skills.
I thought, this perfectly describes me, and I signed up – immediately. But once I got on the court I found that playing again wasn't as easy as signing up. I learned that:
My body doesn't move very fast anymore, so I miss a lot of balls that I used to get.
My body isn't as resilient as it used to be.
I tire and get injured easily. I hurt my the upper back of my left thigh the second time out and it still hurts two weeks later.
I need to relearn a lot of the basics: watch the ball, prepare for the shot, hit the ball at the center of the racket, toss the ball high. enough to get it over the net when serving.
I have to keep reminding myself to stay focused and stop berating myself when I miss a shot. I need to stop that or I'll miss the next and the next ball after that.
Read more: Savvy Over Sixty-How I Relieve Stress
Besides Getting a Tennis Refresher Course I Learned Some New Things About Myself
I'm content with only getting a good shot once in a while.
I'm grateful for the generosity of my classmates for opening their community of aging tennis players to me.
I'm more realistic about what I can and cannot do on the court.
I'm very happy to be back on the court. I didn't realize how much I missed being out there.
In the old days I was very competitive and critical of my team players and our opponents. And I was arrogant enough to feel I could do no wrong on the court. Not anymore. This endeavor has made me a lot more humble about the limits of my tennis playing skills. With my new attitude I think I'll have a much better chance of successfully bringing tennis back in my life again.