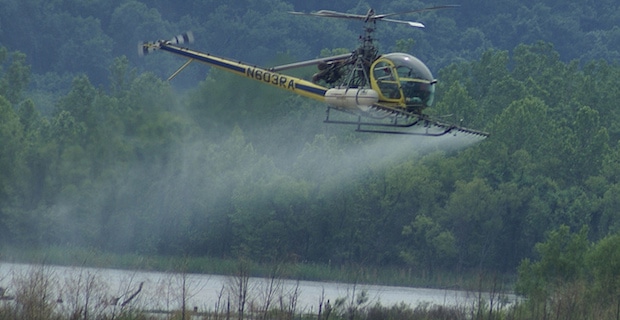 Sri Lanka is the first country to restrict the use of the herbicide glyphosate, an ingredient in Monsanto's Roundup. The ban will not be absolute, according to the Sunday Times, but instead the government will restrict the use of the herbicide in areas where cases of chronic kidney disease (CKD) are prevalent. Agriculture Minister Mahinda Yapa Abeywardena said the the reason for not imposing a total ban is because the "plantation sector representatives told us that there is a shortage of manual labour and hence they depend heavily on the herbicide for weed control."
The ban comes after a new study, published in the International Journal of Environmental Research and Public Health, released in Sri Lanka linked glyphosate and CKD. Certain areas in Sri Lanka have been suffering from a chronic kidney disease epidemic. CKD was first seen in the north central region of Sri Lanka in the 1990s. An estimated 20,000 people have died. The study describes CKD as the "major health issue in the rice paddy farming areas, and concludes that "although glyphosate alone does not cause an epidemic of chronic kidney disease, it seems to have acquired the ability to destroy the renal tissues of thousands of farmers when it forms complexes with a localized geo environmental factor (hardness) and nephrotoxic metals."
"Glyphosate acts as a carrier or a vector of these heavy metals to the kidney," said Dr. Channa Jayasumana, the study's principal author.
"An investigation carried out by medical specialists and scientists has revealed that kidney disease was mainly caused by glyphosate," Special Projects Minister S.M Chandrasena said. "President Mahinda Rajapaksa has ordered the immediate removal of glyphosate from the local market soon after he was told of the contents of the report."
Other countries are considering restricting the use of glyphosate. Brazil's Prosecutor General office wants to suspend the use of glyphosate, and is also considering suspending the use of other herbicides, including 2,4-D. There have been two actions filed with Brazil's justice department. El Salvador's legislature passed legislation banning glyphosate and other agrochemicals, but it has not been signed into law yet.
Read more about the effects of glyphosate exposure
In contrast, the EPA published a final rule last summer increasing the limits for glyphosate exposure to 100 parts per million (ppm) in crops grown for animal feed, and 40 ppm in oilseed crops.
Image: U.S. Army Corps of Engineers