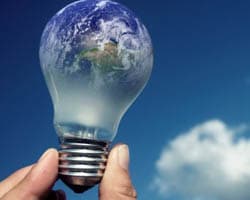 The DOE's online green energy database makes choosing green energy options easy.
So you want to make the switch to green energy, but looking up info on solar technology is inducing flashbacks to high school science class, you're not sure what an REC is, and you haven't the faintest clue where to start looking for a green energy supplier in your community!
Relax. The U.S. Department of Energy (DOE) has great resources for finding suppliers, and we've created a basic primer to guide you through the different types of green energy…
Click Here to read our full article on Planet Green.