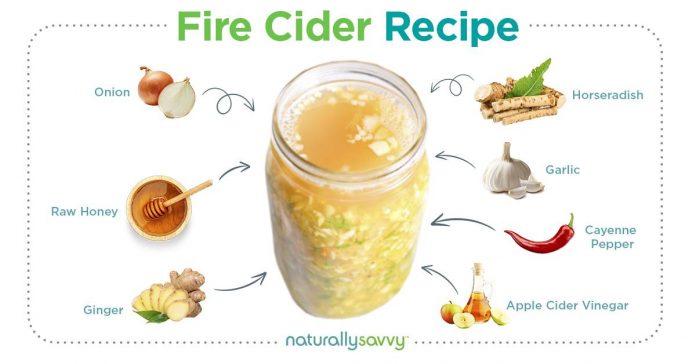 If you haven't heard of fire cider, stop right there. This recipe should be something you keep on hand during cold and flu season. The combination of all these spicy ingredients can help throw those yucky symptoms to the curb. The secret to fire cider is letting it "brew" and then keeping git on hand for when you need it or using a little each day as a part of prevention.
Ingredients:
1 small onion chopped
1/2 cup horseradish root grated
10 cloves of garlic finely chopped
1/2 cup ginger root grated
apple cider vinegar
1/4 tsp cayenne pepper
1/4 cup raw honey
Directions:
Combine all of the ingredients (except the honey) in a glass jar and fill the jar with apple cider vinegar until the ingredients are covered.
Store in a dark cool place for one month and shake it frequently.
After one month strain the liquid into a new jar. Add the honey into the liquid. You can add more if you prefer it to be sweeter. You can store this for up to year (we suggest writing the date you made it on the lid) in a cool dark place.
Uses for Fire Cider:
1-2 tablespoons at the first sign of a cold and then repeat every 3-4 hours until symptoms subside.
As a salad dressing or drizzle it on grilled veggies or wilted greens.
You can add it to juice or dilute it with warm water and honey and drink it like tea.
Marinate meat, chicken, or fish with it for a zesty meal.
Add it to tomato juice for a virgin bloody Mary.