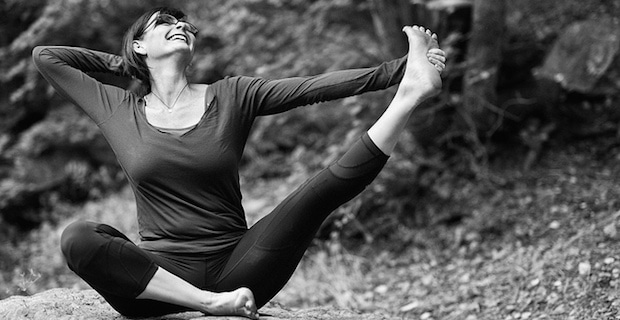 Every day, on my way home from work, I pass a yoga studio. The place is always hopping. Firm, flexible bodies hold poses in the window as I watch with bewildered awe from the street. As a scientist and psychiatrist, I can't help but ask the question-does yoga really work? What is it about this ancient art form that entices these devotees? What is the biology behind this practice, and should I get into it too?
As Naturally Savvy readers know, leading a naturally healthy lifestyle is an investment. The extra time and money is worth the comfort of knowing you are taking the necessary strides to ensure a healthier life for you and your family. Organic and natural foods are one part of the equation. Mental health and wellness is another.
Take our flexible friends at the Yoga Studio. It is well known in the medical literature that stress-related mental and physical disorders are best treated with a holistic approach. In other words, while medications certainly have their place, mind-body interventions can be equally beneficial. One widely used relaxation practice is yoga and the deep-breathing that goes along with it, known as yogic breathing. The deep, guttural breathing that occurs when practicing yoga can activate a part of your brain and body known as the parasympathetic nervous system. Deep breathing turns on a nerve (the vagus nerve) that sends a message to your brain to rest, digest, and relax. This impulse, in turn, calms the stress response system (the sympathetic nervous system), which tends to be overdeveloped in most of us in this age of hustling and bustling.
So how does the practice of yoga translate into a healthier lifestyle? Research has shown that a balance between the stress response system (sympathetic nervous system) and the rest/relaxation system (parasympathetic nervous system) is optimal for the maintenance of mental health. An imbalance in this system, which is often the case, can lead to an elevated level of a stress hormone in the bloodstream known as cortisol. Cortisol has been linked to such mental health disorders as depression, anxiety, post-traumatic stress disorder (PTSD), and other stress-related medical illnesses. Amazingly, there is no antidote to cortisol that comes packaged in a pill. Instead, you have the power with your mind and body to bring down these levels and restore the balance within.
A holistic approach to mental illness is best. Antidepressant and anti-anxiety medications have their place and importance in the treatment of these disorders, as decided upon by the patient and doctor. However, medicine combined with yogic deep breathing, as well as natural and organic food choices, can lead to an overwhelmingly positive change in your body's chemistry. In a country where one in 10 people experience mentally unhealthy days at least two weeks a year, why not do what we can to optimize our mental health?
Learn more about laughter yoga and mental wellbeing
Image: a4gpa
References:
CDC Website. Data are from the 1993-2006 Behavioral Risk Factor Surveillance System (BRFSS). All respondents to the BRFSS are non-institutionalized residents, 18 years old or older.
Brown RP and Gerbarg PL: Sudarshan Kriya Yogic breathing in the treatment of stress, anxiety, and depression: Part I – Neurophysiological Model. Journal of Alternative and Complementary Medicine 2005;11: 189-201
Giese-Davis J et al. Depression and stress reactivity in metastatic breast cancer. Psychosom Med. 2006 Sep-Oct; 68(5):675-83.