Lies About GMOs and GMO Labeling that Big Food Wants You to Believe
California is once again looking at a GMO labeling bill, this time through legislation. Of course, the biotech and big food industries will try to quiet the campaign through clever marketing gimmicks. Let's take a look at five of the biggest lies about GMOs and GMO labeling the biotech and big-food industry are spreading:
Lie #1: Labeling GMOs will raise food prices.
This lie is in the number one spot for a reason. Opponents to both Prop 37 (CA) and I-522 (WA) labeling initiatives have used this one quite a bit, despite the fact that a report on GMO labeling by Joanna M. Shepherd-Bailey from Emory University School of Law found that labeling GMO food will cause little or not changes in food prices. She stated in the report that expenses from GMO labeling "represent a trivial expense for food sellers." The labeling expenses are only a one-time expense and not a permanent increase in cost. She also found that for sellers who might be tempted to pass on the cost to consumers, the fear of losing customers will act as a deterrent to increasing prices.
A report by David Byrne, European Commissioner for Health and Consumer Protection found that when the EU labeling system was introduced in 1997, food prices didn't increase. Byrne also found that when Norway introduced its current labeling system, food prices didn't increase.
Lie #2: GMOs are safe to eat.
Studies have linked GMO crops to all sorts of health problems. A recently published study by Brazilian researchers linked the bacteria GMO crops often carry, Bacillus Thuringiensis (BT), to leukemia. The researchers fed mice Bt toxins, and found that the mice developed blood cancers, including leukemia, blood abnormalities, abnormal lymphocyte patterns and suppression of bone marrow proliferation. A study published last spring found that pigs fed a GMO diet developed gastric and uterine differences, and a French study published last year found that rats fed GMO corn had kidney, liver, heart, adrenal glands, spleen and hematopoietic system problems.
Lie #3: GMOs are needed to feed the growing world population.
Ask any of the biotech companies, like Monsanto, and they'll tell you that their crops are enabling food production around the world, mainly due to the plants' pest and weed resistance. But a 2009 report by the Union of Concerned Scientists found that GMO crops have done little to increase overall crop yields. Specifically, GMO soybeans haven't increased yields, and GMO corn has only marginally increased yields.
Lie #4: GMOs reduce the use of pesticides and herbicides.
Almost 20 years after the introduction of GMO crops, they have not provided the benefits that the biotech companies promised, a Food & Water Watch report found. Although herbicide use on corn, soybeans and cotton did decrease by 15 percent during the early years of GMO adoption, from 1998 to 2001, herbicide use increased by 26 percent from 2001 to 2010. The reason is that weeds developed resistance to glyphosate. The total amount of glyphosate applied to the three biggest GMO crops (corn, cotton and soybeans) increased ten-fold from 1996 to 2012. The total amount of the herbicide 2,4-D used increased by 90 percent from 2000 to 2012.
Lie #5: Respected organizations believe GMOs are not harmful.
Earlier this year UN Food and Agriculture Organization (FAO) Director General, Jose Graziano da Silva, stated at a press conference in Uganda that GMOs are not needed to eradicate hunger. "Our position as FAO is not that we are against GMOs but we are saying we don't need them now to eradicate hunger," he said. He went on to express concerns about the impact of GMOs on the environment because "we don't know what will happen to areas of production and the crops," and added that it is " risky for continents whose crops have GMOs; we want to ensure that proper security measures related to environment contamination are taken."
[Editor's Note: If you want to eliminate unhealthy ingredients and chemical additives from your diet for good, click here to sign up for a Naturally Savvy Get Healthy Challenge.]

Image: Jeannette E. Spaghetti
---
About the Author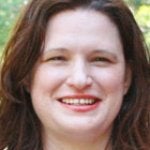 Gina-Marie is a freelance writer armed with a passion for healthy living and a degree in journalism. Hailing from the dry, sunny Central San Joaquin Valley, she hasn't let the heat fry her brain!