SAM-e: Nutrient
SAM-e (S-Adenosylmethionine) is a naturally occurring compound that may fight depression and improve joint pain. The human body makes SAM-e by combining the amino acid methionine with ATP. With the help of B-vitamins, SAM-e releases the methyl group to surrounding tissues and organs which initiates over thirty-five biochemical processes.

SAM-e is best known as a natural anti-depressant. Controlled studies have demonstrated that SAM-e helps to improve mood and alleviate symptoms of depression by raising production of dopamine and serotonin. SAM-e has also been shown to be effective in reducing joint pain and slowing joint degeneration. It plays a critical role in cartilage formation, and mobility in the spine, hips and knees. The Arthritis Foundation recently endorsed the use of SAM-e for osteo-arthritis, suggesting that it may relieve pain as effectively as NSAIDs but without the side effects.

Natural production of SAM-e declines with age - children make seven times more SAM-e than adults. While there are no natural sources of SAM-e, it is available as an over-the-counter supplement in the United States.

To maintain a positive mood, it is recommended to take 400 to 600 mg early in the day. For osteoarthritis, take 400-800 mg daily. SAM-e is best absorbed on an empty stomach. Results should be evident within the first two weeks of supplementation. When taking SAM-e, it is also important to supplement your diet with a B complex containing vitamin B12, vitamin B6 and folate.

Caution: Like all anti-depressants, SAM-e can trigger mania in people with bipolar disorder. Pregnant and nursing women should also consult with a health care provider before using SAM-e.
---
About the Author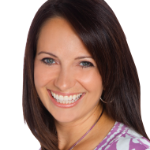 Lisa has been in her own practice for over 15 years and specializes in weight management. She teaches natural nutrition in both corporate and educational environments and is a shining example of someone who practices what she teaches.
Lisa is a nutritionist and educator specializing in weight management. After losing weight several years ago through a more natural diet and by improving her digestion, she committed to sharing her new-found knowledge and returned to school to study nutrition. Over the past decade, her Nu-Vitality Weight Program has helped employees at numerous corporations lose thousands of pounds. In addition, Lisa regularly consults for groups and individuals with unique nutritional needs such as police officers and athletes. Lisa has been featured on the Discovery Channel, numerous radio programs and is a contributor to various publications. Additionally, she teaches nutrition at multiple post-secondary schools, has taught natural food cooking workshops, and authored two books.