How To Clean Grout Naturally
Grout is always tough to clean. When tiles are newly installed, they look so crisp and clean, especially if you choose a light shade of grout.
Grout is very similar to the pores in our skin—it absorbs a lot of gunk. Rather than getting pimples like our skin, grout lines simply absorb the dirt and begin to darken. If you look at the tiled floors in your home, you will certainly see that some grout lines are lighter than others. That is the result of grimy grout! Mopping with dirty water, simply spraying a tiled shower, or spilling food on floors are all factors that will stain your grout. Even walking around barefoot will build up stains over time.
If your grout is not properly sealed, it is much more susceptible to stains. While the tile installer should be responsible for proper sealing, after a few years the sealant can wash away. Resealing your tiles is something to consider every now and then. You can get a grout sealant at your local home store and it can be applied after a proper grout cleaning.
The first step is to get the gunk out and restore the beautiful light shade of your grout. The color variance may seem minor, but it makes an enormous difference from a cosmetic standpoint. To clean up your grout, you will need a scrub brush (one with an iron handle, or an old tooth brush will work fine), baking soda, cotton cloths and a clean spray bottle filled with water.
Spray the grout down with water and then apply baking soda to the grout lines by patting it on and forming a paste. If you have a large tiled area, this will take some time, so consider this project as something to do quarterly or even annually in low traffic areas. I would suggest breaking the area down into quarters, that way your whole floor is not covered in baking soda at once. If you do a quarter at a time, the task will be much more manageable.
After 15 minutes with the paste on the tiles, you can gently spray the tiled area with water and then use your scrub brush to agitate the paste. Think of it like brushing your teeth! After a few good scrubs, you will notice the grout becomes quite a bit lighter. Wipe clean with a cloth and rinse the tiles well—baking soda leaves a fine, annoying powder behind if it is not rinsed. After the whole floor has been done, you can vacuum up the dried baking soda and then give it a quick mop with hot water (using a clean mop head). If you are cleaning tiles in the shower, rinse the shower after cleaning it.
There are some variations to consider when doing this project depending on what cleaning challenges you are facing:
Should the grout be exceptionally stained, you can add lemon juice to the paste, as lemon is a natural brightener.

If your bathroom grout has mold (because it is a high-moisture area), you can add 10 drops of tea tree oil to the water in your spray bottle and use that to create the paste instead. Tea tree oil is a natural mold-inhibitor and will help combat mold growth. When you finish rinsing down the tiles, re-spray the tile area with the tea tree oil and water mix to help prevent regrowth.
Here's to brighter grout!
---
About the Author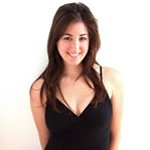 Melissa is passionate about making living environments cleaner and greener. She has been featured in newspapers and televisions shows. Melissa has even been featured as an expert in eco-friendly cleaning tips and techniques in interviews and speaking engagements. Melissa is the owner and operator of Clean My Space, which focuses on cleaning condo suites for busy urbanites. Melissa's clients and staff are encouraged to use green cleaning products and techniques whenever possible and she is always researching new products and techniques to share with readers.