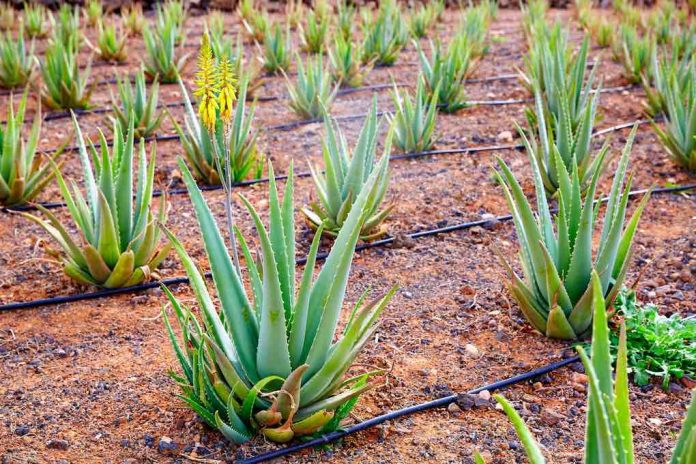 How many benefits of aloe vera can you name? Most people are quick to mention the ability of this succulent and evergreen perennial to ease the pain associated with burns and sunburn. After all, that's why many of us keep the plant in our kitchen, within easy reach when we burn our hand on a hot pot handle or casserole dish.
But aloe vera, in its various forms, also provides a wealth of other benefits from the top of your head to the tips of your toes…and all areas in between. You have your choice of aloe vera fresh from the leaves as well as aloe vera products in the form of gel, juice, capsules, and powders, depending on your needs. What benefits of aloe vera are you ready to experience?
#1 Aloe Vera prevents dandruff
The gel in the aloe vera leaves contains amino acids and antioxidants that can help battle dandruff. In a 2019 review of 23 clinical trials, the authors reported that aloe vera can minimize inflammation, which can be beneficial for individuals with dandruff. In an earlier small study, it was noted that the antibacterial and antifungal properties of the plant may help prevent dandruff.
#2 Aloe vera promotes hair growth
The ability of aloe vera to supports blood circulation is one reason why it can promote hair growth when applied to the scalp. Some people also claim that conditioning their hair with aloe vera decreases hair breakage and hair loss. For now, however, there is scant clinical evidence of these claims.
#3 Aloe vera busts blisters
The anti-inflammatory nature of aloe vera helps relieve swelling and redness. Once the blister breaks, the hydrating nature of aloe can support healing and hydration.
#4 Aloe vera attacks athlete's foot
Aloe vera has antifungal properties that can chase away this common infection. Simply combine ¼ cup aloe vera juice with about 10 drops of myrrh or lavender essential oil. Apply two to three times a day until the infection clears.
#5 Use aloe vera to treats rashes, cuts, and bruises
Rashes, cuts, and bruises compromise your skin, and aloe vera is your first aid to the rescue. Aloe vera contains polysaccharides, which promote tissue regrowth, glycoproteins that fight inflammation and pain, and mannose and glucose, which assist in healing. This succulent also has zinc, B vitamins, and vitamin C, all of which can help fight skin infections.
#6 Acne scars
Aloe vera may improve acne scars in several ways. The anti-inflammatory action may minimize the appearance of acne scarring. The use of topical aloe vera also may stimulate production of collagen, which helps repair scarred skin.
Read about 8 ways to naturally reduce the appearance of scars
#7 Aloe vera relieves digestive problems
Several digestion-related problems, including heartburn and gastroesophageal reflux disease (GERD), can respond to aloe vera gel. One review noted that taking 1 to 3 ounces of aloe vera gel at mealtime reduced the severity of GERD symptoms.
#8 Use aloe vera as a mouthwash alternative
A safe and effective alternative to conventional mouthwash is aloe vera and water. Combine ¼ cup pure aloe vera gel in ½ cup water and use as a mouthwash. It freshens your breath as well as soothes gums and blocks plaque.
#9 Aloe vera lowers blood sugar
In individuals with type 2 diabetes, the use of two tablespoons of aloe vera juice daily lowered blood glucose levels. A subsequent review and meta-analysis of 5 randomized controlled trials showed that aloe vera lowered fasting blood glucose, hemoglobin A1c, triglycerides, and cholesterol in individuals with prediabetes and untreated type 2 diabetes. You should talk to your healthcare provider before using aloe vera for this purpose, as you may need to adjust any medications you are taking.
#10 Aloe vera for constipation
The natural laxative ingredient in aloe vera is latex, which is found just under the skin of the leaves. Because of concerns about the effects of aloin, the compound in latex, when it is used frequently, aloe latex was removed from over-the-counter medications in the United States in 2002. However, the use of aloe vera juice (without latex) may help with constipation when taken 1 to 2 tablespoons daily short-term. Talk to a healthcare professional before using aloe vera for constipation.
Read about aloe vera: nature's beauty secret
#11 Aloe vera enhances skin health
Aloe vera really shines when it comes to skincare. The complex carbohydrates in the plant's leaves help hydrate and moisturize the skin as well as reduce inflammation. Research also suggests aloe vera can slow aging of the skin by boosting the production of collagen and improving skin elasticity, which in turn improves facial wrinkles.
#12 Reduces dental plaque
Want to get rid of dental plaque? In one study, use of 100 percent aloe vera juice was compared with chlorhexidine, a standard mouthwash ingredient. After four days of use, the aloe vera mouth rinse was just as effective as chlorhexidine in reducing plaque. Research has also shown that aloe vera can kill Streptococcus mutans, the bacteria that produce plaque in the mouth.
#13 Heals canker sores
Canker sores can be annoying as well as painful, and aloe vera can help! Several studies have shown that applying aloe vera to canker sores can reduce the size of the ulcers as well as speed up healing and lessen the pain.
#14 Improves weight loss efforts
Can aloe vera boost your efforts to drop extra pounds? Some say yes and others say no. According to Britt Brandon, the author of The Everything Guide to Aloe Vera for Health, the succulent supports weight loss by providing numerous nutrients, enzymes, and amino acids, as well as improves the body's ability to absorb them, which in turn promotes weight loss. According to Beth Warren, founder of Beth Warren Nutrition, aloe vera can make you poop and lose some water weight, but that's about it.
Bottom line
Aloe vera is a unique and highly diverse plant that can provide a wealth of health and beauty benefits. Whether you keep a plant in your home or patio or buy any of the varieties of supplements on the market, you will enjoy some of Nature's healing properties.
[Editor's Note: Our sponsor Lily of the Desert has a variety of aloe products from gel to indigestibles. We have been big fans for a long time. Check out their website to learn more.]

DISCLAIMER: This article contains affiliate links, which means that if you click on one of the product links, Naturally Savvy will receive a small commission so we can keep pumping out amazing articles like this one. Thank you so much for your support!
Sources
Babaee N et al. Evaluation of the therapeutic effects of aloe vera gel on minor recurrent aphthous stomatitis.

Dental Research Journal

2012 Jul-Aug; 9(4): 381-85
Bhalang K et al. Acemannan, a polysaccharide extracted from aloe vera, is effective in the treatment of oral aphthous ulceration.

Journal of Alternative and Complementary Medicine

2013 May; 19(5): 429-34
Bradley S. Can sipping aloe vera juice really help you lose weight?

Womens Health Magazine

2018 Oct 17
Cho S et al. Dietary aloe vera supplementation improves facial wrinkles and elasticity and it increases the type I procollagen gene expression in human skin in vivo.

Annals of Dermatology

2009 Feb; 21(1): 6-11
Dall'Oglio F et al. A novel cosmetic antifungal/anti-inflammatory topical gel for the treatment of mild to moderate seborrheic dermatitis of the face: an open-label trial utilizing clinical evaluation and erythema-directed digital photography.

G Ital Dermatol Venereol

2017 Oct; 152(5): 436-40
Gupta RK et al. Preliminary antiplaque efficacy of aloe vera mouthwash on 4 day plaque re-growth model: randomized control trial.

Ethiopian Journal of Health Science

2014 Apr; 24(2): 139-44
Hekmatpou D et al. The effect of aloe vera clinical trials on prevention and healing of skin wound: a systematic review.

Iranian Journal of Medical Science

2019 Jan; 44(1): 1-9
Huang P-H et al. Emodin and aloe-emodin suppress breast cancer cell proliferation through Era inhibition.

Evidence-Based Complementary and Alternative Medicine

2013; Article ID376123
Hussain A et al. Aloe vera inhibits proliferation of human breast and cervical cancer cells and acts synergistically with cisplatin.

Asian Pacific Journal of Cancer Prevention

2015; 16(7): 2939-46
Lawrence B et al. Isolation, purification and evaluation of antibacterial agents from aloe vera.

Brazilian Journal of Microbiology

2009 Oct-Dec; 40(4): 906-15
Rahmani AH et al. Aloe vera: potential candidate in health management via modulation of biological activities.

Pharmacognosy Review

2015; 9(18): 120-26
Yarnell E, Abascal K. Herbs for gastroesophageal reflux disease.

Alternative & Complementary Therapies

2010 Dec; 16(6): 344
Yongchaiyudha S et al. Antidiabetic activity of aloe vera L. juice. I. Clinical trial in new cases of diabetes mellitus.

Phytomedicine

1996 Nov; 3(3): 241-43
Zhang Y et al. Efficacy of aloe vera supplementation on prediabetes and early non-treated diabetic patients: a systematic review and meta-analysis of randomized controlled trials.

Nutrients

2016 Jun 23 8(7): E388