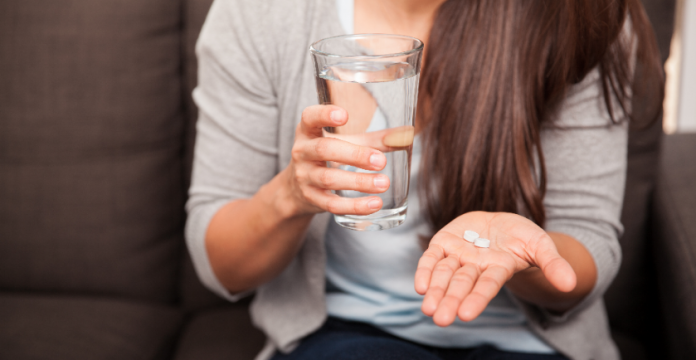 When we get a headache, muscle pain, cramps, arthritis pain, or muscle soreness, one treatment option is over-the-counter (OTC) pain relievers, such as ibuprofen (e.g., Advil, Motrin), aspirin, and naproxen (Aleve), which all belong to a drug group called non-steroidal anti-inflammatory drugs (NSAIDs).
NSAIDs work by inhibiting enzymes called cyclooxygenase 1 (COX-1) and 2 (COX-2). The activity of COX-1 and COX-2 in the body results in the production of prostaglandins, hormone-like substances that promote inflammation and enhance the perception of pain. NSAIDs fight inflammation and the pain associated with it.
Another drug option is acetaminophen, which is a different drug class. It also is used to treat pain as well as fever, and it is often combined with other active ingredients to treat allergy, colds, flu, and insomnia. Experts are still not clear on how acetaminophen works, but one theory is that it performs similarly to NSAIDs in that it blocks cyclooxygenase enzymes, yet it may require specific circumstances (e.g., low levels of hydroperoxide-containing compounds) to be effective.
All of these OTC pain killers are associated with some significant side effects we should be aware of before taking these drugs. The good news, however, is there are some natural pain relievers you can take in their place. Let's begin with the issues presented by common OTC pain killers.
Side effect of NSAIDs
Generally, no one should take an NSAID for more than 3 days for fever or for 10 days for pain without consulting their physician. That's because NSAIDs are associated with numerous common side effects, including stomach pain, heartburn, stomach ulcers, a greater risk of bleeding (especially from aspirin), headache, dizziness, ringing in the ears, allergic reactions (e.g., rash, wheezing, swelling of the throat), high blood pressure, leg swelling, and kidney or liver problems.
Read about fertility compromised by common pain medications, NSAIDs
In fact, given this list of side effects, you should not take NSAIDs at all without first talking with your doctor if you have kidney disease, heart failure, or high blood pressure. More than a decade ago, researchers reported that ibuprofen may increase the risk of heart attack or stroke if 2,400 mg daily (maximum dose) is taken. A recent Danish study that included nearly 29,000 adults reported that use of ibuprofen (but not naproxen) was associated with a significant increased risk of cardiac arrest. Naproxen seems to carry a lower risk of stroke.
If you are already taking other medications, adding NSAIDs to the mix can result in dangerous interactions with the other drugs, especially blood thinning drugs (e.g., aspirin, warfarin) or blood pressure medications. If you are using these medications, talk to your doctor before taking any NSAIDs.
Side effects of acetaminophen
The most common side effects of acetaminophen (e.g., Tylenol) use are nausea (up to 34% of users), vomiting (up to 15%), abdominal pain, diarrhea, constipation, heartburn, and enlarged abdomen (all up to 10%). Between 1 and 10 percent of users may experience anemia, rash, wheezing, coughing, abnormal breath sounds, hypoxia (insufficient oxygen reaching body tissues), hypertension, hypotension, chest pain, edema in the extremities, hyperglycemia, headache, dizziness, muscle spasms, anxiety, and insomnia.
Among the most serious side effects of acetaminophen is liver damage. Since acetaminophen is available over the counter, many people are lulled into believing it is a safe drug and may take more than the recommended dose. This can quickly result in liver damage and ultimately liver failure. In fact, "recommended doses of Tylenol given to healthy subjects for two weeks can cause mild to moderate reversible liver injury." It's also important to note that taking acetaminophen with alcohol is especially dangerous for the liver.
Read about reducing inflammation naturally
Natural pain relievers
You don't need to reach for the medicine cabinet to fight pain and inflammation. Here are some natural pain relievers you can try instead. Rather than having just one or two natural remedies for pain, it is best to choose the natural product that has been shown to be helpful for specific types of pain, such as headache, arthritis pain, irritable bowel pain, or fibromyalgia, for example. Discuss the best dose for you and your condition with a knowledgeable health care professional.
Food. Yes, there are certain foods that possess effective anti-inflammatory powers. These include cold water fish (e.g., sardines, salmon, anchovies, because of their omega-3s), pineapple and papaya (contain inflammation fighting enzymes), and berries (high in antioxidants). Be sure to include these foods in your diet as often as possible.
Curcumin. This compound is an active ingredient in the spice turmeric, and it's been shown to have anti-inflammatory powers. A recent study in Drug Design, Development and Therapy reported that individuals with osteoarthritis who took curcumin showed "improvement in pain, physical function, and quality of life after taking curcumin."
Feverfew. This herb is most commonly used to treat migraines and rheumatoid arthritis. Evidence of the effectiveness of feverfew in reducing migraine pain or frequency is mixed. One recent Cochrane review reported that feverfew was associated with a small reduction in frequency of migraines per month when compared with placebo.
Capsaicin. Chili (cayenne) peppers are the source of this natural pain remedy that helps quiet the activity of substance P, which is associated with pain. Oral formulations of capsaicin are often used to treat arthritis, bursitis, tendonitis, and other inflammatory conditions. It even has been shown to be helpful in reducing peripheral neuropathic pain. A new international study found that capsaicin 8% patch provided sustained and effective pain relief, significantly improved quality of life and overall health status, and was well tolerated.
Ginger. The anti-inflammatory powers of ginger have been demonstrated in several conditions that involve pain. One is osteoarthritis, which affects tens of thousands adults in the United States alone. A recent study in the Journal of Nutrition in Gerontology and Geriatrics reported that use of ginger supplements versus placebo resulted in improvement in pain, illustrated by a decline in factors called cytokines, which are involved with painful inflammation.
Other natural pain remedies. Some other natural pain remedies you may consider include St. John's wort (arthritis, neuropathic pain), kava kava (tension headache, neuropathic pain), ginseng (fibromyalgia), valerian root (muscle spasms), and boswellia (inflammatory pain), and bromelain (arthritis and trauma-related inflammation).
References
Chin KY. The spice for joint inflammation: anti-inflammatory role of curcumin in treating osteoarthritis. Drug Design, Development and Therapy 2016 Sep 20; 10:3029-42
Cleveland Clinic. Nonsteroidal anti-inflammatory medicines
Drahl C. How does acetaminophen work? Researchers still aren't sure. Chemical and Engineering News 2014 Jul 12; 92(29): 31-32
Drugs.com. Acetaminophen side effects
Hall S. Painkillers may have link to heart attack, doctors warned. The Guardian 2006 Aug 25
Mankowski C et al. Effectiveness of the capsaicin 8% patch in the management of peripheral neuropathic pain in European clinical practice: the ASCEND study. BMC Neurology 2017 Apr 21; 17(1): 80
MedicineNet.com. Tylenol (acetaminophen) liver damage
Mozaffari-Khosravi H et al. Effect of ginger supplementation on proinflammatory cytokines in older patients with osteoarthritis: outcomes of a randomized controlled clinical trial. Journal of Nutrition in Gerontology and Geriatrics 2016 Jul-Sep; 35(3): 209-18
Sondergaard KB et al. Non-steroidal anti-inflammatory drug use is associated with increased risk of out-of-hospital cardiac arrest: a nationwide case-time-control study. European Heart Journal. Cardiovascular Pharmacotherapy 2017 Apr 1; 3(2): 100-107
Wider B et al. Feverfew for preventing migraine. Cochrane Database of Systematic Reviews 2015 Apr 20; 4:CD002286