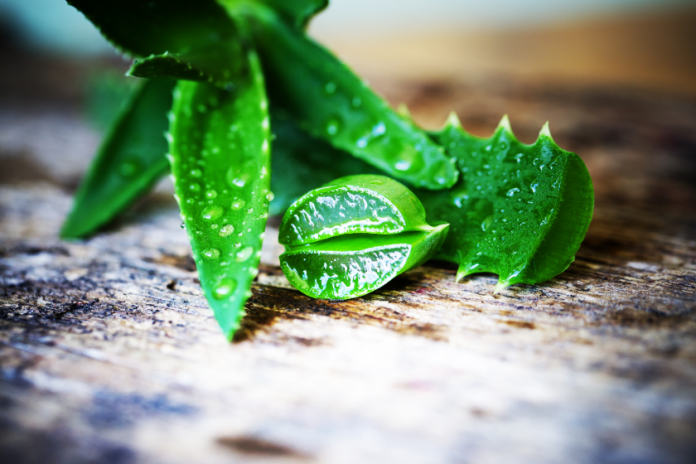 Are you bothered by scars or stretch marks and can't figure out how to make them less obvious? You could resort to expensive creams or over-the-counter products, but if you would like to naturally reduce the appearance of scars and other unsightly marks, then you are in the right place!
Here are some methods to experiment with:
Aloe vera. The natural gel of this succulent plant can help prevent and reduce the appearance of scars, including those associated with acne, and soothe inflamed skin. Simply apply aloe vera gel to your skin (but not open skin) to help promote the growth of new cells, repair damaged ones, and penetrate into the skin to enhance the amount of collagen your skin produces to promote healing.
Read about 7 natural remedies for teen acne
Bentonite clay. Bentonite clay is formed from volcanic ash and is rich in calcium, iron, magnesium, potassium, and sodium. Its ability to reduce and heal scars lies in its negative electric charge, which occurs when water is added to the clay. Applying wet bentonite clay to the skin, as a face mask or on selected scars or marks, removes toxins from the body, reduces inflammation, and helps eliminate scar tissue. Bentonite may also lighten acne marks on the face. My kids use this for acne and it helps.
Carrot juice. Unlike many of the other natural scar reducing remedies, this is one you drink rather than put on your skin. Carrot juice is rich in nutrients that can help restore and heal your skin, such as potassium and vitamin A, and also fight inflammation. Include several ounces of carrot juice in your diet daily either alone or in smoothies or soups. Note: Since carrot juice is higher in sugar, I recommend mixing it with other less sweet vegetables to help balance your blood sugar levels.
Coconut oil. The medium-chain fatty acids found in coconut oil are easily oxidized so they don't contribute to free radical damage. Using coconut oil both externally on scars and stretch marks, as well as internally in and on foods can help nourish and heal the skin.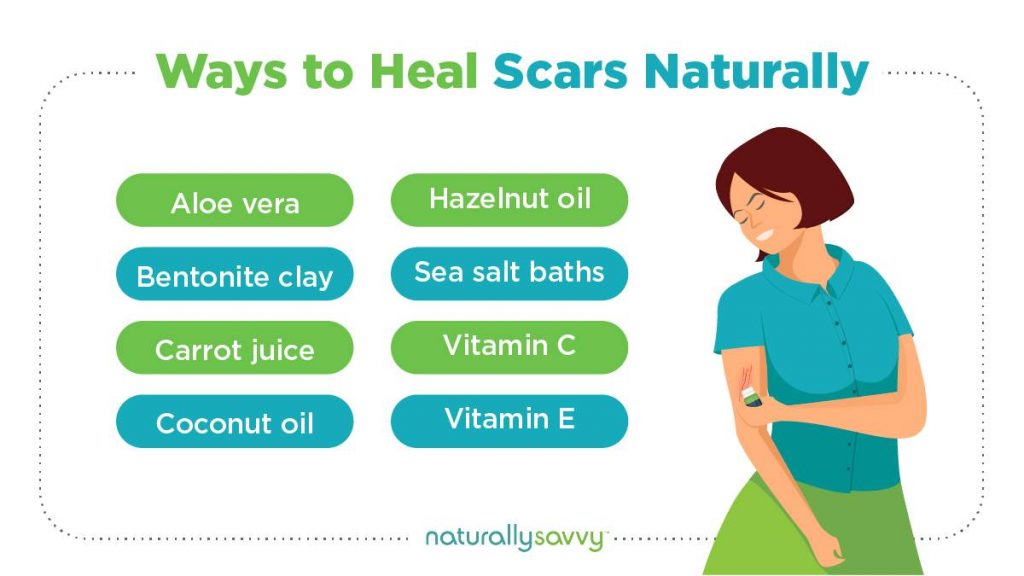 Hazelnut oil. Have you ever tried using hazelnut oil on your skin? The vitamin E and essential fatty acids found in this oil help to promote scar reduction and moisturizing of the skin.
Sea salt baths. These salts can absorb toxins from the skin and act as an antiseptic. Soak in a warm water bath with the salts for 30 to 45 minutes once or twice a week for best results.
Read what your skin says about your health
Vitamin C. Antioxidants, like vitamin C, in lemon juice help to heal scar tissue and stretch marks. Because the juice can make your skin dry, be sure to moisturize well. Consuming foods high in vitamin C (e.g., citrus, pineapple, mango, Brussel sprouts, bell peppers, kiwi) also can contribute to scar tissue reduction.
Vitamin E. Vitamin E oil can be applied directly to scars or burns as a treatment strategy, but reports on the effectiveness of vitamin E oil on scars are conflicting. In a review of six studies, half noted a significant improvement in the appearance of scars when using vitamin E, while the other three did not. Two of the studies noted that some of the participants experienced contact dermatitis and increased itching and rash when using the vitamin E. Please test on a small patch of skin to see if you react.
[Editor's Note: Our partner, Lily of the Desert makes a high-quality aloe vera gel that you can use topically, and aloe vera juice that can ingest.]
Sources
Sidgwick GP et al. A comprehensive evidence-based review on the role of topicals and dressings in the management of skin scarring. Archives of Dermatology Research 2015; 307(6): 461-77
Tanaydin V et al. The role of topical vitamin E in scar management: a systematic review. Aesthetic Surgery Journal 2016 Sep; 36(8): 959-65