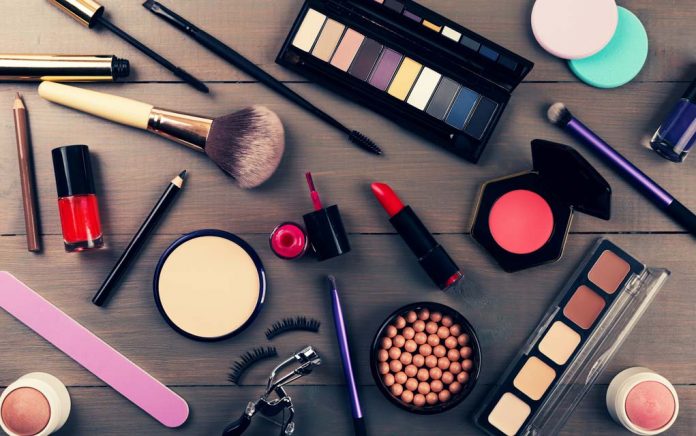 Many of the cosmetics and personal care products on the market for women to use on a daily or regular basis contain ingredients that are anything but healthful and that could put their beauty in real jeopardy. Should you don a hazmat suit before you face your makeup each morning? Do you know what dangers are lurking in your personal care items?
Approximately 16 percent of the 82,000 ingredients used in the manufacture of health and beauty products are carcinogens, hormone disruptors, pesticides, plasticizers, and reproductive toxins. The next time you apply moisturizer or lipstick, insert a tampon, use shampoo or bath gel, apply nail polish, or take a capful of mouthwash, you could be introducing dozens of toxins to your body.
Your skin and mucous membranes are protective shields, but they are often no match for the hidden hazards in personal care products. These toxins can penetrate your porous skin and membranes, where they are free to cause havoc with your health.
Shouldn't someone be responsible for regulating these hazardous chemicals and protecting consumers? In theory, the Food and Drug Administration (FDA) has this task, based on the 1938 Federal Food, Drug, and Cosmetic Act and its accompanying amendments, and the Fair Packaging and Labeling Act. These regulations are supposed to protect consumers from deceptive practices and harmful products. In reality, it is very much a buyer beware market.
According to the FDA, "Each ingredient used in a cosmetic product and each finished cosmetic product shall be adequately substantiated for safety prior to marketing. Any such ingredient or product whose safety is not adequately substantiated prior to marketing is misbranded unless it contains the following conspicuous statement on the principal display panel: 'Warning: The safety of this product has not been determined.'"
However, as the following list demonstrates, personal care products contain an arsenal of harmful ingredients. The FDA clearly has a different idea about what constitutes "safe" ingredients in cosmetics. Who are some of the villains that the FDA allows to hide in your health and beauty products?
Chemical fragrances can include endocrine disruptors, carcinogens and can be especially irritating to the skin. Although the word "fragrance" sounds innocent enough on the label, that single word can represent about 4,000 different ingredients, many of which have toxic properties. Are there mysterious fragrances in your shampoos, tampons and panty liners, sunscreens, body care products, deodorants, and skincare items?
Coal tar is a gel-like material that is produced during the incomplete burning of coal. You can find coal tar in shampoos, hair dyes, scalp treatments, soaps, and lotions. Skin cancer has been reported by people who have used coal-tar preparations. Coal tar is also associated with other types of cancer, sleep disturbances, and loss of coordination.
Ethanolomines, including diethanolamine (DEA), monoethanolamine (MEA), and triethanolamine (TEA) are hormone-disrupting chemicals found in facial cleansers, shampoos, soaps, and bubble bath formulas. These toxins also have been linked to cancer in animals.
Formaldehyde and releasers (imidazolidinyl urea, DMDM hydantoin) have been linked to allergies and asthma, cancer, chronic fatigue, depression, dizziness, headaches, pain, sleep problems, and weakening of the immune system. These ingredients are in nail polish, antiperspirants, and various skin, body, and hair products. The International Agency for Research on Cancer has classified formaldehyde as a human carcinogen. Formaldehyde is one of the three worst toxins that nail salon workers are exposed to on a daily basis and a contributor to the serious health issues that plague these women.
Mineral oil is derived from petroleum and not friendly to your skin. In fact, mineral oil disrupts the development of skin cells and also prevents the skin from absorbing and breathing. Moms, read the ingredients on baby oil bottles—it's probably 100% mineral oil!
Isopropyl alcohol is found in antifreeze as well as in hand lotion, body lotions, and hair color rinses. External use can irritate the skin, mucous membranes, and eyes and it may also cause dizziness and headache.
Methylisothiazolinone, a preservative that is found in some skin-care products, can trigger allergic reactions such as inflammation and rashes. Now this chemical also can be found in a name brand mouthwash and potentially cause inflammation of the throat!
What should you do?
You don't deserve to be a walking chemical experiment! Here are some suggestions on how to reduce and eliminate exposure to harmful substances from health and beauty products.
Reduce your use of cosmetics. Do you really need all those products? Save yourself some possible health problems and money and reduce your exposure.
Make your own beauty products. There are lots of resources offering instructions on how to make your own cosmetics and personal care products at home using simple, clean ingredients. Invite your friends to join you, and you can all benefit from safer cosmetics and save money too.
Read labels carefully and look for toxic ingredients. Several organizations have websites that can help you identify which cosmetics and personal care products have safe and toxic ingredients. They include the Campaign for Safe Cosmetics, Good Guide, and the Environmental Working Group Skin Deep program.
Look for personal care products with certifications, such as those listed below.
This seal can appear on cosmetics and other personal care products that contain or are made up of mostly agricultural ingredients and can meet the USDA National Organic Program standards for production, handling, processing, and labeling. Unfortunately, many of these products are not solely agricultural. In addition, there are four organic categories.
Products labeled as "100% Organic" must contain 100% USDA certified organic ingredients (excluding salt and water).
Products labeled "Organic" must contain at least 95% organic ingredients (excluding salt and water).
Products labeled "Made with Organic Ingredients" must contain at least 70% organic ingredients (excluding salt and water).
Products that contain less than 0% organic ingredients cannot use the term "organic" anywhere on the main display panel. However, if it contains an organic ingredient such as organic aloe, it can state that on the ingredient statement.
This seal represents an international and internationally recognized standard for organic and/or natural cosmetics. The standard was developed by organizations from Germany, France, Italy, and the United Kingdom for the purpose of defining common definitions and requirements for such products. One type of seal under the COSMOS umbrella is the Soil Association Organic logo, which is granted by the UK.
Cosmetics that bear the Natrue certification logo are verified to contain no synthetic fragrances or colors, no petroleum-derived products, no silicone oils and derivatives, no GMOs, no irradiation of end product and botanical ingredients, and not tested on animals.
The coalition for Consumer Information on Cosmetics' Leaping Bunny Program provides assurance to consumers that personal care, cosmetic, and household products bearing the Leaping Bunny logo have had no new animal testing used in any portion of production development by the company, its labs, or suppliers. This is an internationally recognized logo.
This is a third-party regulatory standard for organic personal care items that must, by definition, contain 70% or more certified organic ingredients by weight and meet all other NSF/ANSI guidelines. Basically, "All products are made with organic ingredients. Safe, effective, certified, natural body care without synthetic fragrances, phthalates, harsh sulfates or parabens."
Your best bet is to buy only products that bear some type of certification, since manufacturers have to meet strict requirements in order to use these logos. Otherwise, given the laxity of the laws concerning organic cosmetics and personal care items, nearly anyone can use words like "natural," organic," and "herbal" on their labels with abandon since there are no legal definitions for these terms when it comes to this industry.
Sources:
Campaign for Safe Cosmetics
David Suzuki Foundation
Dr. Frank Lipman
Environmental Working Group Skin Deep
Good Guide
Joseph Mercola