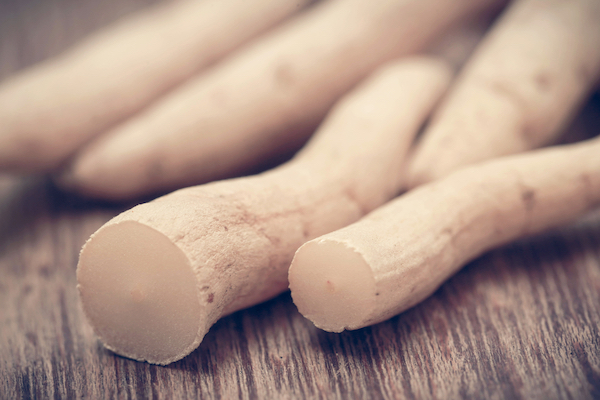 Whenever I hear about a new herbal remedy, I'm always eager to learn more about it. Shatavari fits the bill. Where does it come from, how long has it been around, what are its healing properties, what does the research say, and is it something that can benefit me? We explore all of those questions (except only you can determine the answer to the last question!) right here.
What is Shatavari?
Shatavari (Asparagus racemosus) is an Ayurvedic herb that is, as its name suggests, a member of the asparagus family. A translation of the word means "who possess a hundred husbands or is acceptable to many" or "having one hundred husbands." Similar to ashwagandha, rhodiola rosea, and ginseng, Shatavari is an adaptogen, which means it helps the body resist stressors and achieve balance.
This staple of Ayurvedic medicine is commonly found growing in India and the Himalayas, as well as parts of Australia and Africa. The roots of the plant have long been valued as a general tonic and to support the female reproductive system. It also has been used along with ashwagandha for men.
Read about 7 tips for following an Ayurvedic diet
Shatavari and women's health
If you're looking for a natural remedy that has the potential to help you through your first period to your last and beyond, then Shatavari could be your answer. According to Cecilia Lacayo, MD, a physician associated with a reproductive health service in Florida, "It's been used for centuries to help women with their reproductive health, restore and balance hormones, increase libido, fight fatigue, treat PMS and menopausal symptoms, support the healthy production of breast milk, strengthen the immune systems, and improve digestive health."
How does Shatavari work?
According to naturopath Amanda Frick of Los Angeles, the herb relaxes the uterine tissue, which in turn relieves stomach pain and cramps. It has anti-inflammatory properties, associated with the presence of the substance called racemofuran, which can be especially helpful for relieving menstrual cramps and bloating associated with your period.
Shatavari also may help regulate the production of estrogen and balance the pH of the vagina. Another benefit may be its support of the production of breast milk if you're breastfeeding.
For women who are experiencing perimenopause or menopause, Shatavari may tackle symptoms associated with these stages of life as well. You might try Shatavari for hot flashes, brain fog, vaginal dryness, and night sweats.
Read about the effects of low estrogen as we age
Other benefits of Shatavari
If you think Shatavari is for women only, you'd be wrong! Here are some of the other health benefits of this herb.
Antioxidant powers. Shatavari has lots of saponins, which are compounds that are rich in antioxidant properties. A specific antioxidant found in Shatavari called

racemofuran

, along with asparagamine A and racemosol, are believed to be the antioxidant powerhouses in this herbal root.
Anti-inflammatory abilities. Racemofuran is an anti-inflammatory agent as well as an antioxidant. Some

experts

have reported that its anti-inflammatory powers are similar to those provided by COX-2 inhibitors (e.g., celecoxib).
Boost the immune system. The results of animal studies indicate that Shatavari root can increase antibodies and may improve immune response.
Relieve cough. The juice of the Shatavari root may help relieve cough. A

study

in animals found that the root extract stopped cough as well as codeine phosphate (a prescription cough medicine).
Eliminate excess fluid. Accumulation of fluid can be a serious problem, especially if you have congestive heart failure or high blood pressure. It also can be bothersome and uncomfortable around menstruation and other issues. A 2010

study

found that 3,200 milligrams of Shatavari had a diuretic effect without causing acute side effects.
Manage kidney stones. If you've ever had

kidney stones

, you probably know they can be extremely painful. Some

research

indicates that Shatavari root extract can help prevent the development of oxalate (a compound found in spinach, beets, and other foods) stones while also raising the concentration of magnesium, which may prevent the formation of crystals associated with stone formation.
Help with depression. According to a 2009

study

, the antioxidants in Shatavari have antidepressant properties and can also have an effect on neurotransmitters in the brain, including those associated with depression.
Maintain blood sugar levels. Type 2 diabetes is very common, and individuals are often looking for effective, natural ways to manage blood sugar. At last one

study

indicates that Shatavari root can stimulate the production of insulin, which can help maintain healthy blood sugar.
Wrinkle fighter. The saponins in Shatavari root may help reduce skin damage from free radicals as well as prevent the breakdown of

collagen

. Both of these activities are good

anti-aging actions

for your skin.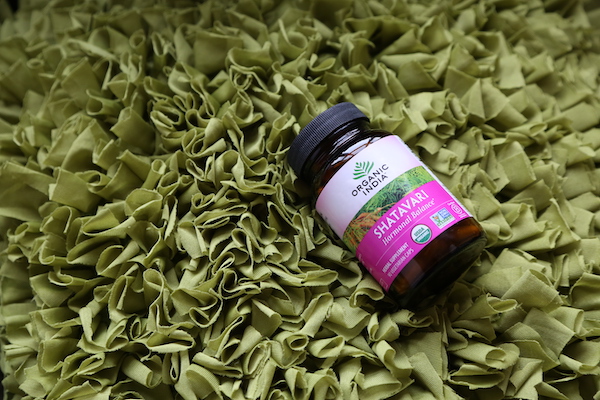 How to use Shatavari
Shatavari is available as a powder, liquid, and capsules and is bittersweet. Although no standard dose has been established, you should follow the suggestions on the label. Several recommended doses are:
4 to 5 milliliters of Shatavari root tincture three times a day

500-milligram tablets up to twice a day

1 teaspoon powdered root in 8 ounces of water brewed as a tea, twice a day.
Consult your healthcare provider before using Shatavari supplements to determine the best dose for you.
Bottom line
Women may be interested in the healing properties of Shatavari, especially when it comes to symptoms associated with perimenopause, menopause, and menstruation. However, the herb appears to have healing abilities that surpass the female reproductive system and may be called upon to help with a wide variety of other health challenges.
[Editor's Note: Organic India has a variety of ayurvedic products with everything from tulsi infusions to Shatavari capsules. I (Lisa) have found relief of some premenstrual cramping after using Shatavari.]

Read next:
7 Tips For Following An Ayurvedic Diet
Subscribe to our newsletter:
DISCLAIMER: This article contains affiliate links, which means that if you click on one of the product links, Naturally Savvy will receive a small commission so we can keep pumping out amazing articles like this one. Thank you so much for your support!
Sources
Alok S et al. Plant profile, phytochemistry and pharmacology of Asparagus racemosus (Shatavari): A review.

Asian Pacific Journal of Tropical Disease

2013; 3(3): 242–51.
Christina AJ et al. Antilithiatic effect of Asparagus racemosus Willd on ethylene glycol-induced lithiasis in male albino Wistar rats.

Methods and Findings in Experimental and Clinical Pharmacology

2005; 27(9):633

‐

638.
Hannan JMA et al. Insulin secretory actions of extracts of Asparagus racemosus root in perfused pancreas, isolated islets and clonal pancreatic B-cells.

Journal of Endocrinology

2007; 192:159-68
Kumar MCS et al. Acute toxicity and diuretic studies of the roots of asparagus racemosus willd in rats.

West Indian Medical Journal

2010; 59(1): 3-6
Mandal SC et al. Antitussive effect of Asparagus racemosus root against sulfur dioxide-induced cough in mice.

Fitoterapia

2000 Dec; 71(6): 686-89
Pinnock D. Medicinal cookery: How you can benefit from Nature's Edible Pharmacy 2011; London:

Constable & Robinson Ltd

.
Rungsang T et al. Stability and clinical effectiveness of emulsion containing Asparagus racemosus root extract.

Science Asia

41 2016: 236-45.
Singh GK et al. Antidepressant activity of Asparagus racemosus in rodent models.

Pharmacology Biochemistry and Behavior

2009 Jan; 91(3): 283-90
West-Rosenthal LB. Why every woman should take a shatavari supplement.

Well and Good

2017 Nov 6
Wiboonpun N et al. Identification of antioxidant compound from Asparagus racemosus.

Phytotherapy Research

2004; 18(9):771

‐

73.