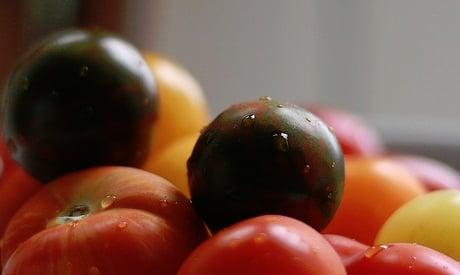 Summer tomatoes are one of nature's most glorious foods. Full of flavor, this vibrantly colored fruit is also really good for you. The tomato is an excellent source of vitamin C and is rich in lycopene, a nutrient that has been shown to ward off cancer. In modern times we are lucky to have access to tomatoes and their benefits year-round with canned and jarred paste and sauces as well as fresh tomatoes flown in from around the world for all kinds of tomato recipes, but there is nothing quite like the taste of a beautiful summer tomato (heirloom, beefsteak, cherry, or any other variety) at the peak of its ripeness, just off the vine. And if you've been to the local farmer's markets or even peeked into a vegetable garden lately, it is evident that the earth's abundance of tomatoes is at a high this time of year.
While tomatoes, in general, are really good for you, organic tomatoes do appear to have added benefits beyond their lack of pesticide residue. LiveScience reported on a study out of Brazil that found organic tomatoes contained a higher concentration of vitamin C and they've also been found to have a higher concentration of lycopene so when deciding between organic or conventional, organic tomatoes appear to be worth the investment, so consider using them in your summer tomato recipes.
While tomatoes can be enjoyed with no preparation, they are so readily available and so delicious at this time of year, that it would be a shame not to include them in all sorts of dishes. These 20 tomato recipes should offer plenty of inspiration for making tomatoes a part of your every day while they're at their peak.
Tomato Recipes
1. Burst Tomato Galette with Corn and Zucchini
3. Pesto Stuffed Cherry Tomatoes
4. Tomato, Nectarine, and Mozzarella Salad
5. Smoky Roasted Chicken Breasts with Tomatoes and Chickpeas
7. Roasted Tomatoes with Garlic and Rosemary
9. Summer Tomato and Bell Pepper Soup
10. Grilled Tomatoes with Basil Vinaigrette
12. Fish Fillets with Tomatoes, Squash, and Basil
13. Panzanella Salad
14. Bruschetta
15. Heirloom Tomato and Eggplant Stacks
16. Grilled Cherry Tomato, Corn, and Goat Cheese Pizza
17. Gazpacho
20. Mussels with Tomatoes and Olives
Image: BinaryApe