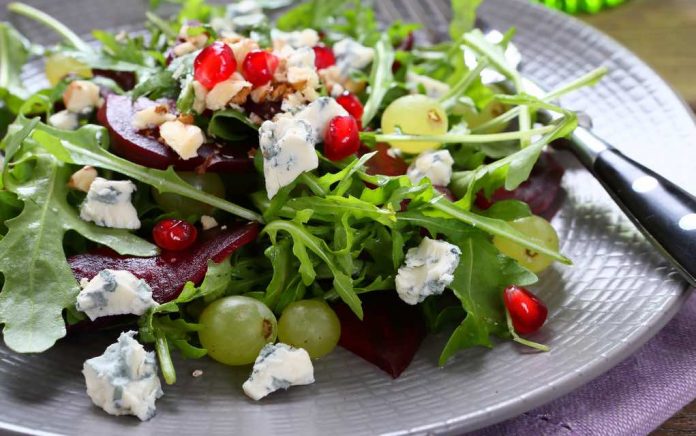 Bring all the festive colors to your table this Christmas with this salad that will be a welcoming and satisfying addition to your holiday menu.
While Christmas is about enjoying family and friends and celebrating everything wonderful about this special time of year… let's face it, it's also about eating! Balance your holiday menu with this fresh and light salad that will go perfectly with any meal.
If you cannot source fresh pomegranate, you can try looking for frozen pomegranate arils in your local supermarket's freezer section.
Serves: 4 – 6 (as a side)
Ingredients you will need:
For the salad
5 cup Arugula leaves, washed
1 Lg Beets, cooked and cooled/chilled (or 2 medium)
1 Lg Pomegranate
4 oz Green grapes, seedless
1/3 cup Blue cheese, crumbled or Feta cheese, crumbled*
1/4 cup Hazelnuts, roasted (shelled) roughly chopped
For the dressing:
1 tsp Coconut sugar
4 tbsp White wine vinegar
3 tbsp Avocado oil
4 tbsp Mint, freshly chopped
Salt and pepper to taste.
Directions
Add the arugula leaves to a salad bowl.
Remove the seeds from the pomegranate and place them in a salad bowl.
Add in the grapes and toss with the pomegranate seeds and arugula.
Cut the cooked (and cooled/chilled) beets in half, then into thin slices (or cubes). Add to salad and gently toss in, ensuring not to toss too much as you don't want the whole salad turning purple.
Sprinkle the crumbled blue cheese and chopped roasted hazelnuts over the top of the salad and drizzle with dressing. * The blue cheese can be substituted for crumbled feta as an alternative.
Serve immediately.
Dressing:
Add all ingredients to a glass jar, screw the lid on firmly, and shake vigorously for 2 minutes. Drizzle preferred amount over salad to serve.
DISCLAIMER: This recipe contains affiliate links, which means that if you click on one of the ingredient links, Naturally Savvy will receive a small commission so we can keep pumping out amazing recipes like this one. Thank you so much for your support!