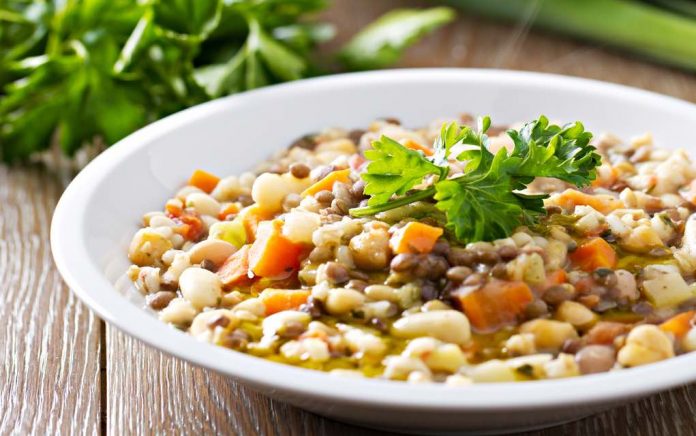 This plant-based instant pot stew is the ultimate comfort food, nourishing both body and soul.
This vegetable stew is not only versatile, but it is also super easy to make and a great way to use up vegetables you may have left in the fridge. Using basic ingredients, that are also cost-effective makes this recipe a great easy mid-week meal, just simply prep your ingredients and let your instant pot do the rest for you.
This stew is bursting with fiber which is going to be a great benefit on your digestive system. With plenty of vitamins and minerals, this flavorsome dish will also support your immune system and help protect against those nasty colds that tend to go around this time of year. For some extra flavor and additional immune supporting properties, add some extra fresh herbs such as thyme and oregano.
Serves 6
Ingredients you will need

2          tbsp                 Olive oil
1          Lg                    Onion, peeled and diced
3                                  Celery stalks, sliced
2                                  Carrots, peeled and diced
1 ½      cup                  Whole wheat berries, picked over and rinsed*
6          cup                  Vegetable stock, low sodium
4          sml                  Parsnips, peeled and diced
¾         cup                  Dried cannellini beans, picked over and rinsed
½         cup                  Dried mushrooms, finely chopped
¼         cup                  Parsley, finely chopped
1          tbsp                 Caraway seeds
Salt and pepper, to taste
Directions
Heat the olive oil and saute the onion until soft in the instant pot on the saute function, approximately 3 minutes.
Stir in the celery, carrots and wheat berries and coat with the oil.
Add the stock, parsnips, cannellini beans, mushrooms, parsley, bay leaves, and caraway seeds.
Lock the lid in place, ensuring the valve is closed and cook on high pressure for 45 minutes.
Once cooking is complete, let the pressure drop naturally.
Remove the lid, tilting it away from you to allow any excess steam to escape. Remove the bay leaves, and adjust the seasonings adding a little salt and pepper to taste.
Divide among serving bowls and enjoy immediately.
*Note: You can substitute the wheat berries for barley or farro.
DISCLAIMER: This recipe contains affiliate links, which means that if you click on one of the ingredient links, Naturally Savvy will receive a small commission so we can keep pumping out amazing recipes like this one. Thank you so much for your support!
For more healthy recipes, be sure to sign up for our newsletter: