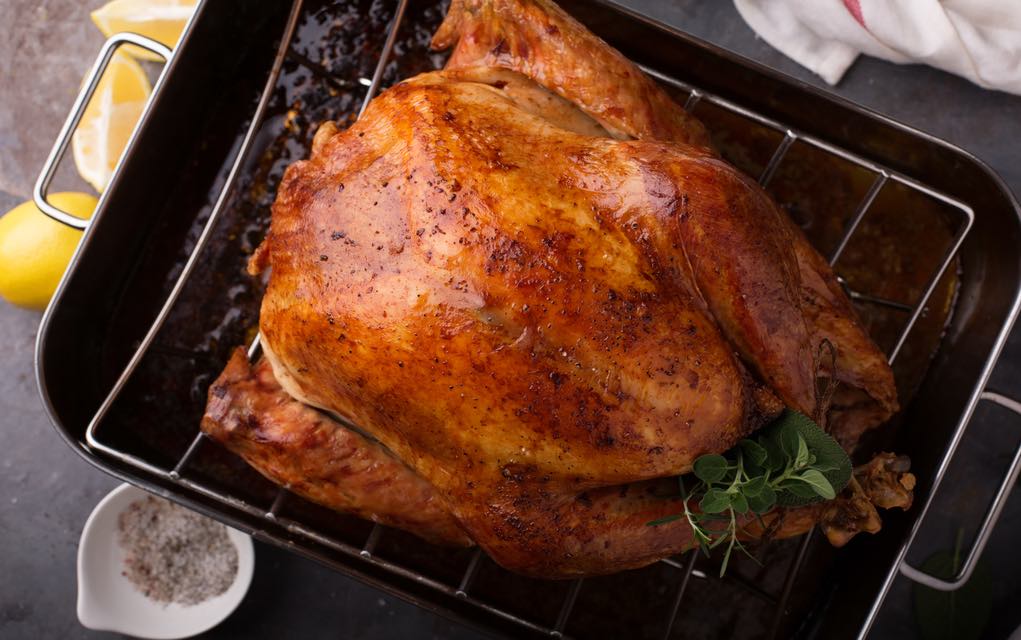 Yes, it possible to enjoy all things Thanksgiving, such as turkey and all the trimmings while nurturing and nourishing your body. This is the time of year where we have to be most mindful of what we're eating, with the festive season upon us it's easy to overindulge and lose focus on our health goals.
This Thanksgiving why not cook up a meal that your body will also thank you for! This keto-friendly roast turkey with gravy is so easy to cook, we're pretty confident this recipe will become your go-to recipe every holiday.
Serves: approx. 6 – 8
Ingredients for turkey
1 Whole turkey, (approx. 15lb)
Stuffing of choice, or our keto stuffing recipe
Grass-fed ghee, melted
2          Lg                    Onion, peeled and diced
4                                 Garlic cloves
¼         Cup                 Mixed fresh herbs, of choice
1          Cup                 Giblet stock
Ingredients  for Gravy
¼         Cup                 Grass-fed ghee
3          Tbsp                Sunflower meal
1          Cup                 Giblet stock
Salt and freshly ground pepper, to taste
Directions
Preheat oven to 325F.
Remove the turkey neck and giblets from cavities of the turkey. Place giblets and neck from turkey in a saucepan and cover with water. Bring to a boil, then reduce heat and simmer for 20 to 30 minutes. Drain giblet stock and reserve. Cut giblets in small cubes and reserve.
Meanwhile, prepare your turkey, rinse the turkey and wipe dry with a paper towel.
Using some of your pre-prepared stuffing, loosely stuff into the neck cavity, then skewer the neck skin to the back of the turkey.
Using the remaining stuffing, stuff the body cavity loosely. Sew openings shut by lacing piece of string on wood picks.
Fasten down legs either by tying or tucking under skin band.
Add the herbs by placing on the bottom of the pan and cover with the chopped onions, garlic clove and 1 cup of the giblet stock.
Place turkey, breast side up on rack in a shallow roasting pan. Brush with melted ghee. If roast meat thermometer is used, insert into thick part of thigh ensuring that the bulb does not touch the bone.
Loosely place a tent of foil over the turkey, this will keep it from browning too fast, remove when necessary to baste turkey.
Remove foil in the last half hour for final browning.
Turkey is done when thermometer registers 180 to 185F, or when thick part of drumstick feels tender when pressed with thumb and forefinger and the drumstick and thigh move easily.
When the turkey is done, remove from roasting pan and set aside to rest.
Add 1 cup of the giblet stock along with the reserved giblets to the pan and mix with pan drippings, stirring and scraping with a wooden spoon to loosen any browned bits that may have stuck to the bottom of the pan. Remove all drippings along with the onion, herbs (remove any hard stems) and garlic cloves to a food processor and blend on high until smooth.
In a saucepan, melt the ghee and whisk in sunflower meal and cook over medium heat until golden brown.
Pour in the gravy liquid from the food processor and stir constantly until thickened.
Season with salt and pepper and serve with roast turkey.
DISCLAIMER: This recipe contains affiliate links, which means that if you click on one of the ingredient links, Naturally Savvy will receive a small commission so we can keep