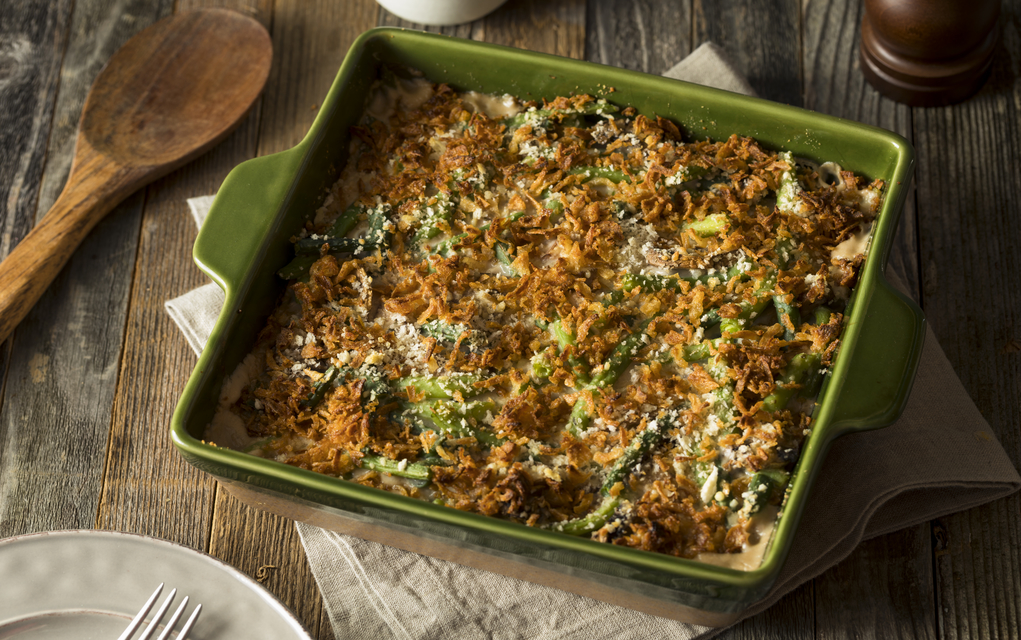 You can't do without a green bean casserole come holiday season which is why we've come up with a healthier alternative that is just as delicious AND keto-friendly!
Impress your guests at your next dinner party with a side dish to rival all others. This keto-friendly green bean casserole is made with wholesome, nourishing, yet simple ingredients and is rich, creamy and full of flavor.
We think fresh beans are best to use, however, if you're in a pinch frozen ones could be used to substitute. This casserole can also be made a day ahead, simply reheat before serving.
Servings: 4
Ingredients you will need
4          Tbsp                            Grass-fed ghee
1          sml/med                      Onion, peeled and finely chopped
1/2       lb                                 Mushrooms, finely chopped
1          Tbsp                            Sunflower meal
1          Cup                             Chicken broth
¾         Cup                             Sour cream
Salt and pepper, to taste
1          lb                                Fresh green beans, top and tailed
1/3       Cup                             Shredded cheddar cheese
½         Cup                             Sunflower seeds, roughly chopped
½         Cup                             Pecans blended to crumbs
½         Cup                             Parmesan cheese, finely shredded
2 – 3    Tbsp                            Grass-fed ghee, (or more)
Directions
Preheat oven to 350F.
Melt the ghee in a pot and add the onion and mushrooms.
Cook over low heat for 15 minutes, stirring occasionally. Sprinkle with the sunflower meal and cook for a few minutes more.
Increase the temperature to medium-high and slowly add the stock, and heat, stirring until it reaches boiling point. Reduce the heat and simmer for 10 – 15 minutes uncovered and allow to reduce by approximately half.
Stir in the sour cream and season to taste.
Meanwhile, lightly steam the green beans until just tender and turn bright green.
Remove from heat and add to a casserole dish.
Once the mushroom and cream mixture is done, pour over the green beans and add the shredded cheddar cheese, mix together well.
In a small bowl mix together the pecan crumbs, sunflower seeds, and the grated parmesan. Add approximately 2 Tbsp of the ghee and massage in so that it makes a "crumb", adding more ghee if necessary.
Top the green beans with the crumb and bake in oven for approximately 20 – 30 minutes or until casserole is bubbling and the crust is golden brown.
DISCLAIMER: This recipe contains affiliate links, which means that if you click on one of the ingredient links, Naturally Savvy will receive a small commission so we can keep pumping out amazing recipes like this one. Thank you so much for your support!
For more healthy and keto recipes, be sure to sign up for our newsletter: