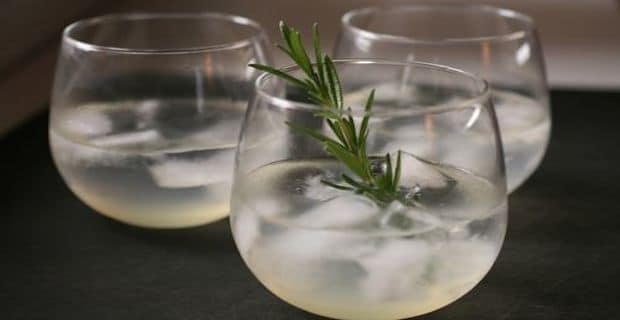 There are few things more fun in the summer than firing up the grill and having a bunch of friends over to enjoy some outdoor fun. But as these events tend to last several hours and extend your exposure to the hot summer sun, it's easy to overdo it when it comes to drink consumption (alcoholic or non-alcoholic) and trying to stay cool and hydrated. And that can quickly add up to a lot of calories and sugar that you're taking in. While plain water may be the best option, it's not quite as fun for parties. Here are three healthier drinks than soda, juice, and cocktails that your body will thank you for later.
Read more about staying hydrated
1. Homemade Flavored Waters
There aren't really any healthy things about soda, but when you want big flavor they are an easy go to item. Choosing flavored water over soda is much healthier and more refreshing. There are many flavored waters on the market, and while some of them taste pretty good, they're often filled with elusive ingredients, but making your own is easy and delicious. Just think about all those glasses of water with lemon you've downed over the years and what other flavors would be great. You can use bottled sparkling water if you want the carbonation like soda or just plain tap water will do, and simply add fresh fruit and herbs in your favorite combinations and ice for a refreshing drink. For some healthier drinks and flavor combination tips, The Yummy Life has great advice.
2. Homemade Lemonade
If you're looking for something a bit more than water, lemonade is the quintessential summer drink, but store bought varieties are typically loaded with sugar or artificial sweeteners. Simply squeeze lemon into a glass of water or use 5-8 lemons for a pitcher of lemonade. Instead of adding a lot of sugar we suggest a natural sweetener, like xylitol. To make it a refreshing summer cocktail, add a splash of vodka to it.
Read more about starting your day with lemon water
3. Organic Beer
Sometimes there's just nothing you want more than a cold beer on a hot summer day, and that's ok. But if you are going to drink beer, choose one that is organic and not too high in alcohol content. Butte Creek Organic Pilsner, and Peak Organic Summer Pale Ale are some good options, but check with your local package store or brewer for more options, and remember to drink them in moderation.
Image Credit: The Bitten Word