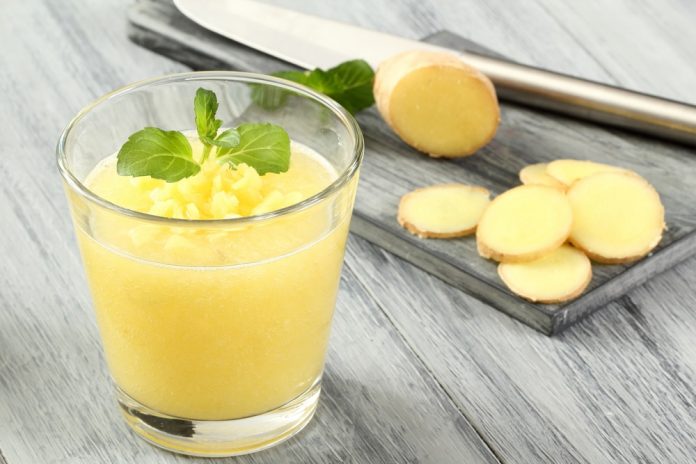 Human digestion is a delicately balanced system that can fall victim to a variety of problems if not taken care of properly. When you incorporate herbs into your diet, you are giving your digestive system a helping hand with all of the food you ask it to break down. This digestive system is also responsible for giving nutrients to the rest of your body, as they are absorbed into your bloodstream and distributed to every part of your body. Help improve your digestion by picking a few of these effective herbs and incorporating them into your daily routine.
Ginger (Zingiber officinale): Ginger is one of the best digestive herbs and has a positive impact on the circulatory system. The anti-emetic properties of ginger alleviate stomach cramps as well as nausea. This warming spice is also a natural remedy for heartburn. Gingerols and zingerones are active anti-inflammatory constituents found in the herb that help to normalize the digestive process for anyone suffering from any of these maladies. Ginger can be taken in a capsule form for a more potent effect, or the root can be grated and made into a warming tea. Try this amazing Ginger Turmeric Tonic.
Peppermint (Mentha piperita): Peppermint has been used for centuries as a gastrointestinal aid. This digestive herb helps to relax the muscles of the digestive tract, stimulating bile flow. It can help relieve bloating, cramps, spasms, flatulence, and digestive colic. This makes peppermint especially useful for those with irritable bowel syndrome. For anyone suffering from the cold or flu, peppermint can relieve sinus congestion and open pores to allow excess heat from a fever to escape. Peppermint can be made into a tea, taken in capsules, or used in an oil form. [Editor's Note: Our sponsor Bigelow Tea, offers many different teas including ginger flavors and peppermint flavors. Some of their teas even have probiotics to help keep your gut microbiome balanced.]
Milk Thistle (Silybum marianum): Milk thistle is used as a liver strengthener as well as a digestive herb. It has been used to treat various liver disorders as its active property, silymarin, has been shown to aid the health of liver cells and mitigate the effect of toxins the liver absorbs. Milk thistle helps promote the flow of bile in liver disorders and to relieve an upset stomach. This herb is typically sold in capsules or as a tincture.
Slippery Elm Bark (Ulmus fulva): Slippery elm bark is typically used as a remedy for various forms of digestive discomfort. This can include acid dyspepsia, irritable bowel syndrome, and for more general issues that occur when you eat a food that disagrees with you. The moisturizing action of slippery elm bark protects the stomach, eases diarrhea and cramps, and neutralizes acidity as its membrane lines the gastrointestinal tract. Slippery elm bark comes in a powder, which can be used to make a tea or sprinkled on muesli or oatmeal.
Lemon balm (Melissa officinalis): Lemon balm contains certain alkaloids that work to calm nerve receptors in the gastrointestinal tract, reducing inflammation in the gut and digestive distress. This herb can ease muscle spasms, reduce abdominal pain, and relax smooth muscle. As a member of the mint family, lemon balm has similar calming effects to peppermint, while also detoxifying the liver, spleen, and kidneys. Lemon balm is typically sold in capsules.
One of the best ways to guarantee your long-term health and comfort is to take digestive herbs regularly. Their natural healing properties are extremely beneficial for stressed bodies and work wonders to relieve the pain and discomfort of many ailments.